Onuma Park
Nature Getaway in the South of Hokkaido
Add to my favorite places
Onuma Quasi-National Park is located in Nanae town, in the northern outskirt of Hakodate, in Oshima Peninsula at the southern end of Hokkaido. The park is an easy nature destination, with a view on the old volcano Mount Komagatake from its lakes.
Japan's northern island Hokkaido is renowned for its great national parks, especially Daisetsuzan and Shiretoko, spreading around old volcanoes and that are great hiking sites nowadays. Natural sites are also awaiting discovery around the big cities, and while they are smaller they are easier to reach for most visitors. Located in Hakodate's northern outskirt, Onuma Quasi-National Park is an ideal green gateway for urban dwellers in need of nature.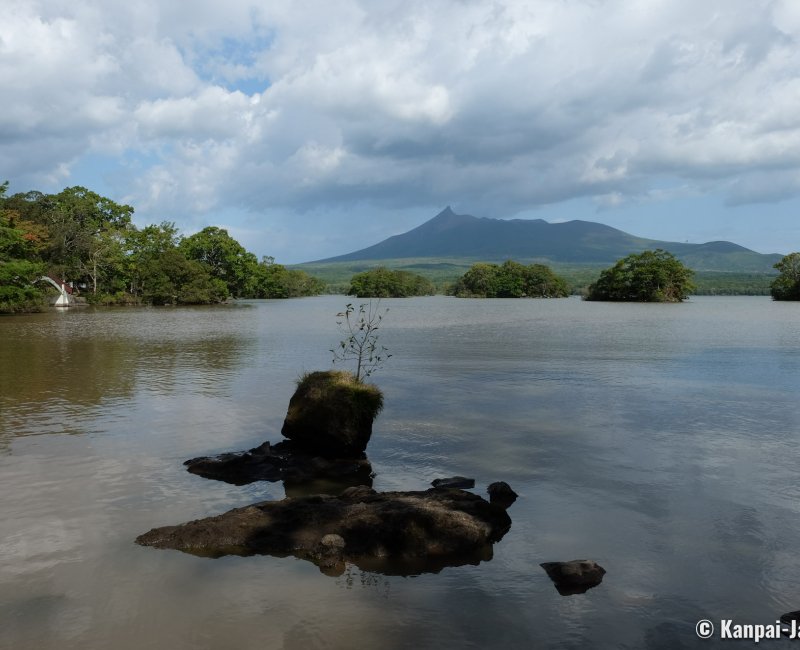 Panoramic views on Mount Komagatake
Less than 1 hour by JR train 🚅 from Hakodate, the site encompasses 3 lakes (Onuma, Konuma and Junsainuma) with an unobstructed view on Mount Komagatake, the symbol of Oshima Peninsula. By the way, the natural landscape has been designated one of the New 3 Views of Japan in 1915, along with the pine trees of Miho no Matsubara in Shizuoka and Yabakei Gorge in Oita prefecture.
Getting off the train, go to the tourists information center to collect all necessary information to roam the park, including a map with all the marked hiking trails. Four hiking paths are open around Lake Onuma and Lake Konuma providing 15 minutes to 1 hour long walks. The paths are accessible to most visitors and cross several picturesque small bridges connecting the natural islets close to the lake's shores. Beautiful panoramas unfold on Mount Komagatake and on the park's vegetation that changes colors with the season, especially in spring 🌸 with the blooming of the azaleas, water lilies in summer, then the red maple trees in autumn 🍁.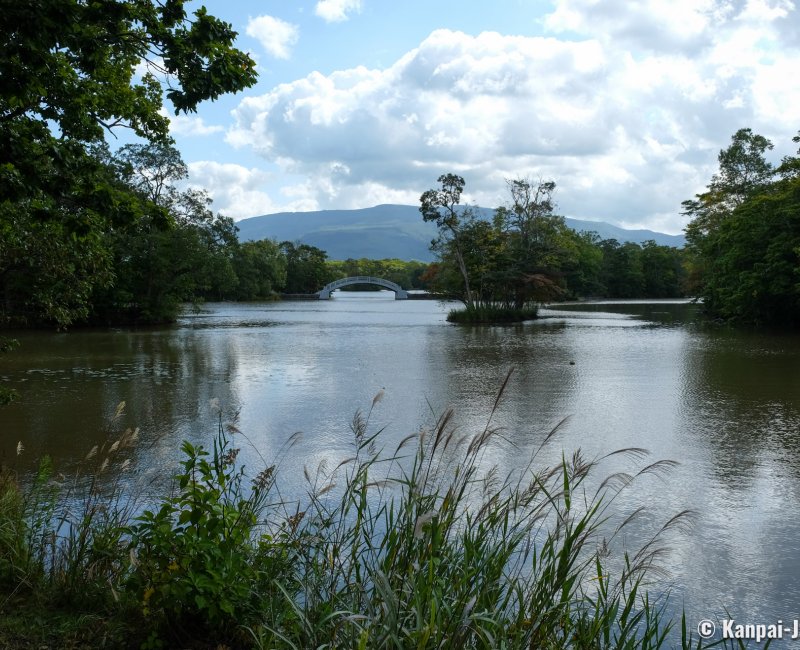 Nature and outdoor activities near Hakodate
Several other activities are available in the summer time, such as:
Cycling around Lake Onuma;
Navigating the lake on a cruise boat or on a canoe;
Playing golf;
Staying in a tent at a camping; or,
Climbing Mount Komagatake, up to a 900 meters altitude.
People interested in local agriculture can visit one of the area's farms and take part in seasonal fruit picking, a very popular activity among the Japanese, or watching cow herds and try dairy products. In winter, the snow covers the natural site where it is possible to snowshoe, fish on ice or ride a snowmobile.
The surroundings of Onuma Park have an interesting accommodation and restaurants offer for a 2 to 3 nights stay, to enjoy vacations in the countryside before going back to the urbanized Hakodate.