Japan Rail Pass discount purchase
⏱ 9 minutes
The Japan Rail Pass (or 'JRP') is a transportation pass granting its holder full access to Japan Railway's lines in Japan. The JR Pass allows unlimited use of all the company's trains, buses and ferries across Japan, anytime of the day, during 1, 2 or 3 weeks. This cost-effective ticket is only aimed at foreign tourists, who must order it before their arrival in Japan.
The Japanese railway network is highly developed, punctual with an excellent service quality; on the contrary, car 🚙 rental is generally complicated, expensive and not always convenient. Given the high cost of train travels in Japan, most tourists choose the Japan Rail Pass for their trips in the country.
The JRP is very useful for train travels between cities, especially with the Shinkansen, the very fast and comfortable high-speed train. But it can also be used on most local and express transportations, anywhere in Japan, for example on some train lines inTokyo such as the essential Yamanote Line, circling around the central districts of the capital.
In our Japan Sightseeing Guides, the "Information" section always specifies the transportation means necessary to access to a destination. And most of the times, you can use the Japan Railway lines, and thus the JR Pass!
As you can see with this map, most of the country is served by the JR network, and accessible with the Japan Rail Pass: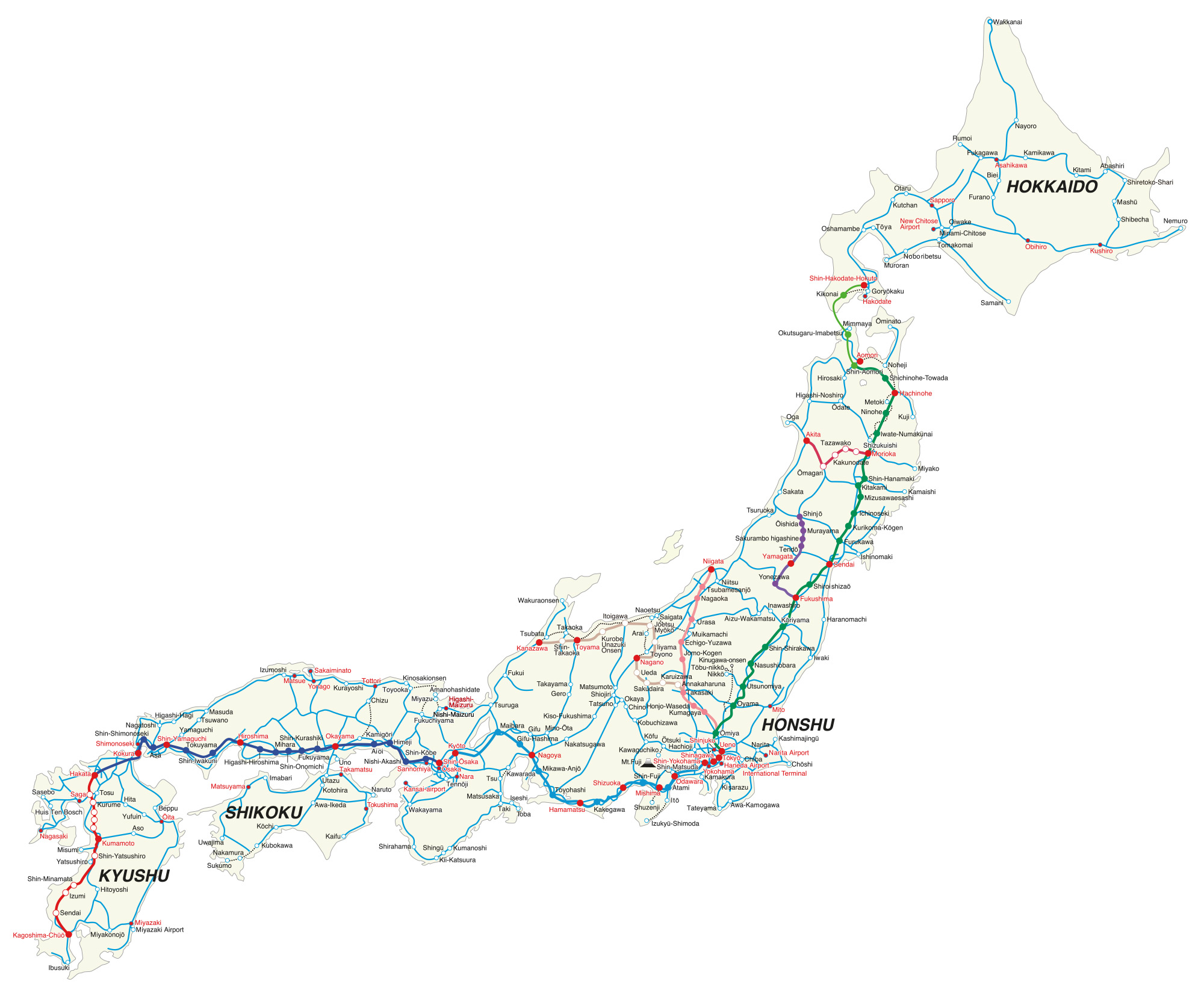 🚄 How to use the JR Pass?
The Japan Rail Pass is available only to foreign tourists visiting Japan with the status of 'temporary visitor', i.e. with a 'temporary' visa stamped in the passport by custom agents upon arrival at the airport. Any other visa cancels the benefit of the JR Pass: marriage, any employment contract (including training programs), studying and even the Working-Holidays visa. Japanese nationals living overseas are no longer eligible to the JRP since April 1, 2017.
It is not possible to purchase a Japan Rail Pass in Japan. Ordering a voucher (or Exchange Order) before departure to an authorized sale agent outside Japan is the only way to buy a JR Pass. The voucher is valid three months, and you can order it up to 90 days before the activation date in Japan. Some authorized sale agents, like Keikaku, even offer the possibility to order the JRP voucher more than three months in advance.
There is no electronic version or PDF format for the JR Pass: the voucher is printed on a secure paper and is nominative. It is sent to the holder by postal mail or carrier.
The "Green"JR Pass is the equivalent of a first-class pass and is obviously more expensive, but with additional benefits.
💶 How much is a Japan Rail Pass?
The JR Pass reference price is determined by Japan Railways, and is indicated in Japanese Yens (JPY). Its raw price has not changed since the creation of the pass, except for the occasional Japanese VAT increases (which are moderate and not frequent). The cost in Dollars or other currencies' calculation is based on the exchange rates at the moment of purchasing the voucher.
To help you have a better understanding, we converted the following amounts to the current exchange rates. For an adult (12 years and older) the official price starts from ¥29,650 (~US$228.00) and increases according to the length of use and the chosen class. Children aged 6 to 11 years old pay half-price, and train in Japan 🚅 is free for children of 5 years old and younger.
For comparison purpose and to show how much cost-effective the JRP is, you will find below prices for round trips by Shinkansen on standard reserved seats (see these trips on our Japan Sightseeing Map):
Needless to say that a JR Pass quickly pays off! Even the cheapest one can help save money on a simple Tokyo-Kyoto round trip and from / to the airport.
💳 Where and how to buy the Japan Rail Pass?
Japan Railways did not set up any official website for direct purchase of the Japan Rail Pass, even though some try to confuse prospective travelers (be careful of scams!). The JR Pass is only sold by authorized retailers, located in their respective countries. If you find the right website, ordering the JR Pass online is easy and a simple, affordable and comfortable solution.
Authorized sale agents can decide on the JR Pass purchase price according to the value of the service they add. However, be wary of prices that seem too cheap, as hidden fees may arise. Kanpai recommends Keikaku, a travel agency operating in France and Japan Railways certified sale agent, for the various benefits they provide:
Prices among the lowest on the market (sometimes lower than the price in Yens!)
Free shipping with tracked mail (or by express carrier)
Shipping on the same day for every order placed before 1 p.m.
Excellent customer service: proactive, efficient and helpful by e-mail and by phone
Simple and quick ordering system on their easy-to-use website
Secured payment by bank card (including American Express) or PayPal
An expert team, with staff in France and in Japan

See the comparative table below to choose your Japan Rail Pass provider:
🚉 How to exchange the voucher and select a starting date for the JR Pass?
The JR Pass voucher (Exchange order) must be exchanged to the actual JR Pass upon arrival in Japan at a JR ticket office in one of the numerous JR stations (See list of the stations). For this, you just need to hand your voucher to a JR staff, show them your passport and fill in a short form. You can then choose a starting date for the JRP according to your needs: on the same day or up to within a month.
Many travelers start to use the JR Pass as soon as they arrive in one of Tokyo's Airports to avoid paying the train fare to the city.
Since 2022, the JR Pass looks like a standard Japanese train ticket, with a QR Code, the holder's passport number and the validity dates clearly stated in a Western-style format (instead of the Japanese dates).
Be aware that the JR Pass is valid for full consecutive days, and not for 24 hours periods. For example, if you start the 7-days pass a Monday at noon, you can use it up to Sunday night, not until next Monday noon.
It is naturally possible to order several Japan Rail Passes to use in a row.
🚅 How to book a seat in the Shinkansen with the JRP?
In Japan, reservation of seats in trains is not compulsory (you can travel in "non-reserved seats cars") and is free with the JR Pass.
To book a seat, go to a JR counter in any train station with your Japan Rail Pass. These ticket offices are called "Midori-no-madoguchi" and are easily identifiable by their green logo. You can book for free all the train tickets you need for your trips, even if you have not started your JR Pass yet.
It is also usually possible to book for free at the vending machines in the stations. English language is available. Prepare your JR Pass as you will need to scan its QR Code, your passport number and follow the instructions on the machine to issue your seat reservation ticket.
Note that since May 2020, seat reservation is required when traveling with oversize baggage in the Shinkansen:
During vacation times in Japan, such as the New Year holidays (December 28 to January 6), Golden Week (April 27 to May 6) and the 'Obon' period (August 11 to 20) it can be difficult to book a seat, because trains are full of Japanese people traveling back and forth from the cities to their hometowns.
💺 Additional information about the JR Pass
To access your platform, you don't need to show your JR Pass to a gate attendant anymore: just slip the ticket in the automatic gate. The machine will read it and return it, so don't forget to retrieve it there! Inside the train, show your JRP to the on board crew, as well as the ticket for the seat you reserved earlier, if applicable.
Important notice: The Japan Rail Pass does NOT include:
The fastest Shinkansen (especially 'Nozomi' trains, however they only save 15-20 minutes on a Tokyo-Kyoto trip), but includes every other type of trains, such as 'Hikari' and 'Kodama';
The subway in Tokyo, managed by private companies, but there are numerous JR train lines in the capital;
The ferry to South Korea Hakata-Pusan "Beetle II" (but you can use it on the ferry Hiroshima-Miyajima);
Okinawa Island, as trains are scarce there.
Japan Railways (JR) is the largest rail network in Japan. It covers more than 12,000 miles (about 20,000 km) of tracks and serves the four main islands, at a rate of 26,000 departures per day on average. JR trains combine speed (up to 180mph), punctuality and comfort. Many network extensions are under construction in the country, even for the Shinkansen.
The Japan Rail Pass also grants a 10% discount in JR group's hotels 🏨 during its validity period.
🚃 What are JR Regional Passes?
Japan Railways also provides several regional passes. They are more specific, and sometimes less expensive, always intended for foreign tourists. However, they are limited to some specific areas of Japan, are not flexible and are often less competitive than a JR Pass. They have interesting features only if your trip and itinerary are exactly covered by the regional pass. For example, there is no regional pass covering both Tokyo and Kyoto.
Regional passes for Hokkaido, Eastern Japan (Kanto), Hakone, Kansai, Shikoku, Sanyo and Kyushu exist, as well as some temporary passes. Prices and targeted areas often vary so it makes it difficult to understand and plan ahead. It is possible to purchase those passes in advance, or in Japan, with an additional charge.
Most of the time, regional passes are not as cost-effective as the national Japan Rail Pass. You can still try to evaluate if they fit the needs of your trip on Keikaku's Website, where you can also order Regional Passes. In addition to the JR Pass, don't forget to order a Suica Card, a must-have for bus and metro trips outside the JR network.
Have a nice trip!