Accommodation in Japan: A Comprehensive Guide
⏱ 9 minutes
The question of accommodation is crucial when traveling in Japan, be it for a few days' vacation or for a longer stay. There is no definitive answer, as many criteria apply, such as: budget, accommodation type, location near public transportation hubs and touristic areas, duration of stay, housing surface area, facilities, etc.
This page purpose is to present the various solutions at hand, as well as useful tips and deals to enjoy discount prices without losing in service quality.
Important notice: if you happen to travel in Japan during the country's touristic peak seasons ((from mid-March to mid-May, July, August, October, November, as well as Christmas time and New Year holidays), and especially in big cities such as Tokyo and Kyoto, we strongly recommend booking your reservations as soon as possible, as accommodations tend to be quickly full for these periods. You will benefit from a largest choice if you look for your accommodation up to several months in advance.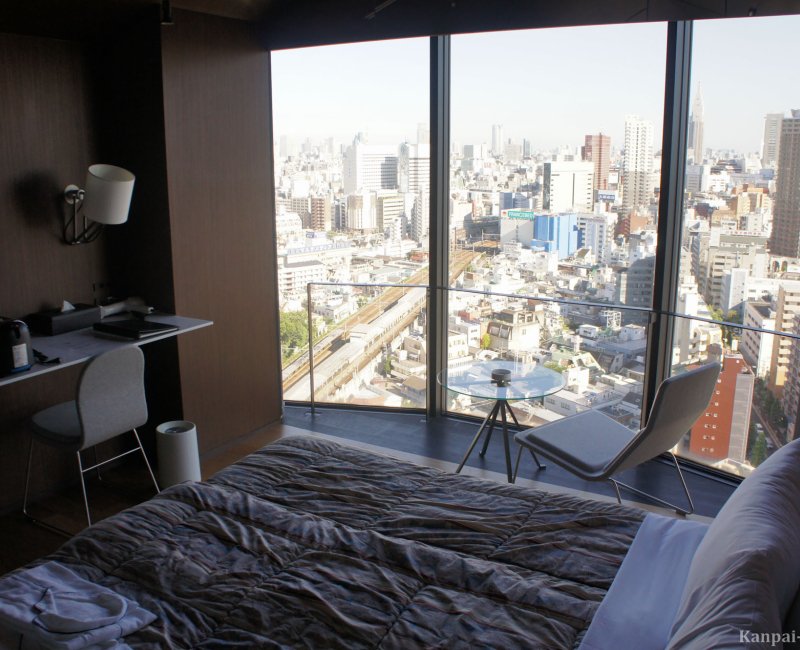 Booking Hotel Rooms in Tokyo, Kyoto…
The term "hotel" here refers to Western style hotels, often named business hotels in Japan.
When traveling abroad for a short period (on a few days to a couple of weeks), hotel is often the simplest and most convenient solution, but not always the cheapest! It is the same in Japan, with some specificities.
How to book a hotel in Japan?
We went through the cheapest prices of several reservation centers, and we found out that, most of the time, Booking, Hotels.com and Expedia indisputably offer the best deals. They are so powerful that they can easily negotiate great deals with hotel chains and offer their customers a variety of clean and convenient places, in a wide range of prices.
You should never book your room directly to the hotel, as they naturally try to sell it the highest price possible, even on their website, which always display the full price. Let's compare the price for 2 nights in a "Deluxe Twin" room at Tokyo Park Hyatt (the hotel appearing in the movie Lost in Translation) (Comparison as of January 2020)
¥75,200 (~US$501.20) on the hotel official website;
¥58,464 (~US$389.70) on Booking, or 22% discount for the very same room!
The prices at online reservation centers are often cheaper than anywhere else, and there can be additional discounts, depending on the season, or the number of nights booked. For example, when booking several nights in a row in a Japanese hotel, it is quite easy to get 25 to 40% discount on the full price! Flexible and free modification or cancellation are also available most of the time!
Kanpai Japan! thus recommends these secured websites:



How to choose between several hotels?
When looking for hotels, you set your search criteria according to your needs. You will end up with a short-list among which you will have to make the final choice. Here are some useful tips to make the good choice:
First, check the location of the hotel, meaning if it is close to a train 🚅 station or a convenient public transportation hub, as most of travels in Japan can be made by train, bus or metro. If the hotel offers a bicycle rental service, it can also be an advantage to visit a city, if it is not too large.
Then, visit forums or websites gathering travelers' opinions and advices. Read the posts of people who already stayed in the hotel. There may be some negative reviews but try not to focus solely on them and read the general feeling. If possible, try to evaluate the reviewers' good faith: a traveler's disappointment may have reasonable grounds, but negative reviews can also originate from cultural gap, misunderstanding, and unfortunately from malevolence.
Lastly, don't judge the hotel only by its official website, if it exists. In Japan, communication over the Internet 📶 is often not intended or developed the same way as in Western countries: English version is most of the time inexistent or Google translated, pictures are small, and the website general design is often outdated. It doesn't mean your hotel will be the same!
Be aware that except in luxury hotels, big resorts or totally Western style hotels, breakfast is almost never included, as there usually are no dining hall in hotels in Japan 🏨, especially in big cities. Plan to eat outside as it is quite usual in Japan, with good, fast and unexpensive meals. You can also buy your breakfast at the konbini, bring it back to eat it in your room, or outside. However, this trend is gradually changing and breakfast is more frequently an available option.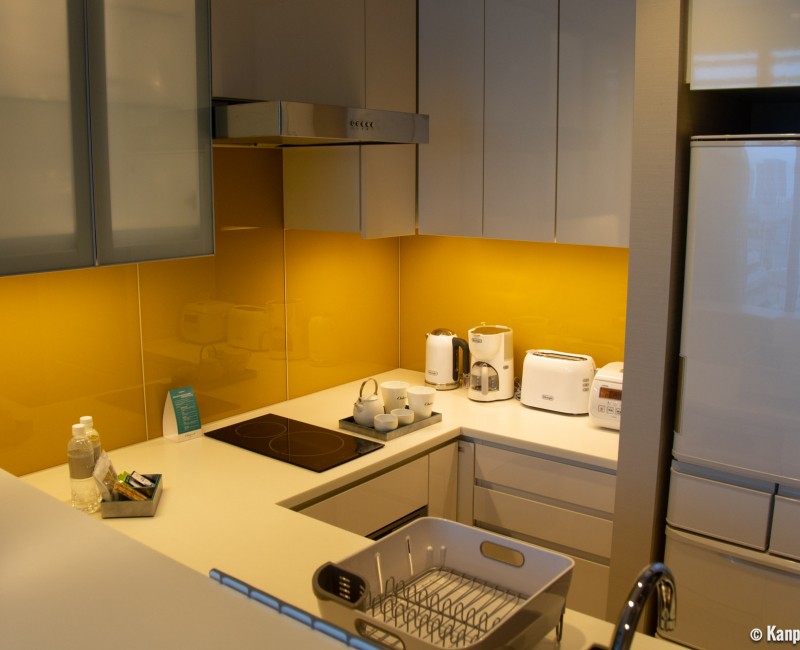 House or apartment rental in Japan
Renting a house or an apartment overseas has long been avoided by foreign travelers, especially for fear of putting a strain on the budget, but it is actually not so expensive.
We think it is also a good solution for traveling in Japan, for many reasons:
It allows more privacy and autonomy compared to a hotel, and gives the feeling to live as local people do;
It is the most convenient, convivial and often cheapest type of accommodation for groups and families, when several rooms are needed, or to have a clear separation between the living room and the bedroom;
It allows to have a private kitchen, quite convenient to avoid getting bored by going to restaurants daily over a long period, and of course, avoid spending too much;
There are, of course, negative aspects:
It can be expensive, and the price might be an obstacle for a solo traveler or a family;
You are in charge of the cleaning, from making your bed to the dishes, which can be a waste of time;
There is no staff to give you advice or help you in case of need or emergency.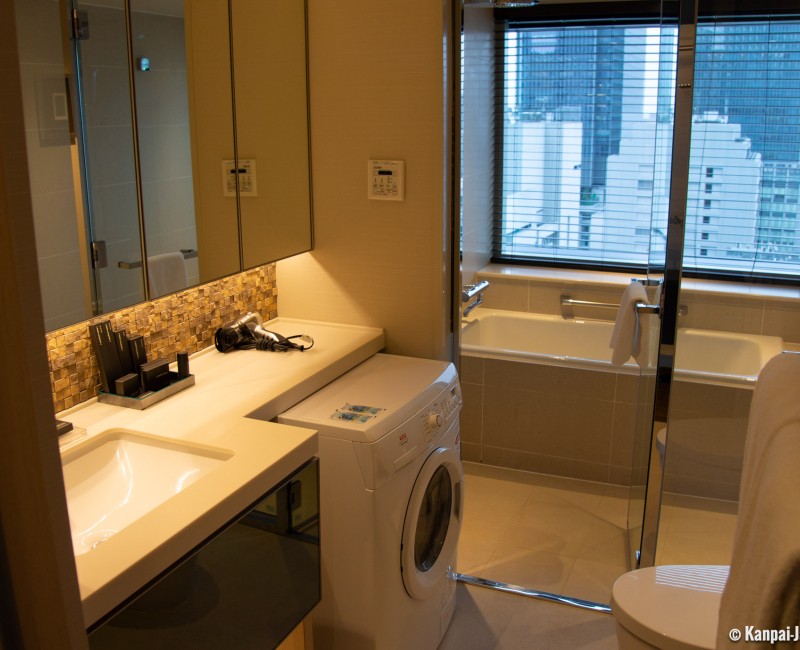 It can be easy to find companies renting houses or apartments in many countries, Japan however is quite different. The country is still wary of renting house to foreigners, and if you are not a business traveler or with a (very) big budget, it can seem difficult to find some place to rent. We have some simple tips to easily rent an accommodation.
About Airbnb in Japan
A few years ago, Airbnb in Japan used to offer a good choice and quality of service, especially in larger cities. Click the link above to get ~$25 discount on your first reservation. However recent laws on short term rentals targeting Airbnb have been enforced, causing a drop of rental possibilities. Owners must comply with strict regulations and limitations, but Airbnb is still legal.
If you nonetheless choose or find an Airbnb that fits your needs, be aware of the possible disadvantages:
Nobody to welcome you for check-in (you may have to look for the keys with only unintelligible explanations);
No checkroom to leave baggage before check-in or after check-out;
No breakfast included.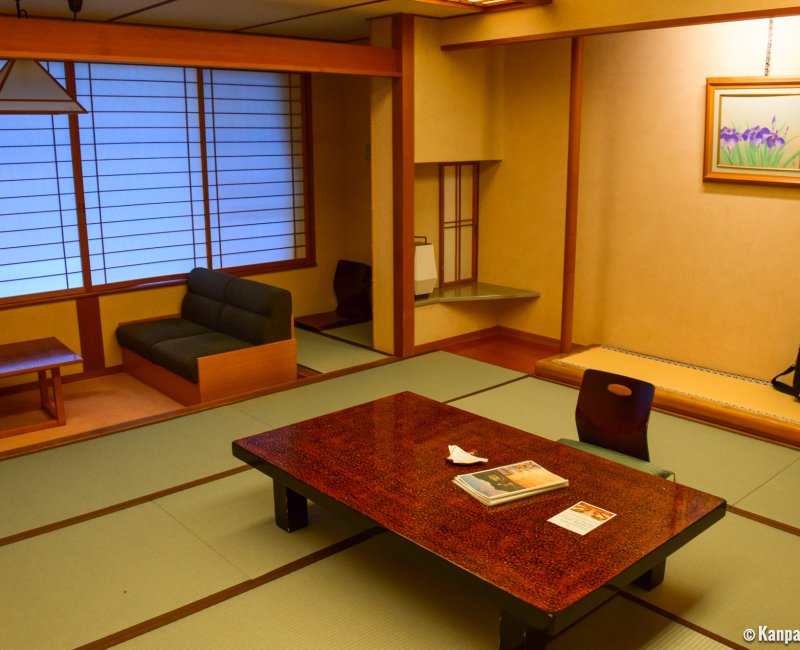 Ryokan: the traditional Japanese inns
Alongside the Western style hotels, Japan has its own tradition regarding lodging: the ryokan. Ryokan is a traditional inn, with tatami floor and a futon in lieu of the bed.
Have a try of Japanese style bedding, as futon is very comfortable: it ensures a very good sleep and it doesn't hurt the back. It would be a shame to travel so far in a foreign country and not indulge in its traditions.
Many establishments in large cities are mixed: they are called "hotel-ryokan". There is also a distinction between:
Modern ryokan, which, apart from the room's arrangement, is a conventional hotel and is usually located in city;
And traditional ryokan, often closer to the form of a guest house (then called minshuku), most of the time in rural areas, with a sento or an onsen (Japanese baths, with natural hotspring or not) attached.
In big cities like Tokyo, hotel would generally be cheaper, but in smaller towns or in the countryside, ryokan is usually the most cost-effective, and of course, the most typical accommodation.
Lastly, it is even possible to stay at Buddhist temples (in shukubo), like the famous Koya-san, to share the monks' daily life. Temple lodging can be a unique experience, but also quite pricey, from ¥10,000 (~US$66.66) the night per person, on average. If you wish to spend a night in Mount Koya you can book on Shukubo website. It has become quite easy to find temple lodging almost everywhere in Japan, through reservation centers such as Booking and even through some temple's official websites.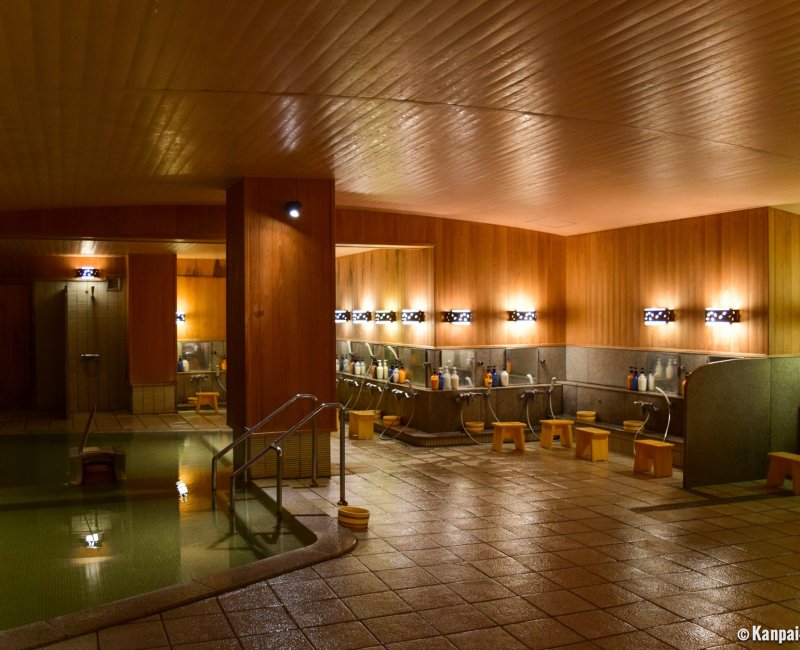 How to book a ryokan
We recommend using Japanese Guest Houses or Japanese Inn Group websites, as they provide some of the most comprehensive listings of typical lodgings, such as ryokan or minshuku in Japan.
Their websites are in English, and it is necessary to register (for free) to inquire for a reservation, but nothing unusual. Breakfast and dinner are usually included in the price and served in the room.
If you don't feel comfortable with registering with these websites, check the usual Booking, Hotels.com and Expedia, as they added a wider offer of ryokan to meet the growing demands.
Despite a higher pricing range than the other types of accommodations, we strongly recommend you try it once during your trip in japan, as it is an unforgettable experience.
What are the cheapest accommodation solutions in Japan?
You can use online comparators such as Cozycozy to find very affordable accommodations by filters and location.
Guest-houses / dormitories / youth hostels
They are often less expensive (between ¥3,000 and ¥6,000 (~US$20.00 and ~US$39.99) the night per person), but you will have to share the place with other travelers.
For example: Oakhouse, Hostelling International, or K's House.
Homestay accommodation
The easiest way to practice homestay in Japan is minpaku, meaning renting a room at a private's house for a short stay. Minpaku is mainly available in the countryside where the larger size of the houses allows to receive guests.
On the medium or long term, it might not be easy to find homestay solution if you don't already know a Japanese family living in Japan. However, it can be possible if you come in Japan to enroll in a language school, that may find families for you to stay at, especially in big cities like Tokyo.
Another solution is wwoofing, you will stay at a farmer's house in exchange of a few hours work. In the same manner, couch surfing (receiving foreigners on your sofa) is a way to stay for free in Japan, for a short stay, but you will have to receive people before being able to use the service as a traveler.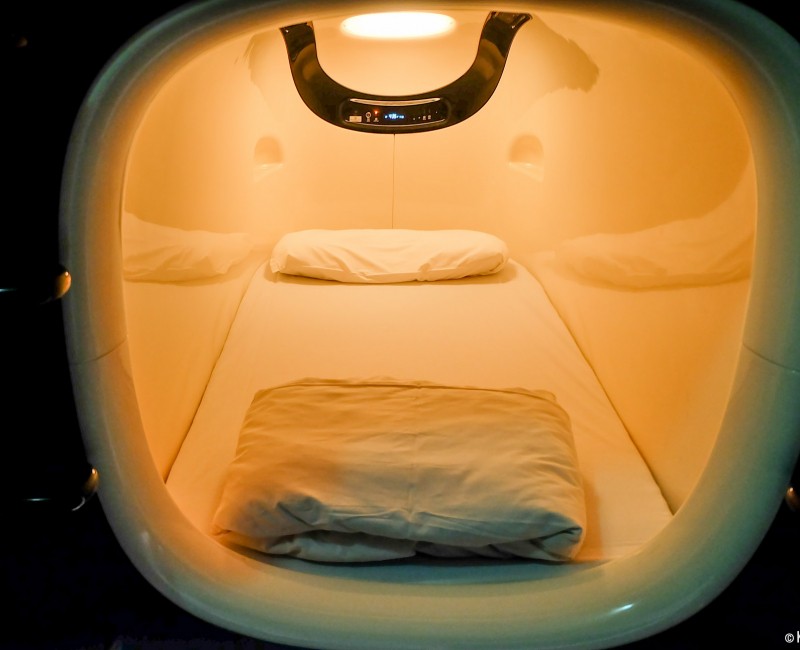 Original Accommodations
You can also try some original and characteristic accommodations in Japan:
The capsule hotels: the rooms are cabins piled up on top of each other, the average price for the night is often low (about ¥2,000 to ¥3,000 (~US$13.33 to ~US$20.00) on average); one of the most famous brands is Nine hours, very convenient when landing late at the airport;
The love hotel 

🏩

: themed-rooms and/or accessories to spend a good time with your significant other, for one hour or the night;
In a manga kissa, a place equivalent to an Internet café, you can spend the night for about ¥2,500 (~US$16.66) in a box with a television and all-you-can-read manga. There is no bed, but an armchair, which may or may not be comfortable;
The karaoke, with private boxes in Japan, you can spend the night even without singing. Cheap, but very noisy and not comfortable;
The night bus can be made of use when planning an itinerary in order to save on a hotel night.