Kumano Kodo
The Ancient Pilgrimage Routes in Kii Mountain Range
Add to my favorite places
Kumano Kodo is an ancient network of pilgrimage trails located in Kii Mountain Range, south to Osaka in Kansai area. The numerous paths roam through Mie, Nara and Wakayama prefectures, from the bottom of mountain forests to the Pacific Coast, to end in Kumano Sanzan area where the three great Shinto shrines are to be found.
Kumano Kodo is the name of the ancient pilgrimage routes crossing Kii peninsula:
Kumano (熊野) is Kii peninsula's former name;
Kodo (古道) literally means "the ancient routes".
This region, of steep cliffs and covered by abundant forests, was always considered by Japanese people as a sacred entrance gate to the immaterial and hidden world of kami, Shinto deities that are thought to be the founders of Japanese civilization.
Kii Peninsula is still a spiritual training place for Shinto priests and a place of worship for believers, of any social background. Often compared to Camino de Santiago (Routes of Santiago de Compostela), Kumano Kodo was also enlisted in the Unesco World Heritage in 2004, under the name "Sacred Sites and Pilgrimage Routes in the Kii Mountain Range", along with Koya-san and Mount Yoshino. These three sacred sites are complementary and connected by several trails so it is possible to visit them successively over a handful of days.
Hiking is thus an important part of Kumano Kodo pilgrimage, and offers an experience of ancestral Japan, whose beliefs and mystical practices are still alive nowadays.
At the root of Japan's origins
Kumano's site is directly linked to the creation of Japan's myths and is mentioned in Kojiki, one of the oldest official chronicles telling the story of the country.
According to the legend, Jimmu (or Jinmu), Japan's first emperor and descendant of Amaterasu, the sun goddess, launched a military expedition to conquer the country. When he had a hard time succeeding, he received from the three-legged raven Yatagarasu, sun's messenger and symbol of Kumano, an invitation from Amaterasu to come meet her in Kii Mountain Range. After his short stay in the area, his army won the war and Jinmu was able to found the bases of the future nation of Japan.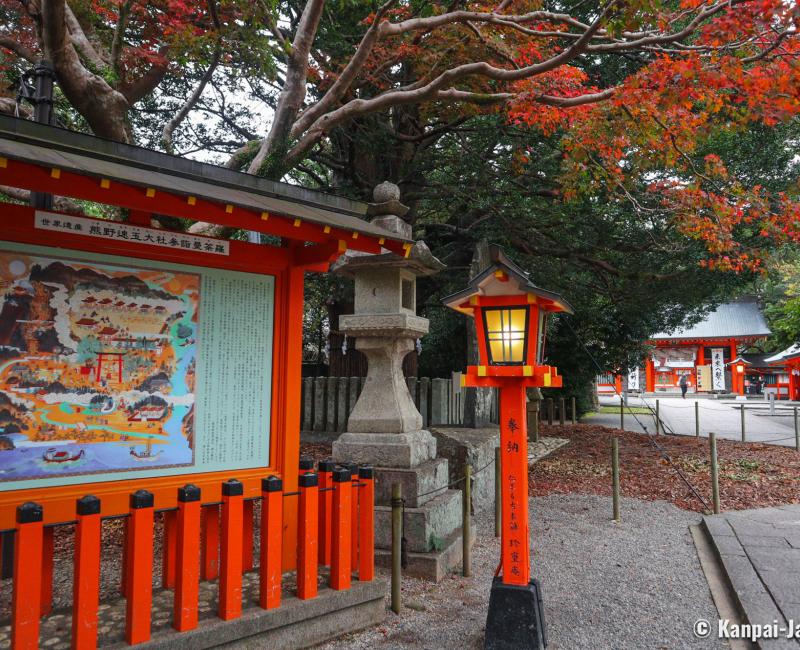 What are Kumano Kodo Pilgrimage Routes?
There are four main routes and two additional itineraries to reach the sacred zone of Kumano Sanzan, home to the three great shrines Hongu Taisha, Hayatama Taisha and Nachi Taisha:
Nakahechi (中辺路) is the most popular and easiest trail, regardless of hiking skills. It starts in Tanabe city (whose station is directly accessible from Osaka) to connect Kumano Sanzan. The route, which was used by the Imperial family as well since the 10th century, is marked by minshuku traditional inns and is an ideal road for a couple of days itinerary in Wakayama prefecture.
On Nakahechi trail, we especially recommend the short Dainichi-goe hike that connects Yunomine Onsen ♨️ village and Kumano Hongu Taisha in less than two hours. After paying a visit to the shrine, reach Oyunohara and its impressive torii ⛩️ gate in an easy walk. Then continue along the white sand bank of Otonashi River, and head to the forest to start climbing on an old stone stairway.
On this 3.5 kilometers trails, two landmarks monuments help hikers to make sure they did not go astray: the small stone shrine Tsukimigaoka-jinja, hidden between two cedar trees, as well as Hanakake Jizo, dedicated to children protection and engraved in stone.
Moreover, hikers can halt to pray in one of the numerous Oji secondary shrines placed along Kumano Kodo's trails. It is sometimes possible to find sake 🍶 cups, biscuits or fruits offered by pilgrims to ask for protection during their journey.
Ohechi (大辺路) is a road bordering the Pacific Coast and offering a great view on the Ocean between Tanabe and Kumano Nachi Taisha.
Kohechi (小辺路) crosses through Kii peninsula and also connects Kumano via Mount Koya. This trail is about 70 km long in quite remote and wild environment, so a thorough preparation is required and it is recommended for seasoned hikers.
Iseji (伊勢路), as its name shows, is a trail connecting Kumano Sanzan to Ise Shrine in Mie prefecture. This itinerary offers beautiful landscapes with various environments such as beaches, mountains and bamboo groves.
Omine Okugake (大峰奥駈道) is a long route of about 170 km connecting Omine to Yoshino, as well as Kumano Hongu Taisha. This trail, for seasoned walkers only, follows a mountain ridge at 1,000 meters above sea level and is used in Shugendo ascetic training.
Kiiji (紀伊路) is a more recent itinerary that follows the western coast of the peninsula, from Osaka to Tanabe. This route is not inscribed in the World Heritage List.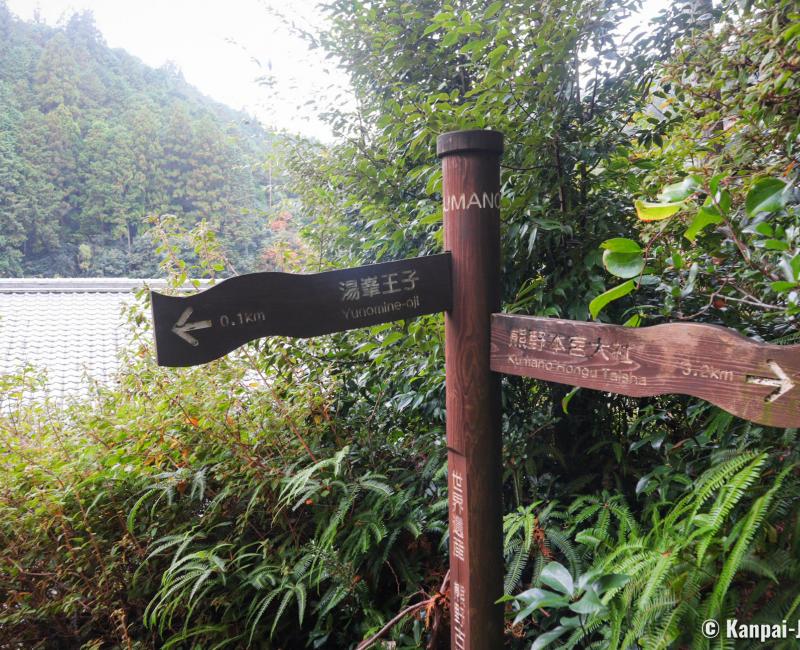 Hiking the Kumano Kodo
What is the best time to hike the Kumano Kodo?
The best times for a trek on Kumano Kodo are:
Hiking in winter is not recommended, as the trails are not well maintained and conditions are not met to walk safely. We also recommend avoiding the rainy season ☔️ in June and typhoon 🌀 season in September.
As temperatures go down, the area's onsen hot springs become increasingly enjoyable.
What are the most convenient transportation methods?
The south of Wakayama prefecture is easily reachable by train 🚅:
From the west and Osaka, Shin-Osaka or Tennoji stations to Kii-Tanabe;
From the east and Ise, Matsusaka or Taki stations to Shingu or Kii-Katsuura.
Additionally, the hiking trails to Kumano Sanzan three shrines are well-marked with signs in Japanese and in English. For those who don't feel like walking, it is possible to ride a bus. However, be wary of bus schedules as there are very few local lines, and of travel time as the trip can last half an hour to two hours according to the destination. Moreover, buses drive on winding small mountain roads and the ride can feel longer due to this conditions. Some buses can even be a few minutes late, which is quite rare in Japan.
Renting a car 🚙 can be a good alternative here. Michi-no-Eki is a well-known rest area on the road to Kumano Hongu Taisha.
How long does it take to walk the Kumano Kodo?
To enjoy your experience in Kumano, we recommend staying at least three days, to take the time for a spiritual walk and to visit Kumano Sanzan's three shrines. The three shrines are indeed located several kilometers away from each other.
There is an average of about a dozen hours' walk between two main sites, and half an hour to two hours hike for the shortest parts of the trail like Daimon-zaka slope, a picturesque cobblestone stairway in the heart of the hundreds years old cedar trees forest.
For those who would like to walk the entire pilgrimage route, it is recommended to plan for a full week, with a halt each night in a different inn.
How to choose the trail(s)?
Trails and walking distances should be chosen bearing in mind the walkers' hiking level and physical capacities. Two routes offer an average difficulty, are well-maintained and served by transportation, and therefore can be recommended to most of hiking tourists:
Nakahechi Trail offers a wonderful walk in Kii Mountain Range;
Ohechi Trail allows the discovery of astounding coastal views.
Tanabe City Kumano Tourism Bureau is very efficient and provides useful advices in Japanese and in English, at their office in Japan or through their very convenient, frequently updated website. We do recommend by the way to contact Tanabe City Kumano Tourism Bureau before a hike to check weather and trails conditions.
What are the required gears to hike the Kumano Kodo?
We established a non-exhaustive list of recommended gears to hike the Kumano Kodo:
Good and sturdy walking shoes, if possible with high uppers to protect ankles;
Clothing adapted to hiking and quickly varying weather conditions (windproof, waterproof, fleece fabric, breathable);
A bottle of water, at least one liter per person and per day, as well as some snack to nibble on the road;
A first-aid kit, especially for bites and stings. Kii peninsula is home to numerous small species, some of which are poisonous, such as giant centipede, hornet or the small Mamushi viper, recognizable thanks to their triangle-shaped head;
A large amount of cash, enough to cover your needs while in Kumano Sanzan area. There are indeed very few, if not, means to access an ATM, even in small villages;
A Pocket Wifi 

📶

device will offer a more comfortable journey. Even if the signal might be weak in altitude, such a device allows for a continual access to a GPS and the Internet, which is quite convenient for checking weather forecasts and bus schedules.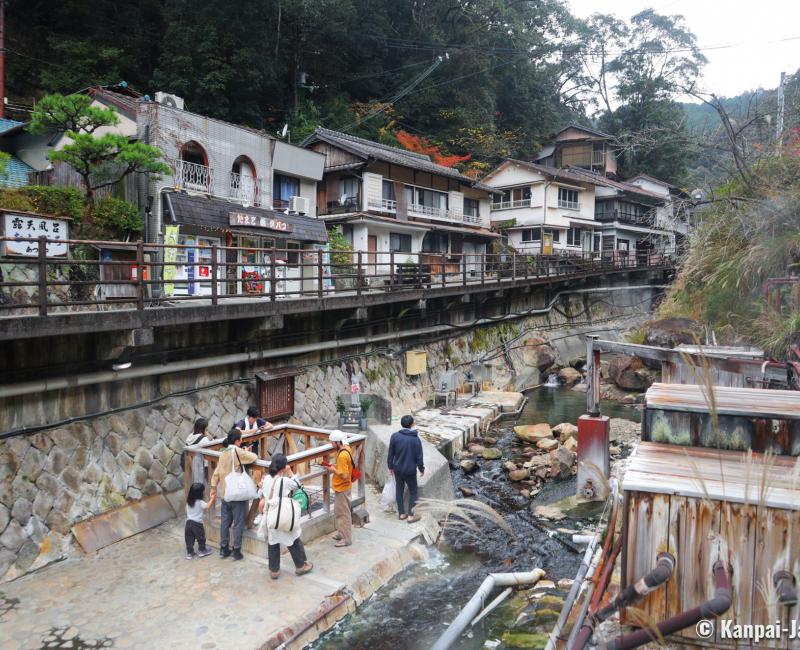 Where to stay on the Kumano Kodo?
Several options are available to visitors and pilgrims for staying in Kumano area. First, cities, like Tanabe or Shirahama in the west and Shingu in the east, that are conveniently located at the trails starting points with generic hotel 🏨 complexes. But booking accommodation only in these places can make travels to each spiritual sites quite long.
The best solution is to stay every night or every two nights in a different accommodation along the chosen path. When traveling with suitcases, the use of Takkyubin luggage delivery service is highly recommended, so as to carry only what is necessary during the hike.
Budget-wise, accommodation prices range from an average ¥5,000 (~US$33.77) per night at a family-run minshuku inn, to ¥20,000 (~US$135.06) per night at a traditional and more luxurious inn such as a ryokan.
In the heart of the mountains, it is possible to enjoy hot springs in Yunomine and Kawayu Onsen, in private baths and even public baths directly in the river. Small town Nachikatsuura even has some nice bath houses with a view on the bay.
Kumano Kodo Pilgrimage Routes allow to discover an authentic Japan, far from the tourist crowds, where vernacular legends and holy shrines mingle in a lush nature.