24/7 Internet access in Japan
Unlimited Wi-Fi and Mobile Travel Connection
⏱ 5 minutes
There are few Wi-Fi hot-spots available in Japan, and the trend is unfortunately to a lesser extended coverage due to the crisis consequence of the Covid 🦠. However, it is often necessary and comforting to have an unlimited access to the Internet 📶 during a travel, or to have a minimum connection speed.
Moreover, thanks to mobile Internet high speeds in Japan, it is possible to ensure a good video or audio streaming, for example for a Whatsapp call or a Facetime video conference when visiting Tokyo or elsewhere (do not forget to take time difference into account though). You can also very conveniently open your GPS, depending on the applications available on your smartphone 📱.
In this article, we intend to introduce several ways of getting permanent Internet access during your stay in Japan. As far as we know, it is not possible to get free unlimited access; the following offers therefore come at a cost, but they are perfectly reliable and will not fail you.
Pocket Wi-Fi
This is our favorite choice when traveling in Japan. Pocket Wi-Fi is an all-Japanese solution whose popularity is on the rise and which is now in use outside of the archipelago's borders.
What is a Pocket Wi-Fi?
The Pocket Wi-Fi is a small electronic device, embedded with a SIM data card, that can therefore connect to the Internet as a portable modem router: it supports up to 10 devices (computers, smartphones, portable videogame consoles…) connected simultaneously to get Internet access.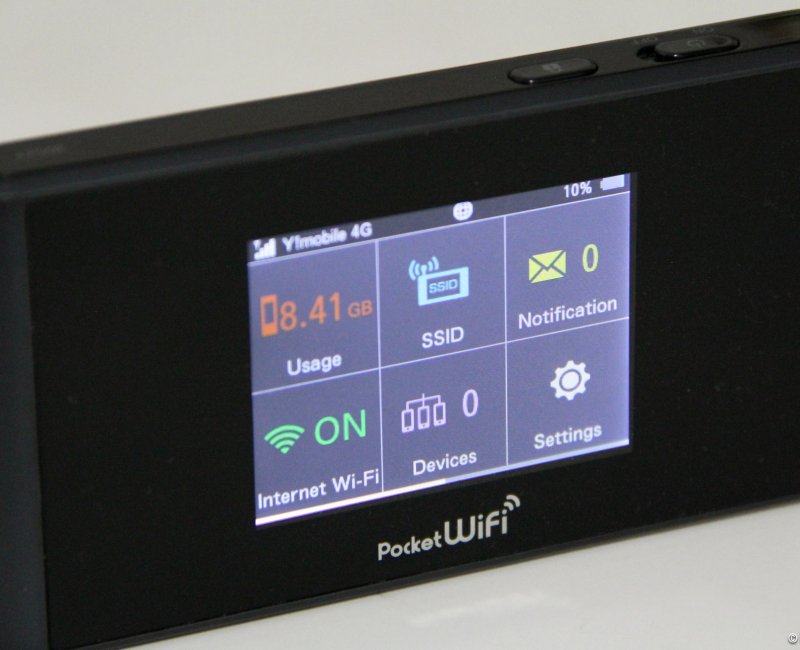 Functionalities
Transfer speed is excellent as according to the norms, they usually provide a 200Mbps downstream and 40Mbps upstream. These are considerable speeds, that are akin to the "4G+". Besides, there is no limit to the amount of data you may transfer.
The other major advantage is its impressive network coverage: in greater Tokyo, we rarely get disconnected even on trains and in the subway 🚇, except maybe in the deepest underground stations. You can settle comfortably in your seat on the Shinkansen 🚅 and work away undisturbed until you reach Kyoto, sometimes with reduced speeds and very occasional disconnections. Even in the remotest places (for example Nokogiriyama), you seldom get disconnected.
Another good point, in our opinion, is that Pocket Wi-Fi automatically switches to sleep mode as soon as there are no devices connected to it. Most of the time, we connect a smartphone to check our emails or an app, and then disconnect the Wi-Fi mode to save the phone's battery power. After a few minutes, the Pocket Wi-Fi suspends the router mode, that can resume upon a simple press of the power button. This ensures a 12-hour long battery life span (a full day of visits), that would still last 4 to 6 hours with constant use.
Pocket Wi-Fi is small and light (about 120-150 grams), you can slip it in your pocket when deactivated. We strongly recommend this solution for a group of travelers with smartphones, tablets, computers, and other devices requiring an Internet connection. It comes ready to use with its WPA code; no configuring is required. You merely need to plug it in at the end of the day to recharge it, and it even comes with a USB cable for a wired connection.
Lastly, your device just needs to have Wi-Fi mode enabled to connect to the Pocket Wi-Fi. Therefore, for smartphones, it is possible (and strongly recommended) to enable the Airplane mode (Flight ✈️ mode) to avoid any unwanted and expensive roaming fees!
How much is it to rent a Pocket Wi-Fi in Japan?
The rates are calculated as a subscription for a rent duration.
We have selected for you the best and the most interesting providers in the following table:
These rates are affordable if you travel in a small to medium group, given the comfort provided by this device, since the overall fee is logically divided by the number of people in your group.
Other solution: SIM data card
This method presents many advantages, but also heavy drawbacks compared to the Pocket Wi-Fi. It is not made for the same kind of usage, and it corresponds to other types of needs. It is a SIM card for Internet data only, which replaces your own usual card.
Let us highlight several points to consider before using a SIM data card:
These SIM cards are for data only, which means that phone telecommunications (to Japan or any other places) are not included in the price
If your device does not have a tethering (connection sharing) option, only the person whose device is equipped with the SIM data card will be able to access the Internet
There are different types of SIM cards (normal / micro / nano), and as much chances to get the wrong card
Your device needs to be unlocked in order to support the SIM card (which uses a Japanese network such as NTT Docomo) – if you have bought your phone from a service provider, you might be required to wait several months before being authorized to unlock it.
The most famous providers are B-Mobile and Softbank.
Among the most hindering aspects of this providers, we can cite:
Booking process in Japanese (sometimes in English)
Theoretical coverage and data very limited in terms of volume, sometimes bridled for some uses (video streaming or Skype or other apps calls)
Prices that are not so appealing.
These are the reasons why we recommend to rent a Pocket Wi-Fi, as detailed above.