Shirakawa-go
Traditional Thatched Roofs Villages
Add to my favorite places
Shirakawago is a gathering of historical Japanese villages located in Shokawa Valley, in the northern part of Gifu Prefecture in central Honshu. Registered as a UNESCO World Heritage Area, the traditional houses with steep thatched roofs in gasshô-zukuri style are the region's main touristic attraction, only reachable by bus or by car.
The term Shirakawa-go is often used to name as a whole the historical village nestled in the heart of the Japanese Alps, however the region's geography is slightly more complicated:
Shirakawa itself is an area encompassing several villages including Ogimachi (the most famous) and Hirase Onsen 

♨️

;
It is often (rightfully) compared to Gokayama, that encompasses smaller villages such as Suganuma and Ainokura. located a few kilometers away in the north, along Shogawa River.
Surrounded by high mountains, rice fields and endless woods, these hamlets are only reachable by road. Designated a UNESCO World Heritage Site since 1995, they are famous for their 合掌造り gasshô-zukuri architecture: traditional local secular houses, with steeply thatched roofs that can support heavy snowfall during winters.
In these historical homes, entire families lived on several floors, heated by fireplaces located in the center of the ground floor (both to spread the heat and to limit the risk of fires 🔥). On the top floor, under the rafters, the family worked together in silkworm rearing. The covering straw on the roofs must be changed every twenty years, at which time you can see craftsmen work on these roofs.
Ogimachi: Shirakawago's touristic sample village
Our own visit is focused on Ogimachi, which is well maintained, "complete," and very popular (nearly a million and a half visitors every year), and also less confidential. With about sixty gassho houses, most of which are now restaurants, minshuku (twenty-five guesthouses) and ryokan (fourteen traditional inns). It is the most furnished compared to other villages.
Visitors are welcome to take a very pleasant stroll starting from the bus exit north of the village. It is fully possible to walk all along the paths, but some bus shuttles also operate from the city center. The day usually starts from Shiroyama Observation Deck, located on the ruins of Ogimachi Castle 🏯, which offers that famous "postcard" panoramic view (see photo above).
Shirakawa-go's traditional houses allow visitors to learn more about their specific architecture, as well as the historical lifestyle of its inhabitants thanks to period objects and testimonies. Although Wada or Nagase are worth mentioning, the one you should pay attention to is Myozen-ji, for its magnificent (but very narrow) temple next to it. In addition, visitors can tour Minka-en, a real open-air museum of about twenty gassho-zukuri houses, expressly moved there to avoid their demolition.
For fans of Japanese animation, who wish to embark on a seichi junrei pilgrimage, Ogimachi possesses references to the anime Higurashi no naku koro ni, which is set in the fictional haunted village of Hinamizawa, largely inspired by Shirakawa-go.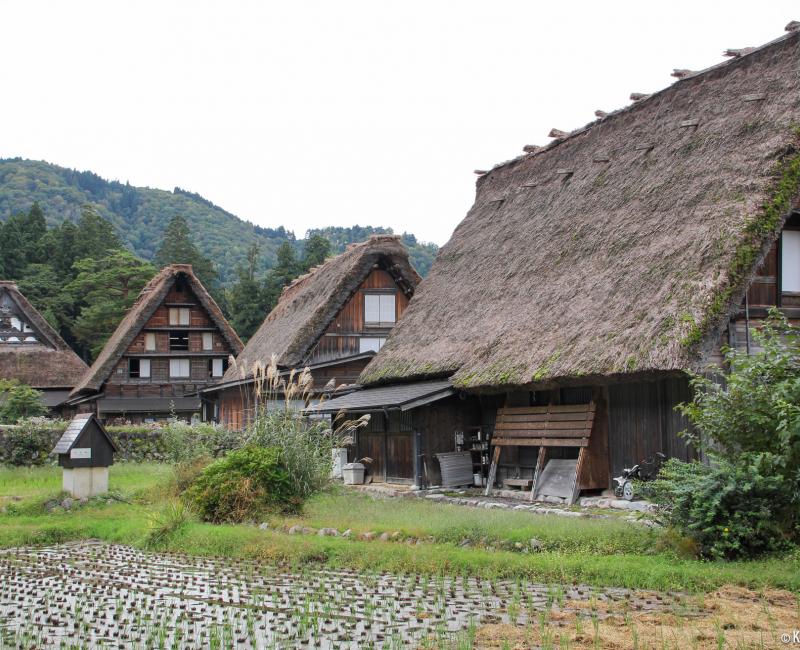 Wonderful, yet too popular, winter light-ups
Only on some Sundays and Mondays at the beginning of the year, the region hosts an impressive winter light-up: gorgeous night lighting that accentuates the heavy snowfall and their white coat both on the houses and on the ground. More and more renowned each year, it has become too populated for the municipality, which has decided to reduce the access to the village starting from 2019. Those willing to go there at this time will have to book in advance. The happy few are then selected through a lottery system granting an overnight stay and/or the opportunity to admire Shiroyama's night view.