Onomichi
The Timeless Japanese Town
Add to my favorite places
Onomichi is a port town on the shores of Seto Inland sea, in Hiroshima prefecture in Japan. It extends on the main island Honshu and on the little neighboring islands, connected by the Shimanami Kaido route bridges. Onomichi's historical heritage, cultural attractivity as well as its location as the entrance to Shikoku island by ferry or by the road makes the city an agreeable destination.
Onomichi, with its narrow steep paths overseeing the bay, offers a picturesque setting, photogenic landscapes and a rich artistic and cultural background.
The main asset of this quiet and a little bit old-fashioned town, is thus its Temple Walk. This famous path of steep narrow alleys meanders from the heart of the city to connect 25 temples, on a 2.5 km hike in the mountain. Even if most of Onomichi's temples can't compare with Kyoto's ones as far as historical aspects and architecture are concerned, they nonetheless offer a quite pleasant two to three hours walk, during which you can discover Saikokuji temple and its pairs of 2 meters high sandals hanged to the Niomon gate.
The Temple Walk has a relaxed and family-friendly atmosphere, similar to Kurashiki or Naramachi. If you are looking for more religious or stern aspects of the temples, you can visit Senko-ji temple, on Mount Senkoji, famous for its vivid vermillion colored buildings. Accessible by a ropeway, it offers an astonishing view on the town. In the same area, near the temple, also stands Onomichi City Museum of Art, with a new design by architect Tadao Ando, that holds temporary exhibitions. To end on a high note, take a short detour to the park's observation platform: a wonderful panoramic view on the valley awaits, and even the cherry trees 🌸 in bloom, if you are visiting in spring, Japan's favorite season.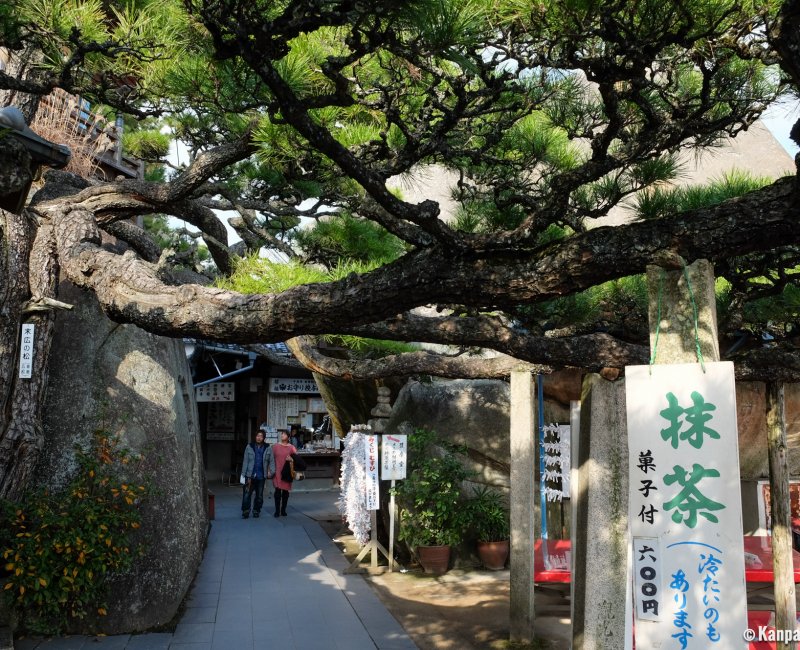 Going down to the port, meet the numerous local cats 🐈, and continue following the narrow alleys of Onomichi's residential area, colorful and charming. Shops, cafés and typical houses enhance a wonderful view on the islands below, and on the perfectly controlled maritime choreography of the boats sailing between them.
Arts amateurs can also enjoy the Path of Literature, marked out by several stones engraved with poems in Japanese. Onomichi is actually the place of origin for several great Japanese writers, and is even home to a Literature Museum. Cinema has also a great place in the city, as many movies were filmed in this quaint little town.
Finally, Onomichi is one of the two starting points of the famous Shimanami Kaido cycling route. The surroundings of the port host several bicycle rental shops with a wide range of bicycles.
This article was written after a tour organized and sponsored by
Hiroshima
Prefecture Tourism Association. Kanpai has been invited and guided but keeps a total freedom of editorial content.