Odaiba
The Entertainment Island in Tokyo Bay
Add to my favorite places
Odaiba is an artificial island in Tokyo Bay, in the south-east of the capital center. It is mainly home to offices and shopping centers and was built on a polder imagined as soon as 1853. Odaiba is also an urban resort and the ideal place for an entertaining weekend with family or friends.
🚧 Limited Access
Palette Town will close down on 2022, August 31, under the following schedule:
Toyota Mega Web (City Showcase, History Garage and Ride Studio): closing on 2021, December 31
Venus Fort: closing on 2022, March 27
Daikanransha: closing on 2022, August 31
teamLab Bordeless: closing on 2022, August 31
The concrete peninsula became famous in the 1980s, when it started to develop at the economic level.
An artificial island dedicated to entertainment
The main attractions are:
Tokyo Big Sight, an international exhibition hall,
Fuji 

🗻

TV headquarters, whose building shelters an observatory on Tokyo Bay,
Museums: teamLab, Miraikan, etc.,
Large arcade games with video games such as Sega Joypolis,
And others, such as Toyota and Panasonic showrooms, a great Ferris wheel Daikanransha, and many more.
It is quite pleasant to stroll from one shopping mall to another (Aqua-city, Palette Town, Venus Fort), as well as to rest on the little beach 🏖, where stands a small replica of the Statue of Liberty.
Since April 2011, a giant Gundam robot stands in front of DiverCity Tokyo Plaza.
It is easy to spend a whole day in Odaiba, especially on weekends or holidays, when families come to spent time with their young children and / or do some shopping.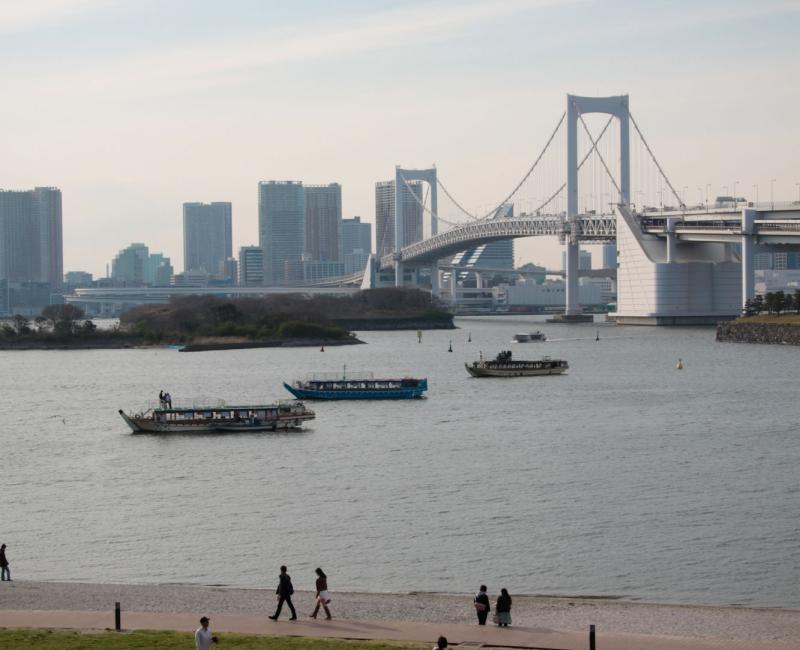 The Rainbow Bridge between Tokyo and Odaiba
Many travelers go to Odaiba with the Yurikamome monorail 🚝 Line that runs on the bottom platform of the famous Rainbow Bridge. If you get to the front of the train 🚅 (which has no driver), you can enjoy the view all along the ride.
The Yurikamome Line is operated by a private railway company (not compatible with the JR network) and connects in about 30 minutes its two terminuses, Shimbashi and Toyosu. Of its 16 stations, Odaiba-Kaihinkoen, Telecom Center and Aomi serve the main attractions of Odaiba.
The Rinkai train line goes through Shinagawa in the south of Tokyo and crosses part of Odaiba to the Shin-Kiba station, in Koto ward.
Odaiba is also accessible by boat, cruising on the Sumida River, with departures from Asakusa.