Ama Divers in Japan
The Tradition of the Women of the Sea
⏱ 5 minutes
Ama divers in Japan are professional fisherwomen who free dive to harvest seashell, seafood, and seaweed at the bottom of the sea. They also used to practice pearl oysters' fishing. While their rare traditional know-how has been on the decline over the past years, Ama are striving to perpetuate it and introduce travelers to it, especially in Mie prefecture that shelters the largest women divers' community in Japan.
Ama divers are living treasures maintaining a traditional Japanese know-how dating back to prehistoric times, and akin to mermaids, they free dive in the sea to fish without any equipment. They specialize in catching sea species living in shallow near-shore waters, such as seashells and seafood (abalones, turbo sea snails, urchins, lobsters, sea cucumbers) as well as wakame seaweed. At the end of the 19th century, they were involved in the pearl oyster's cultivation developed by Kokichi Mikimoto off Toba in Mie prefecture.
In the world, Ama divers can only be found along the coastlines of Japan and South Korea. This thousands-years old knowledge, almost legendary, is on the verge of disappearing. As a matter of fact, it is a rural and sometimes dangerous occupation, not attractive to new and younger recruits. Additionally, climate change is responsible of a rise of the oceans' temperature, and the direct consequence is a decrease of underwater animal and vegetal resources.
About 1,200 Ama divers are still active in the Japanese archipelago in 2023, of which 514 work in the Ise-Shima peninsula (vs. 660 according to 2017 figures from the Toba Sea-Folk Museum). In Mie, traditional Ama divers also turned to tourism to perpetuate their culture and offer various activities and experiences to live in their company.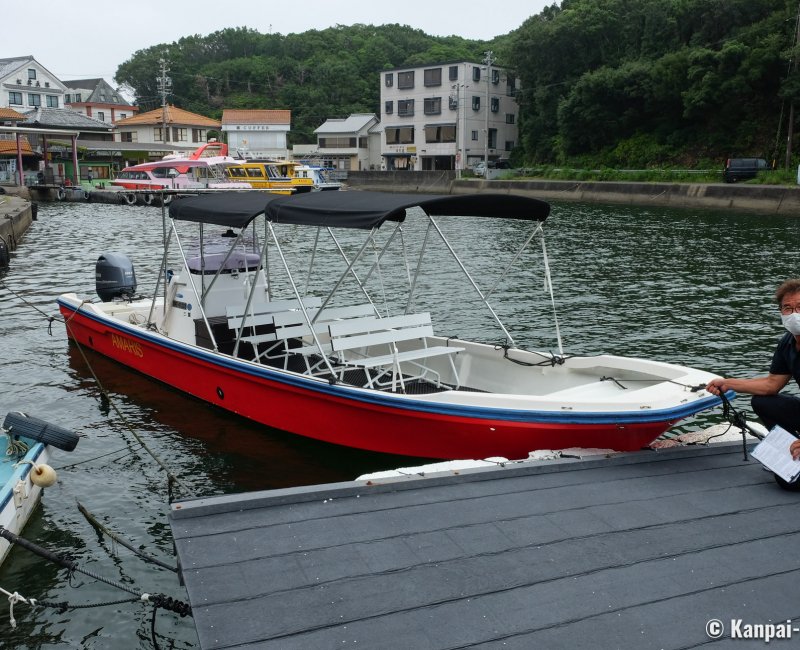 Diving and fishing with an Ama diver
Wagu Gyoko fishing port in the south of Shima city is the starting point to an interesting discovery of Ama divers' daily work. It starts by boarding a small boat that will sail out to sea for fishing.
Nowadays' Ama have put away their traditional white cotton clothes to dive in a more ordinary diving suit. The diving experience with an Ama therefore includes wearing flippers and a diving mask 😷, and watch them looking for seashells and seaweed on the rocky seabed. Caring and professional, the Ama diver invites the guests under water and shows them how to recognize the best preys. Fishing is indeed regulated to better preserve the resources.
The boat ride also passes by a few oyster farms and small floating shacks where locals spend the day fishing. Note that this activity takes place in the morning with some adjustments according to the number of passengers aboard (minimum 2), the number of people actually diving and the weather conditions.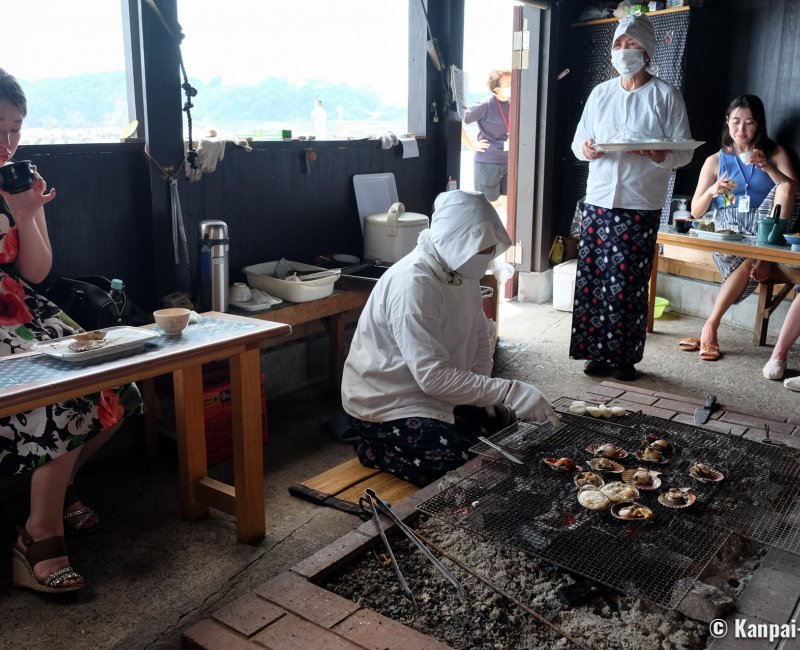 Lunch in a traditional hut
Once their fishing day is over, the Ama divers rest in a cabin they share with other Ama fellows. Around the hearth, they change clothes, warm up and talk about their activity. This convivial moment is followed by a lunch cooked with some of the day's catch.
Osatsu village, in the south-east of Toba, is a privileged place for tourists who want to meet Ama divers and have lunch at the same time. Several huts on the shore called kamado, including Amagoya Osatsu Kamado Mae-no-hama (海女小屋 相差かまど 前の浜), were turned into seafood restaurants for travelers passing by.
In a friendly ambiance, Ama women, wearing their authentic attire, welcome guests and prepare at the fireplace at the center of the cabin to grill fish, seashells, and other freshly fished seafood. The meal is hearty and varied, sided with rice, seaweed salad and tea.
Then, take a digestive walk around Osatsu and visit some of the locally remarkable sites such as Shinmei shrine (Ishigami-san), the Ama Culture Museum or the Kujirazaki promenade, along the seaside.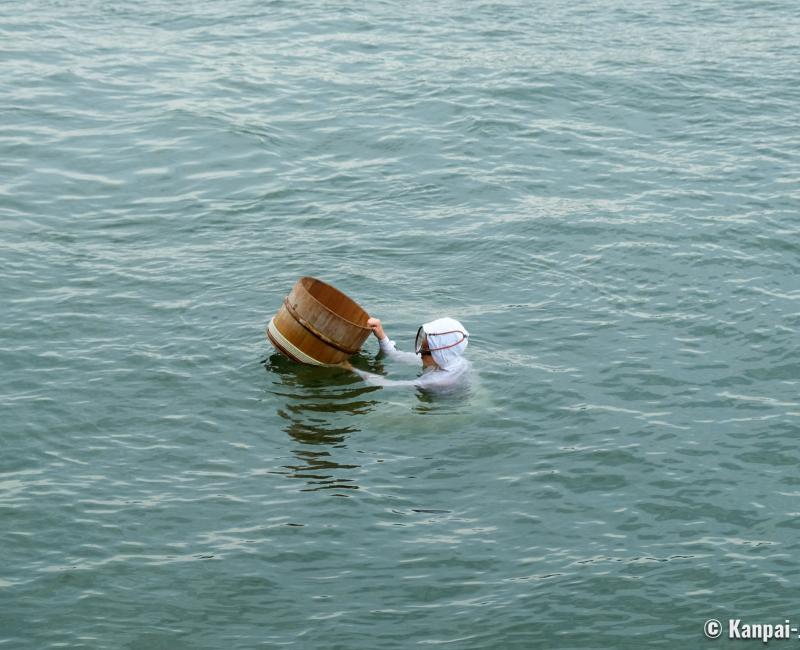 Mikimoto Pearl Island
On Mikimoto Pearl Island you will find all you need to know about the cultivation of pearl oysters. It was developed for the first time in the world by Kokichi Mikimoto (1858-1954), an engineer born in Toba City.
A pleasant walk under the trees connects several museums dedicated to Mikimoto's cultivated pearls. All the exhibitions are interesting, with good explanations and staging.
At the end of the small island, an observation platform was set up to watch the Ama divers and attend to a true aquatic show. Clad in the white older-times clothes, the Ama arrive by boat and demonstrate their ability to skin diving down to 4 to 5 meters deep. In his times, Kokichi Mikimoto made the most of this specific know-how by hiring many Ama divers who were in charge of collecting the oysters at the bottom of the sea, once the pearls were formed.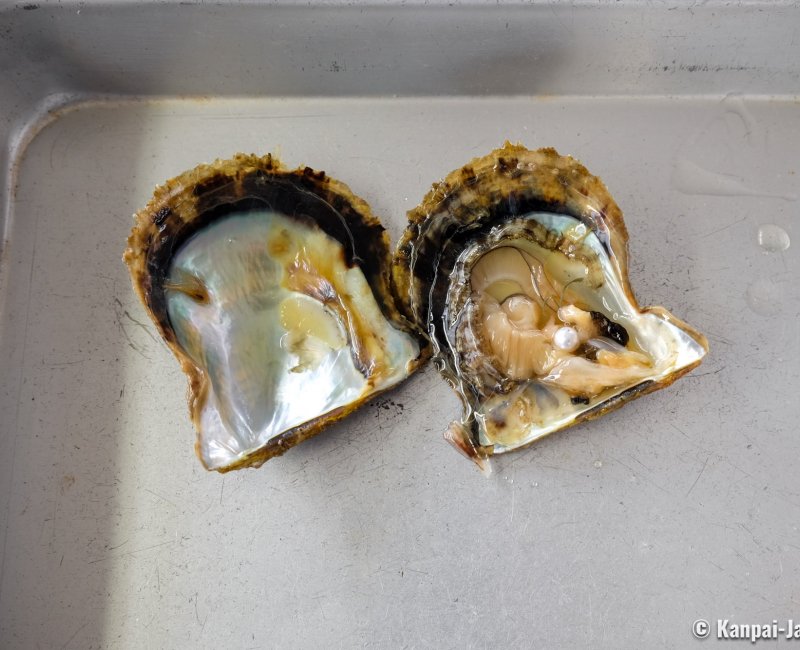 Harvesting cultured pearls
In the heart of Ago bay, at the mollusk farm Shinju no sato (真珠の里), whose name could be translated as "pearl village", tourists can experience the collect of an Akoya oyster and the extraction of its pearl. After the pearl is cleaned, it is set on your preferred accessory (jewel, decorative object, etc.).
The experience is interesting to understand how to evaluate the quality of a cultivated pearl. Is this oyster a good choice? Does it "reward" with a beautiful pearl? Moreover, a video explanation is available to show how much work is involved in pearl oysters' cultivation.
--
Toba and Shima coastal towns, in the east of Mie prefecture, are particularly suitable to meet the Ama divers and discover their culture respectfully developed in close relationship to the ocean. In complement to the train 🚅, driving is recommended to travel more easily between the various little fishing ports and around Ago bay.
This article was written after a tour sponsored and organized by Mie Prefecture's Tourism Association. Kanpai has been invited and guided but keeps a total freedom of editorial content.