Osezaki Lighthouse
The Spectacular View From Fukue's Cliffs
Add to my favorite places
Osezaki Lighthouse is at the westernmost end of Fukue Island, in the Goto archipelago off Nagasaki. The cliffs offer a beautiful walk facing the sea and down to the lighthouse. The area sightseeing can be completed by the visit of Imochiura Church, a testimony of the history of the Christians who sought refuge on the island.
The white Osezaki Lighthouse is inseparable from the rocky and steep coastline it overlooks. The 20 kilometers long and 150 meters above sea level cliffs were shaped by the weathering of the East China Sea's strong winds. Osezaki is without a doubt one of the most fascinating spots of Fukue Island, yet it does not attract many tourists.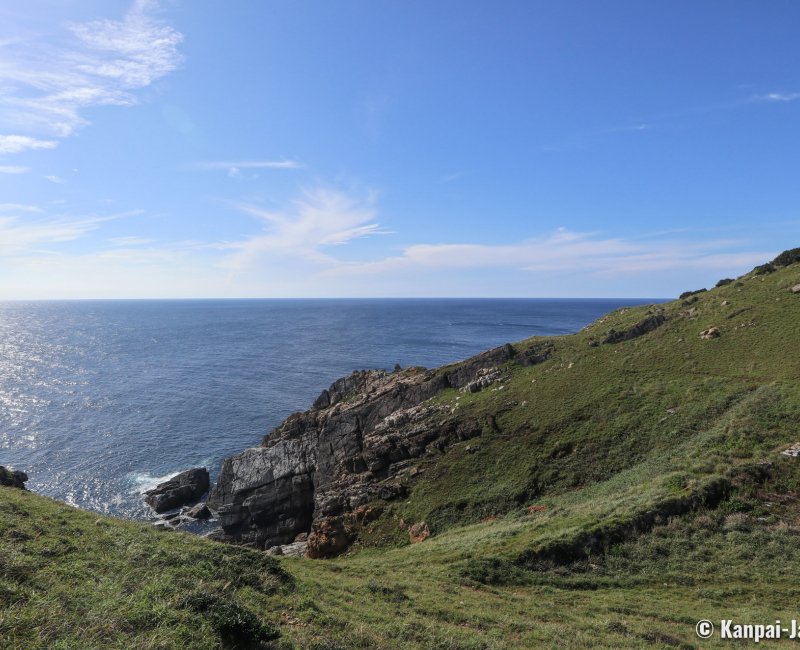 The island's natural heritage
The stunning coastal landscape unveils from the road giving access to the site. We recommend stopping by the road's side to embrace a wide point of view on the grassland-covered cliffs and the lighthouse towering in the background. Then you must walk to reach the building. This part of the hike is rather easy: about a twenty minutes' walk on a downhill trail. However, on the way back the slope being quite steep, and the walk lasts twice as much.
The beauty of the place is enhanced by a varied vegetation including camellias and pine trees, as well as glimpses and encounter of the local wildlife, such as does. Most of sightseers visit Osezaki Cape at the end of the day to admire the sunset on the unobstructed horizon line, which is the westernmost of Japan's main archipelago (beside Okinawa).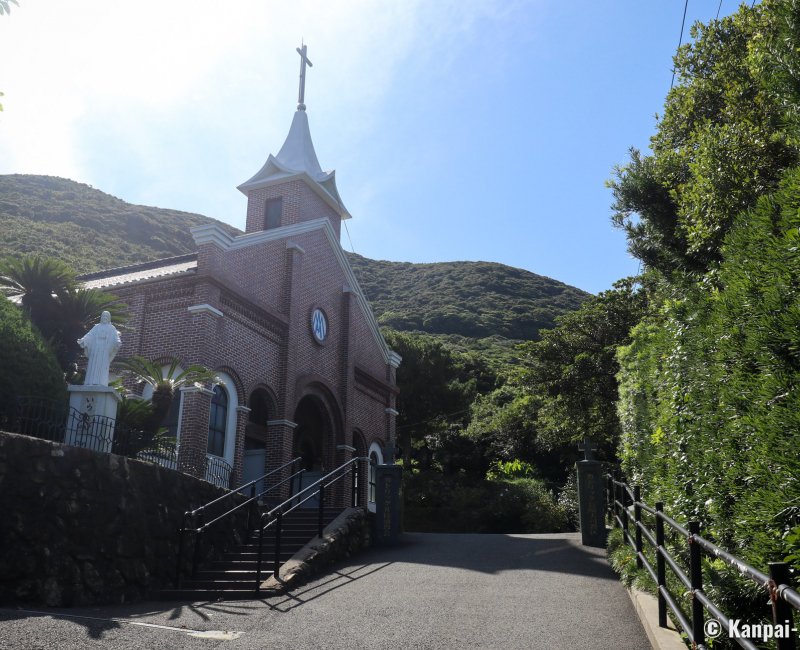 Detour by Imochiura Lourdes Catholic church
At a close distance from the lighthouse by car 🚙, the visit of this part of the island ends at Imochiura Church. It was first built with red bricks in 1897 under the supervision of French missionary Father Peroud and was the first "Lourdes" church constructed in Japan. It was initially conceived in a Romanesque architecture, but it was redesigned into its present days' more modern style after several fires 🔥 and a typhoon 🌀 in 1987. It is possible to go inside the church, however pictures are forbidden, and silence required.
Next to the church was built a small-scale replica of the Grotto of Lourdes, sheltering a statue of the Virgin Mary. The cave was made from the island's rocks, but the water flowing was brought from France's Pyrenees mountains. Every year, indeed, some holy water from Lourdes is brought in Fukue for Goto Islands' Christians.
This article was written after a tour sponsored and organized by
Tokyo
Metropolitan Government
to promote the destination #
KYUSHU
×TOKYO. Kanpai has been invited and guided but keeps a total freedom of editorial content.