Father's Day in Japan
Celebrate Fathers on "Chichi no Hi"
⏱ 4 minutes
Father's Day or chichi no hi (父の日), literally meaning the "day of the father," is celebrated in Japan on the third Sunday of June each year. It is an occasion to gather the family and to enjoy a particular day for a father and his children.
Father's Day celebration is said to have appeared in 1910 in Washington state in the United States. It spread as an important custom in the world during the second half of the 20th century and therefore also exists in Japan, called chichi no hi or "day of the father". Even if it is still a low-key celebration (according to a 2018 survey only 30 % intended to give a present to their father on this occasion) and less deeply rooted than Mother's Day, it is a good occasion to reinvigorate the father/children relationship.
Fathers working long hours, children busy with school activities
As a matter of fact, the father in the Japanese family is rarely at home, as many studies point, work is a major part in the life and the mind of Japanese men.
The father is usually away from home, and comes back quite late at the end of the day, often after dinner time – that he often eats alone, especially when living and working in a large urban area.
His periods of rest can be mostly dedicated to personal interests, again to the detriment of family time, as it is also important to be part of groups to fare well in society in Japan.
Moreover, children are not free either: they have school, and they take part to one or several extracurricular activities that keep them busy from 2 to 5 afternoons or evenings per week (baseball or football clubs, dance, piano, swimming pool or martial arts, etc.). Children also often have tutoring classes in the evening at gakushu juku (学習塾). Those are not mandatory, but most of children are enrolled in these classes as it is highly valued by Japanese society : therefore a child can attend classes in this kind of private school once to thrice a week.
With such busy schedules and the weight of the society, it is not easy for a father to spend time with his children, so Father's Day is a good occasion to catch up in the relationship! Recently, the Coronavirus 🦠 pandemic has somehow shaken the situation, and the forced development of teleworking gave men more time to spend at home on a daily basis.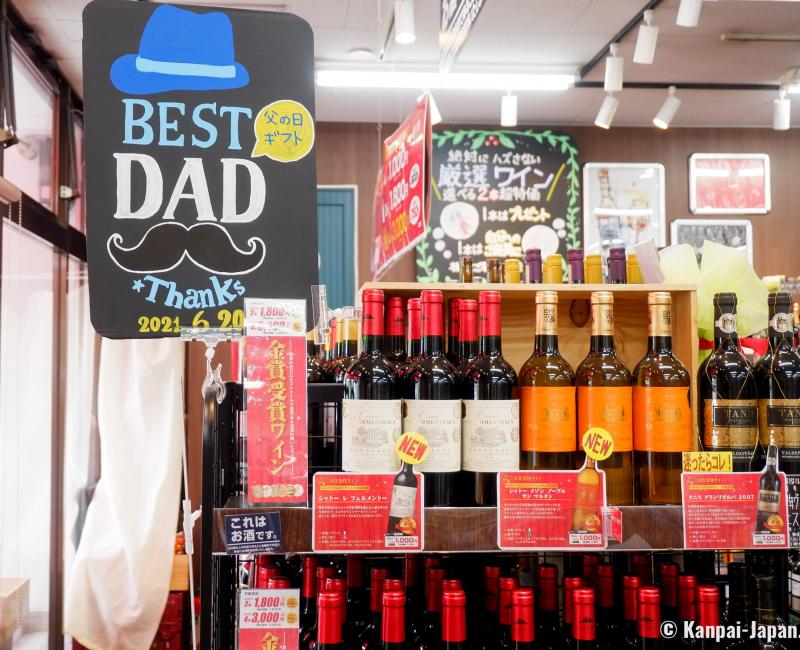 What kind of presents for Japanese fathers?
From several studies, the presents that Japanese fathers like the most are those they can use on their free time and are associated with relaxation:
Alcohol is at the first place. A selection of Japanese quality beers, arranged in a nice wooden present box (not the Happoshu, considered cheap beers) is a gift that will be enjoyed. Then the Nihonshu 

🍶

sake, Shochu liqueur and Whiskey are also favored, and often come in Father's Day themed packaging.
Food comes at the second place: eel (unagi うなぎ) is a very much enjoyed dish and is among the most commonly offered, followed by seafood, always popular. Lastly, appetizers and side dishes are offered, or soba (そば) buckwheat noodles and the fine somen (素麺) wheat noodles, wrapped in lovely packages.
Present related to leisure are also appreciated, but they must suit the father's interests. For example golf items, a cycling attire, a diver's watch, or a training session or a sport outing, the choice is wide and must target the tastes of the gift's recipient.
Lastly the "all-purpose" presents that are always useful: a nice laid-back and trendy polo shirt, a sophisticated electric shaver, an electric toothbrush, a quality headphone, a wallet, nice sunglasses or a customized mug or beer jug with the dad's name are pretty sure to please and be useful.
According to a study by Rakuten in 2018, the average amount spent on a Father's Day present was ¥6,294 (~US$41.82).
What not to give
Some presents might not be appreciated by the fathers. It is not absolute, but it is better to avoid offering, for example:
Shoes, that remind of trampling or crushing, such as in the dominant / dominated relationship very important in Japan,
Stationery, a watch or a bag that can recall of the working place, already (too) prominent,
Scissors or a knife can symbolize the wish to cut some ties.
Moreover, one must avoid presents set by 4 items. The number is indeed pronounced "shi" in Japanese, like the word for "death". The number 9 (kyu or ku) remind of sufferings (ku or kurushii) as the two words are homophones.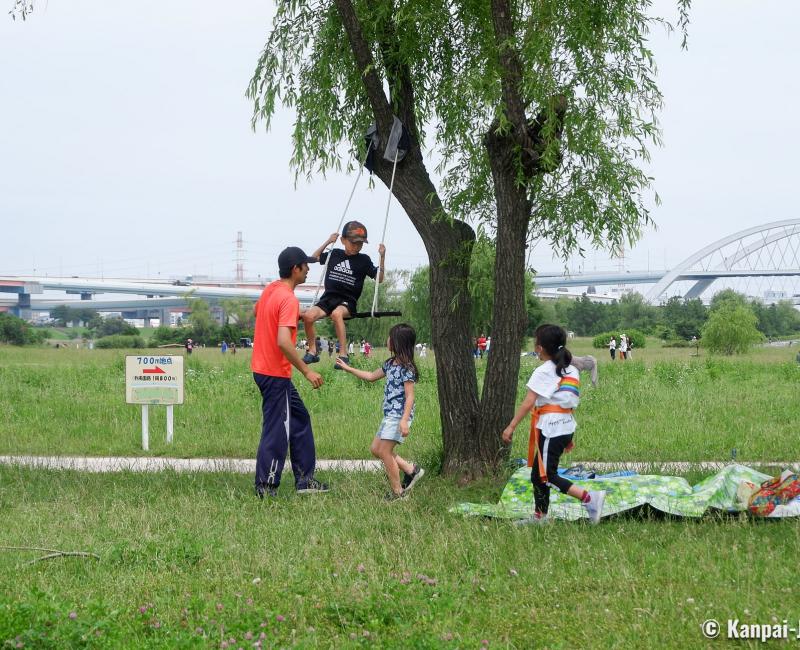 Fathers and children's mutual expectations
Therefore the Father's Day has become an occasion for parents and children to get together, spend time talking, playing and laughing. Some families enjoy going out, going on a walk, eat in a good Yakiniku (grilled meat) restaurant for example, other prefer to stay at home, just together as the most important is to spend a pleasant and special time.
---
Kanpai wishes a good Father's Day to all fathers in the world!