Udo-jingu
The hidden shrine in a cliff
Add to my favorite places
Udo-Jingu is a Shinto shrine located on the Udosaki cap in the famous seaside city of Nichinan in the Miyazaki Prefecture on Kyushu island, which is in the southern part of Japan. Dating back to 1711, the shrine is settled in a cave with a cliff in front of the Pacific Ocean. This authentic and peculiar frame constitutes the main interest of this visit.
This pretty, all red, lacquered shrine is dedicated to Ugayafukiaezu, the legendary father of Jinmu and considered to be one of the founding emperors of feudal Japan. Several beliefs are tied to this location. One of them regards the ceiling of the cave that is in the form of a woman's breast, which may have fed the famous spiritual ancestor. It is still celebrated to drink the water coming from rocky walls, as it is supposed to give fertility to those wishing to have a baby. Also, Udo-Jingu welcomes numerous newly married or young couples hoping to strengthen their love ties. A bit more contemporary, the hyuga-natsu ice-cream made from a citrus cultivated in the Miyazaki Prefecture, offers a refreshing summer taste for visitors, while "guaranteeing" their financial success.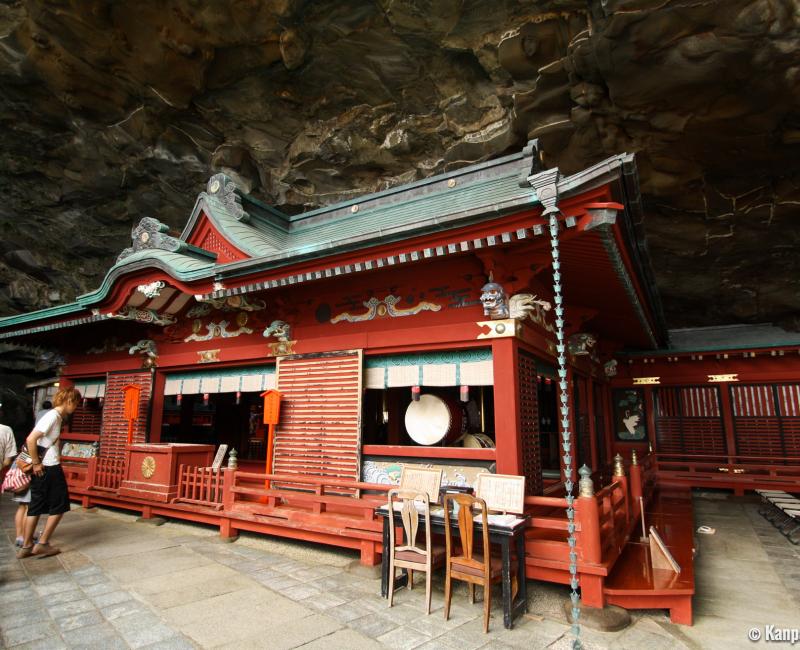 Of a quite classical architecture for a Shinto shrine, the site's originality is illustrated by an approach divided by two elements. We are first captivated by the impressive view of the Pacific Ocean, as it continuously moves along the rocky coast. For sure, the shrine does not suffer from any view marred by humans or urban architecture, and spirituality comes directly from the surrounding natural elements. Then, we arrive at the second atypical point of interest; the main hall is nested under a cave barely higher than its roof.
To wish for good fortune, worshipers launch undama or ungyoku. For ¥100 (~US$0.68), each player obtains five small, clay "lucky balls" to throw at a rope target set on the Kame-ishi rock. Men are required to throw the ball from the left hand and women from the right hand.
In this picturesque natural setting, few modern developments are visible. We must walk about 15 minutes from the closest parking lot to reach the shrine's entrance. The path includes long rock stairs that are, unfortunately, not accessible by wheelchairs or strollers.
Oriented to the east, Udo-Jingu does not provide an appreciation of the sunset on the ocean from its observation terrace. Other monuments and higher cliff mountains, such as Motonosumi Inari located on the Sea of Japan's coast in Honshu, have better vantage points for viewing the sunsets.