Hyotan onsen
The Private Mixed Hot Springs
Add to my favorite places
Hyotan Onsen is a public bath facility located in Beppu thermal town, on Kyushu Island in the south of Japan. It offers several types of hot springs pools: indoor, outdoor and private for families. It is also possible to eat in while donned a traditional yukata.
Private onsen ♨️ is often referred to as a luxury that only few travelers in Japan can afford. Overall, most thought areas to find thermal sources are north of Japan (Hokkaido), Honshu (Hakone near Mount Fuji 🗻), or Kyushu Island in the south. There are undoubtedly others, but these are renown for the quality of their natural hot springs.
Private onsen sometimes comes as an annex to the room of a high-priced ryokan inn or as modern 'onsen spa' for quite wealthy clients. In Hyotan Onsen, it was not what we tried, but something slightly more modest at an affordable cost. And it might even be a better value for money since even if the hotel 🏨 room includes a private onsen bath, you probably won't dip in all night long.
The facility is called Hyotan and is located in Kannawa, a traditional neighborhood northeast from Beppu's center on Kyushu Island. Specifically, it's a few hundred feet from Happy Neko, one of the area's minshuku lodging. Hyotan also offers classic public baths, but its range of nine private, indoor or outdoor onsen will particularly suit families, lovers, prudish Westerners or … tattooed people!
For the anecdote, the Hyotan Onsen opened in 1922 and is the only one in Japan awarded 3 stars by the Michelin Guide.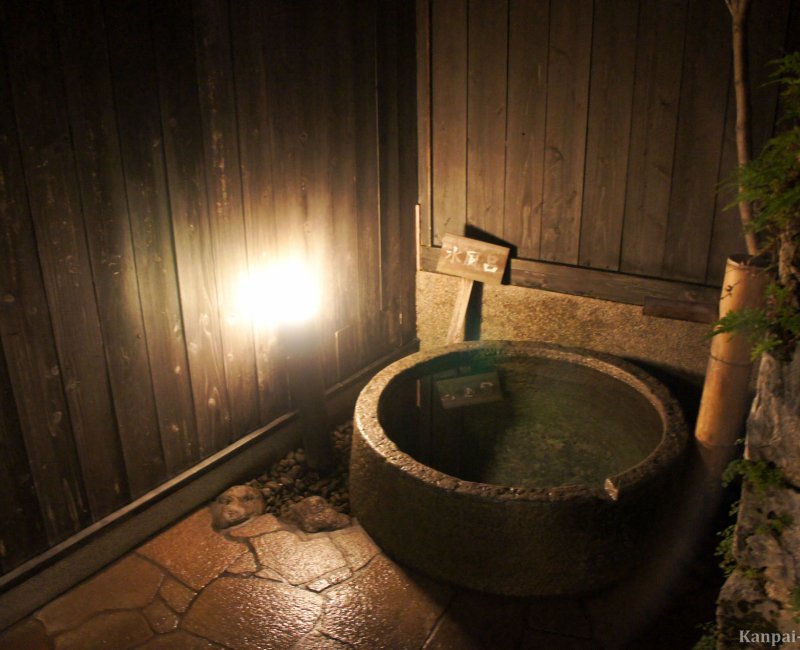 Upon entering the private onsen, you'll hang a sign to indicate that it is reserved. As a matter of fact, the door does not lock. It is probably related to the water temperature, extremely hot (close to 50°C / 122°F) which may cause to faint. Rest assured, if the natural spring 🌸 fills your bath with its own temperature, it is possible to add cold water to adjust and avoid burning. At the end of the session, it is advisable not to wash again because Beppu's hotspring water is said to have beneficial properties for the skin.
The Family Bath onsen experience is very charming. The entrance includes a space to store your clothes, as well as amenities for after-bathing (hair dryer, cosmetics…). In the onsen bathroom 🛁 itself, there are naturally open showers to wash before entering the bath. The place is very traditional, with stone flooring and a few plants, and everything is extremely clean. Aside from the large main onsen bath, the one we selected also had a small cold water tub and a sauna.
Depending on how you can handle the heat, one hour may be more than enough to enjoy the onsen experience in these conditions and we can only encourage you to seek private sources regardless of your traveling situation.