Nabegataki Falls
The Amazing Waterfall in Kumamoto
Add to my favorite places
Nabegataki is a waterfall located in Oguni, in the north-east of Kumamoto prefecture on Kyushu, Japan's southern island. The 10 meters (32ft.) high and 20 meters (65ft.) wide impressive cascade allows visitors to reach its foot, where they can feel its power and admire a wonderful natural scenery.
In the south of Japan, the big island Kyushu is true to its reputation of a green destination. The vigor of nature is palpable in the surroundings of Mounts Aso and Kuju and gave birth to unique landscapes of wild volcanic beauty, such as Nabegataki Falls.
There is no need of a distant observation deck to view it: Nabegataki's greatest asset is that it can be approached very close. This invigorating natural gem is the reward of a short walk in the woods of Nabegadaki park. Spellbound visitors fell embraced by the large falls spreading in a lush vegetation.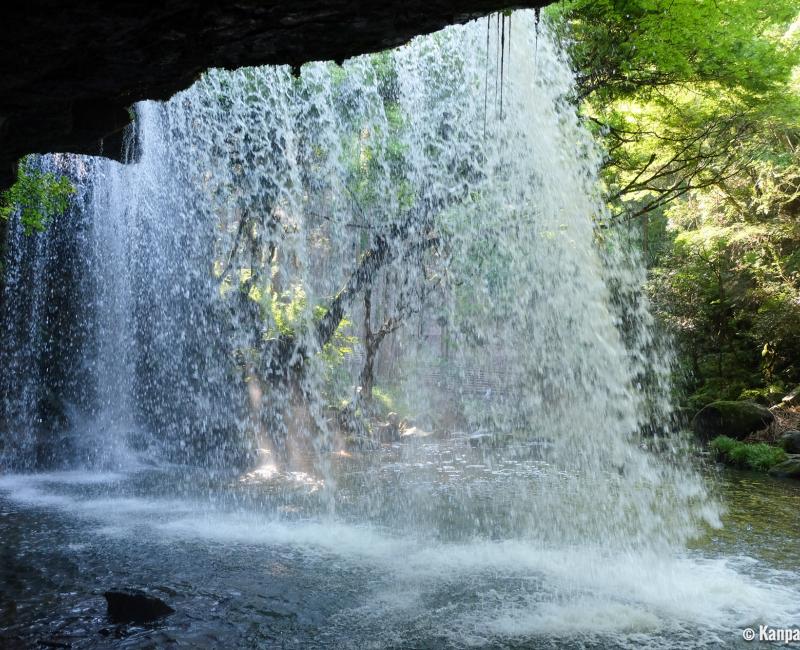 Original view from the back of the waterfall
The highlight of the place is the curtain formed by the water, that can also be watched from behind, under the rocks carved by erosion. This type of waterfall is quite rare in Japan and is named Uramino-taki. The narrow area behind the fall is accessible, and partly occupied by a shallow pond imbued in spray. Swimming is not allowed but one can still dip feet in the water.
Nabegataki is undoubtedly one of the most beautiful waterfalls of the archipelago, and we totally recommend the detour. In autumn 🍁, the red foliage brings out the forest's attractiveness as it is subtly flare up in the sun rays. During the Golden Week, the mysterious and wild aspects of the falls are further enhanced by night illuminations set up behind the water curtain.
The place is accessible only by car 🚙 but is an easy gateway from Kurokawa Onsen ♨️ hot spring 🌸 village. Moreover, at the entrance a few restaurants serve soba noodles cooked in the falls' water.
This article was written after a tour sponsored and organized by Kyushu representatives, especially
Fukuoka Prefecture
,
Oita Prefecture
and
Kumamoto Prefecture
for Rugby World Cup 2019 and Women's Handball World Championship 2019. Kanpai has been invited and guided but keeps a total freedom of editorial content.