Biei
The Colorful Countryside in the Center of Hokkaido
Add to my favorite places
Biei is a rural town of Kamikawa sub-prefecture, located at the center of Hokkaido island. It appears among Japan's most beautiful villages especially thanks to its resplendent flowery hills and its deep blue lake. The high mountain ranges in the background add their hugeness to this man-made and well-maintained landscape.
An agricultural land suffering large temperature amplitudes, Biei still manages to keep some Japanese fineness in the nice staging of its rural landscapes throughout the year.
Countryside as far as the eye can see
Two areas characterize the sought-after panoramas of this bucolic and colorful countryside. The nearest to Biei's main station is Patchwork no Michi, located in the north-west of the town center. Two observatories Hokusei-no-Oka and Zerubu-no-Oka (road 237) offer unobstructed views on the fields. A bit on the side, the three symbolic Parent & Child Tree are growing up on a hill. It Renting a car 🚙, or a bicycle for the most athletic travelers, is recommended to explore these few spots that are relatively far from each other.
In the south, Panorama Road is a less wide space but is home to the marvelous Shikisai-no-Oka, and of the nice San-ai-no-Oka. Sightseers can roam in the hilly fields in a car, on a bicycle but also in a golf cart or in a little tractor-drawn train 🚅.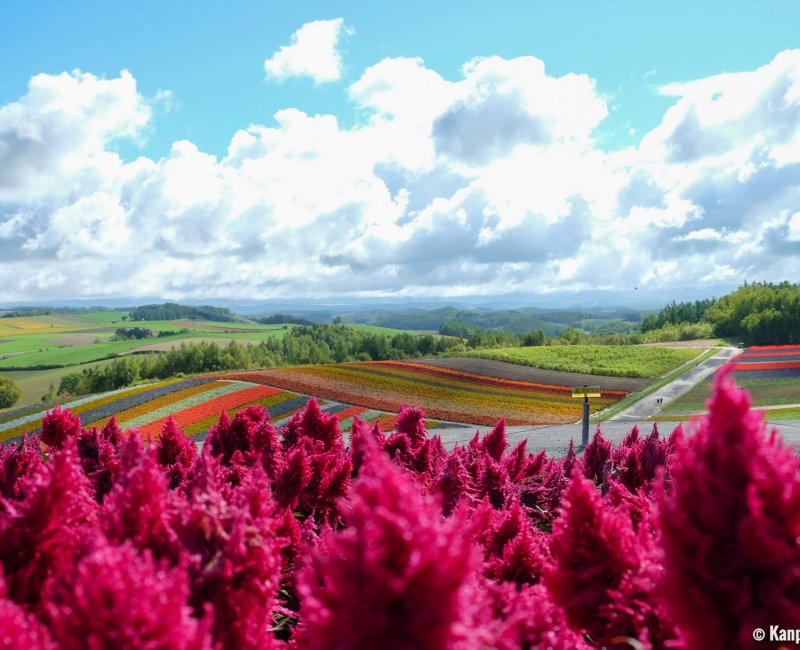 The two sites have similar landscapes with volcanic mounts in the background of cultivated hills whose flowers perfectly align in rows. The plants' bright colors change at each season, from spring 🌸 to autumn 🍁. In winter, the countryside is sleeping under a heavy layer of snow.
Aoi-ike's blue water
Other must-see in the area, Lake Aoi-ike is a quick visit by bus or by car along the road 966. A simple parking marks the site of the lake whose intense blue water contrast with the white birch trees that seem to sprout from the water like some huge reeds. This specific blue color of the pond reflecting the sun beams is due to the high aluminum level in the water. This postcard-like scenery is in fact not natural but the result of a human error following works to prevent landslides. From November 2019 to April 2020, a LED light-up was set to enjoy the view in the evening.
Travelers in the area with their own transportation means can add Shirahige Waterfall and Mount Tokachi-dake Observatory to their excursion course.
In the same way as the neighboring and akin Furano, renowned for its lavender fields and its farms, Biei also easily overshadows the sad large city of Asahikawa, located only about 20 kilometers away. Hikers on their way to the mounts of Daisetsuzan National Park will find in Biei a convenient and pleasant halt, with the opportunity to make plenty of beautiful pictures.