Daisetsuzan
The Largest National Park in Hokkaido
Add to my favorite places
Daisetsuzan National Park is spreading on about a 2.268 km² (875,54 sq mi), superficies at the center of Hokkaido island, in the north of Japan. Its volcanic mountains are home to a protected alpine wildlife to discover on a hiking trip. This Japanese natural site is also the first to change colors in autumn and to be covered in snow at the beginning of winter.
Daisetsuzan's "great snowy mountains" have fascinated Hokkaido's inhabitants for centuries and were designated "National Park of Japan" on December 4, 1934: they are indeed home to the island's tallest mountains, culminating higher than 2,000 meters above sea level. This mountain area is also considered sacred by the Ainu indigenous people who named it Kamui-mintara, that is to say a "gods' playground," ideally located on the heights of Hokkaido.
The spiritual significance of the place is enhanced by the spectacular beauty of its natural landscapes, displaying:
Mountain peaks;
Green tablelands;
Sulfur fumaroles;
Swamps and volcanic lakes;
Onsen 

♨️

hot springs.
This active environment allows the thriving of wildlife (brown bear, fox, tamia chipmunks and other small mammals) even at the higher altitudes. Daisetsuzan is now renowned as the first place to go to admire the alpine koyo 🍁 in Japan, with vibrant fall colors appearing as soon as late September. It is also the place to be to observe the first snowfalls of winter in the archipelago.
With a superficy of about 2,268 km² (875,54 sq mi), Daisetsuzan is the largest national park in Japan to which several accesses are possible. The biggest and closest city is Asahikawa, that has a JR station and a domestic airport. From there, one can drive to one of the hot spring 🌸 resorts located at the foot of the mountains and that can be used as base camps in the valleys.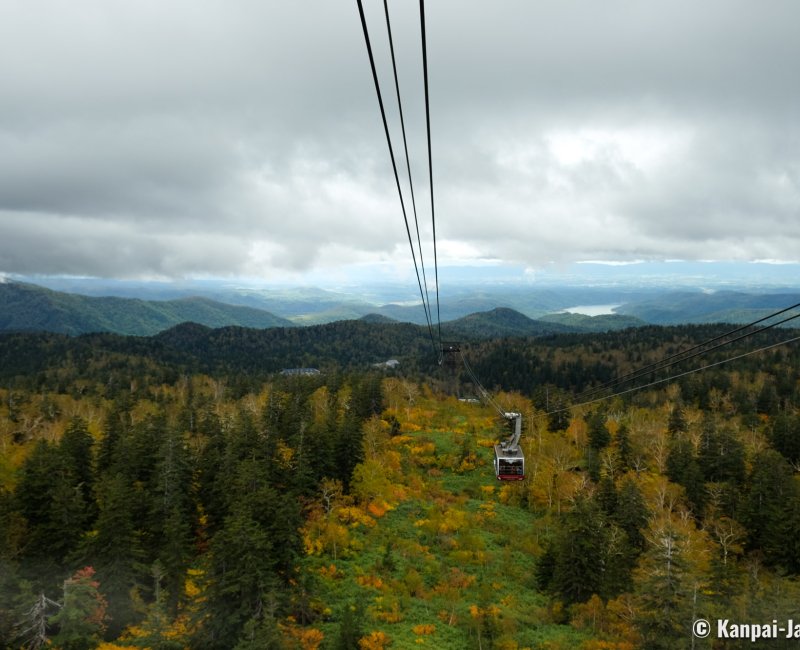 Popular hiking trails between Mount Asahidake and Mount Kurodake
Hiking tourists do like the area around Mount Asahidake (2.291 meters high) and Mount Kurodake (1.984 meters high) due to its easy access by 2 ropeways and 1 chairlift. One can therefore quickly reach the higher grounds and the marked alpine trails that tread the relatively flat lands such as Susoaidaira Plateau and Ohachidaira Caldera.
Depending on one's physical condition and the time on hand, it is possible to enjoy different walking paces, such as:
Getting off the cable car and just take a few minutes to watch the beautiful natural viewpoints; then,
Walking on a loop hike for about 1 hour; or,
Treading the trail between Mount Asahidake and Mount Kurodake, a hike that can be made on average over 1 to 2 days by seasoned hikers used to high mountain environment.
Climbing the mountains is also possible in summer, when the weather is nice.
A little bit further east in the National Park, we recommend the Ginsendai trail located 1,500 meters high, leading to the summit of Mount Akadake (2,078 meters). It is also renowned for its autumn landscapes that remind those of the Tateyama Kurobe Alpine Road, as it is covered with the same Alpine vegetation of bushes and shrubbery adapted to the mountain, such as the Japanese rowan (Nanakamado).
It is also possible to hike around the onsen villages, with trails leading to waterfalls, such as Ginga no Taki and Ryusei no Taki waterfalls in the vicinity of Sounkyo Onsen.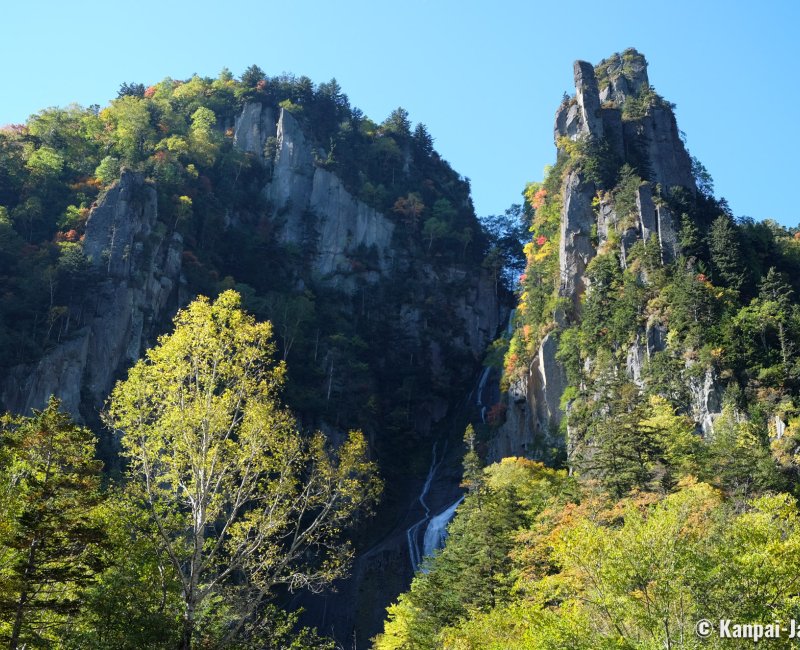 Daisetsuzan National Park is open all year long. Hiking is the main activity, with a seasonal peak from spring to autumn. In winter, the snowy mountains become ski slopes.