Bike Rental in Japan
Sustainable Transport to Visit the Archipelago
⏱ 7 minutes
Cycling is a particularly suitable method to travel in Japan, either in large cities for a renewed sightseeing, or to explore the Japanese countryside and the small islands forming the archipelago. Bicycle offers many advantages for vacationists looking for a slower visit pace, for independence and the open-air.
Cycling is a daily life essential for the Japanese, but it is also convenient for tourists who can make the most of the existing infrastructures to travel easily and find appropriate parking lots. Let's review the general rules about bicycle rental in Japan that are useful to know before using it.
The different types of Japanese bicycles
We have listed below the main types of bikes that are often seen in Japan. These are the most frequent choices available at bicycle rental shops.
City Bike
The classical type and the most widespread for rental, the city cycle (シティサイクル shitisaikuru) is suitable for the dense urban traffic. It usually have a hub gear with up to 6 speeds, but the most basic version may have only one gear. With a simple kickstand, it is usually equipped with a basket at the front and a bell. Make sure lights are provided if you intend to cycle at night, especially as the sun usually sets around 4-5 p.m. in winter and 7 p.m. at the latest in summer.
Mamachari
The mamachari (ママチャリ) or "Mom's bike 🚲" is a utility bicycle for urban and daily cycling that became the symbol of the Japanese family. It is equipped with at least one basket and can have up to 2 child seats (one at the front and one at the rear). Moreover, it comes with lights, a horseshoe lock and a double-leg kickstand, which is more stable and absolutely necessary to transport every body.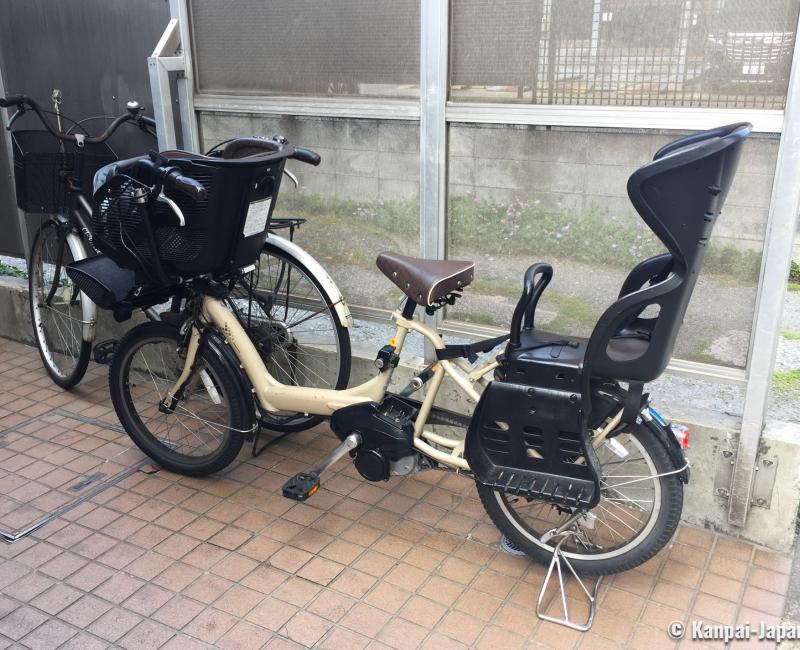 Electric-assisted cycles
The electric bicycle (電気自転車 denki jitensha) has become widespread in daily use for its precious assistance on hilly roads or when transporting children. City cycles all have electric versions that are easy to find at rentals for a hassle free ride. Just make sure to charge it when using it over several days. The electric assistance features:
An eco, standard or strong mode;
Activation by pedaling;
A 24 km/h top speed limit.
Regarding the size, adult bicycles commonly range from 24 to 27 inches.
Road bicycle
Lighter and without additional equipment (no basket, luggage-carrier, mudguard, kickstand, etc.), the road bicycle (ロードバイク roodo baiku for "road bike") is for long distance and speed amateurs. They are easily identifiable with their pro-racers outfits and they cycle mainly on the weekend and holidays. In terms of vocabulary, are included in the same category the sport bicycles (スポーツ自転車 supootsu jitensha) and the mountain bikes (マウンテンバイク maountain baiku) suitable for cycling on earthen paths.
The Japanese bicycle anti-theft system
Almost all city bicycles, mamachari and electric bicycles are equipped by default with an anti-theft system that is quite simple yet sufficient for Japan, where bicycle theft is not so common. It is usually a horseshoe ring placed under the saddle that secures the rear wheel and is locked with a key. For the other types of bicycles, a normal chain-lock can be used.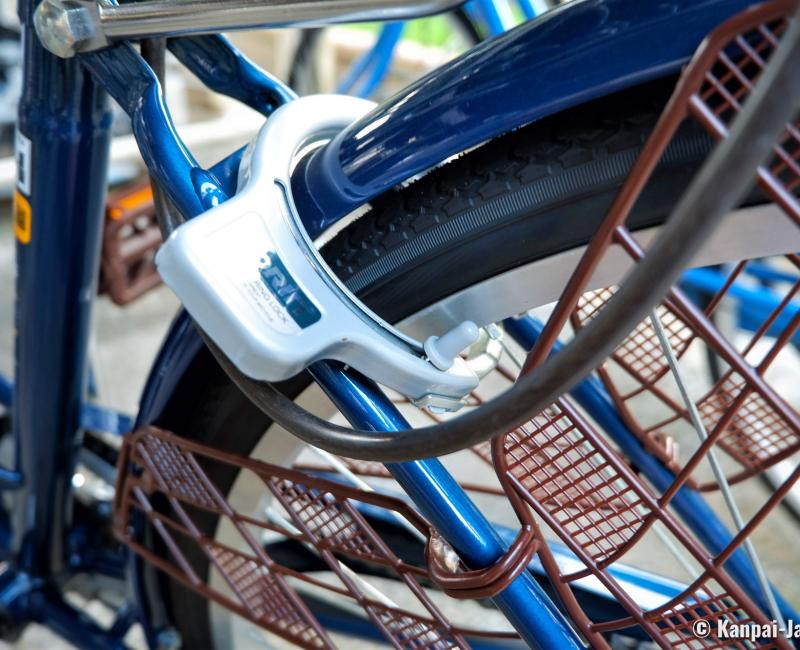 When your bicycle is nowhere to be found, it is very likely it was impounded for improper parking. It is then necessary to contact the nearest koban police station to find out where it is and the amount of the fine to pay to retrieve it (about ¥5,000/ ~US$33.33).
Finding a bicycle rental in Japan
Travelers will easily find bicycle rentals:
Near the train 

🚅

stations;
By inquiring at tourist information centers; or,
At some accommodation providing their customers with a fleet of bicycles.
With Internet 📶, it is possible to perform a more precise search by city or area with the request "rent a bike" or in Japanese "レンタサイクル" followed by the name of the place.
Independent rental shops
The advantage in choosing an independent rental is the larger choice in the type of bicycle available for rent : sport bicycle, or with a baby carrier and other specific equipment. Other services can be provided such as ready made itineraries on printed maps, or booking a bicycle guided tour with a professional. The rental is usually for the day, during the opening hours of the shop.
We have selected a few shops for the quality and the originality of their service:
Share-bike service
The bicycle-sharing system exists in most of the large touristic destinations in the country: Tokyo, Kamakura, Nagoya, Kyoto, Osaka, Nara, Kobe, Hiroshima, Kanazawa, Fukuoka and even Naha in Okinawa. As a general rule, there is only one type of bicycle available for rent: the classical city cycle with a basket and electric assistance. It is not possible to transport children with this kind of service and it is required to be at least 1,45m (4,76ft) tall to use it.
They function with an online booking system requiring the setting of an account from a smartphone 📱 app, with registration of a credit card 💳, but most of the time without service fee. Afterwards, The bicycle can be unlocked at the bike port location with an IC card (such as Suica). The 3 following services are among the most popular:
Docomo Bike Share, by mobile phone operator NTT Docomo is widely spread throughout the archipelago. As for prices, allow ¥110 (~US$0.73) for a 30 minutes use and ¥165 (~US$1.10) for the first half hour. The day pass named 1-day-Pass, costs from ¥1,048 (~US$6.99) to ¥1,650 (~US$11.00) depending on the city, with Sendai being the cheapest and Tokyo the most expensive.
Cogicogi does not have a network as large as Docomo but has enough bases in large cities for a one-time use and easy for a touristic use. Three formulas are available (excluding tax) : 12 hours for ¥2,100 (~US$14.00), 24 hours for ¥2,400 (~US$16.00) and 48 hours for ¥3,600 (~US$24.00).
Hello Cycling is a Japanese rental with no English version available for its online booking service and is therefore mainly aimed at the locals. The rental of a city cycle ranges from ¥60 (~US$0.40) every 15 minutes and from ¥1,000 (~US$6.67) to ¥1,500 (~US$10.00) for half a day.
What about bringing one's own bicycle?
True cycling lovers can bring their own two-wheeler in the plane ✈️ to travel in Japan by bicycle. In Japan, taking the train with a bicycle is possible but requires to mention it when booking the ticket, and remove the front wheel and carry it in a specific bag. Otherwise, it can be sent separately and more easily by takkyubin delivery service, between two hotels 🏨 for example.
Purchasing a bicycle in Japan requires it to be licensed and registered at the police station, with the name and the address of its owner. This information can be useful in case of theft or towing (due to improper parking).
The cost to get rid of a used bicycle varies according to the place of living and is usually within the ¥300 (~US$2.00) to ¥2,000 (~US$13.33) range. One must contact the nearest waste disposal center for large items (粗大ごみ受付センター sodai gomi center). It is also possible to try selling it to a second-hand shop (リサイクルショップ recycle shop).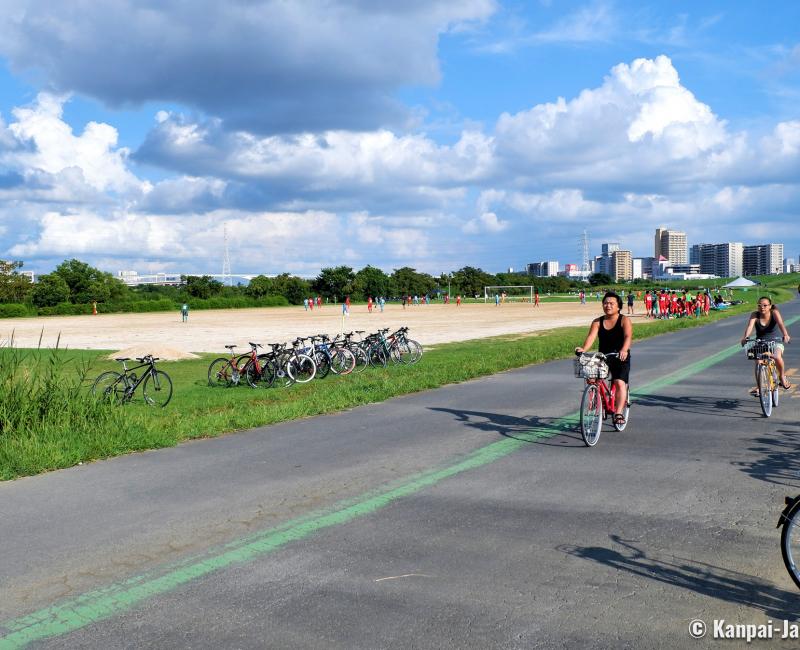 The best destinations for cycling
The Japanese topography is particularly varied and includes plains, mountains, valleys and coastlines. The archipelago encompasses several thousands islands of various sizes, some of which connected by bridges. Therefore, Japan does not lack destinations and landscapes favorable to cycling. Spring 🌸 and autumn 🍁 are the best seasons to ride under a favorable weather and in a nature displaying its most beautiful colors.
Cycling widens the visit range and allows to explore further in the city. In most remote areas, it offers the beautiful Japanese countryside and an off the beaten tracks sightseeing, with a feeling of freedom.
Our (non-exhaustive) short-list of the best cycling rides in Japan include:
The famous Shimanami Kaido cycling road from Onomichi (Hiroshima) to Imabari (Ehime),
The Kibi Plain (Okayama),
The banks of Kamo-gawa river in Kyoto,
Tokyo's lower city and generally the cycling lanes along the banks of the various streams of the capital, such as Arakawa and Edogawa rivers to Wakasu Seaside Park (Wakasu Kaihin Koen),
The large Awaji Island (Hyogo),
Nasu, Itamuro and Kuroiso villages (Tochigi),
The surroundings of Mount Yotei, and the hills of Furano and Biei (Hokkaido); and,
Miyako-jima tropical island (Okinawa) and the long Irabu Ohashi Bridge.