Genbudo Caves
The Geological Experience in Kinosaki
Add to my favorite places
Genbudo Caves are basalt caves located on the shore of Maruyama River, 5 kilometers south to Kinosaki, in Toyooka City (Hyogo prefecture). Genbudo park was named from its main cave, and includes 4 others: Seiryudo, Byakkodo, Minami-suzakudo and Kita-suzakudo. The complex belongs to the San'in Kaigan Geopark and was designated Natural Monument of Japan in 1931.
Kinosaki is not only a onsen ♨️ hot spring 🌸 destination. The area also home to attractive places testament to the Earth' s forces, such as the very beautiful and original caves of Genbudo Park.
The rocks were naturally formed 1,6 million years ago by several volcanic eruptions and were shaped by the elements. The basaltic rocks are characterized by tall columns of surprisingly very regular patterns. The beauty of the place results from the hexagonal prisms extending over several dozen meters high and constitution an impressive basalt wall.
Each cave was named after a deity of the Chinese mythology. For example, Genbu reminds of the legend of the guardian deity Genbu, a combination of a tortoise and a snake. When looking closely inside Genbudo Cave, one can indeed guess the silhouette of the two animals:
The back of the tortoise with the biggest rocks and,
The snake's belly along the vertical pillars.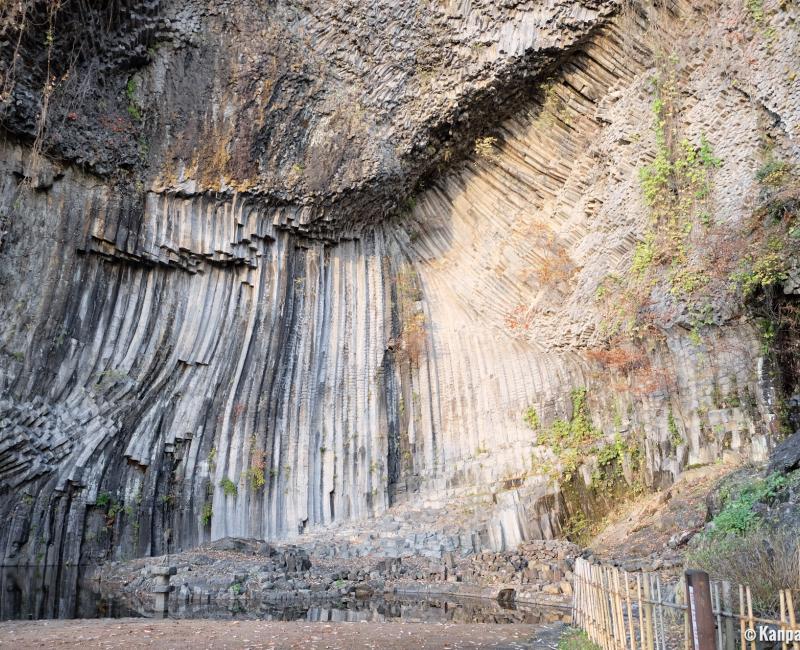 Seiryudo Cave is wonderfully reflected by a pond. As if the scenery had been created thousands of years ago, time goes by slowly and offers peaceful moments to travelers.
It is easy to walk to the five caves following a paved course, with a handful of stairs. The mountains and the forest surrounding the park add to the age-old and magnetic character of the visit.
All the caves are man-made: Genbudo was still a mining site until the early 20th century. The peculiar shape of the cooled-down lava was used to provide ornamental stones for gardens, materials to build stone walls or strengthen houses' foundations. The cave partially collapsed in the Great Tajima earthquake of 1925, May 23. Kinosaki's inhabitants used the stones freed by the crumble to reinforce the banks of the Otani River, that crosses the heart of the famous thermal resort.
This article was written after a tour sponsored and organized by San'in Region Tourism Association. Kanpai has been invited and guided but keeps a total freedom of editorial content.