Miyama
The Thatched Cottages in the North of Kyoto
Add to my favorite places
Miyama is a Japanese traditional mountain village of Kyoto prefecture, in Nantan City's countryside. The preserved architectural space, called Kayabuki no sato, is still inhabited and famous for its about forty thatch-roofed houses. Some of these rural dwellings now shelter a cafe, a shop, a museum or a guest-house to welcome visitors.
Siding a densely wooded mountain on the bank of the Yura river, Miyama thatched roof village, named Kayabuki no sato in Japanese, seems unaffected by the passing of time. Its traditional and unaltered architecture is revealing its charms amidst a peaceful Japanese countryside only thirty kilometers north to Kyoto.
Pass by the rice fields to discover this hamlet made of a handful of winding streets serving about forty authentic houses, most of them having a thatched roof. The place displays a truly peaceful atmosphere with a view on the beautiful forest of tall cypress trees in the background. In winter, the snow is abundantly covering the village and gives it an even more mystical aura. In summer, the rural farms are surrounded by flowers and a vegetation of a lovely green vegetation.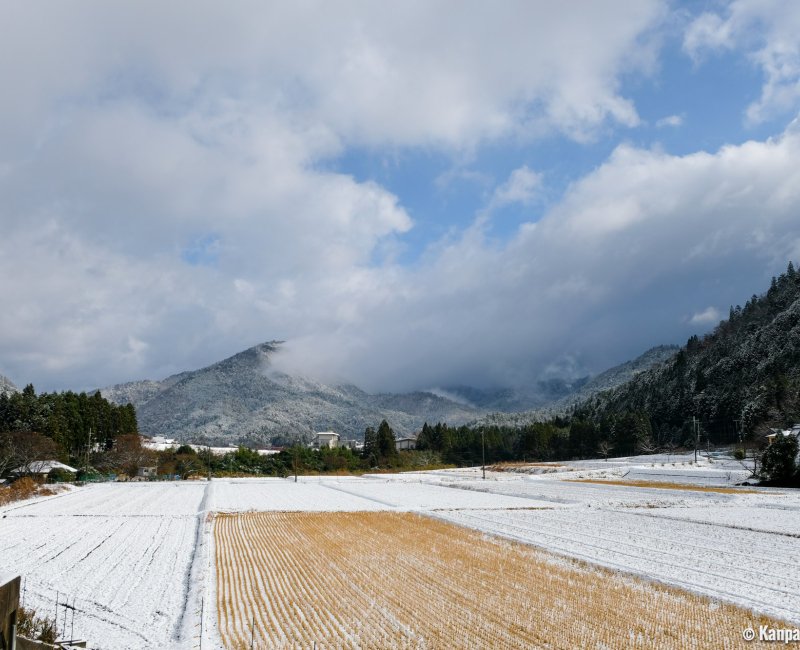 A beautiful Japanese village inhabited all year long
Beyond the beautiful architectural display, Miyama villagers still live in the satoyama (里山) lifestyle, that is to say close to the nature, in harmony with the mountains and the passing of the seasons. People live here all year long, which preserves the village's identity, and it is therefore essential to follow some proper conduct behaviors when visiting, such as:
No smoking in the village, due to the increased risk of fire;
No trespassing into private properties, as all houses are not opened to the public;
No parking in the village's streets, a visitors' parking is available at its entrance;
No picking wild plants, flowers in gardens or fruits from orchards; and, lastly,
Take your rubbish home.
Contrary to Shirakawa-go villages are closer to beautiful open-air museums for tourists, Miyama's Kayabuki no sato is first and foremost a countryside hamlet whose inhabitants are essentially farmers.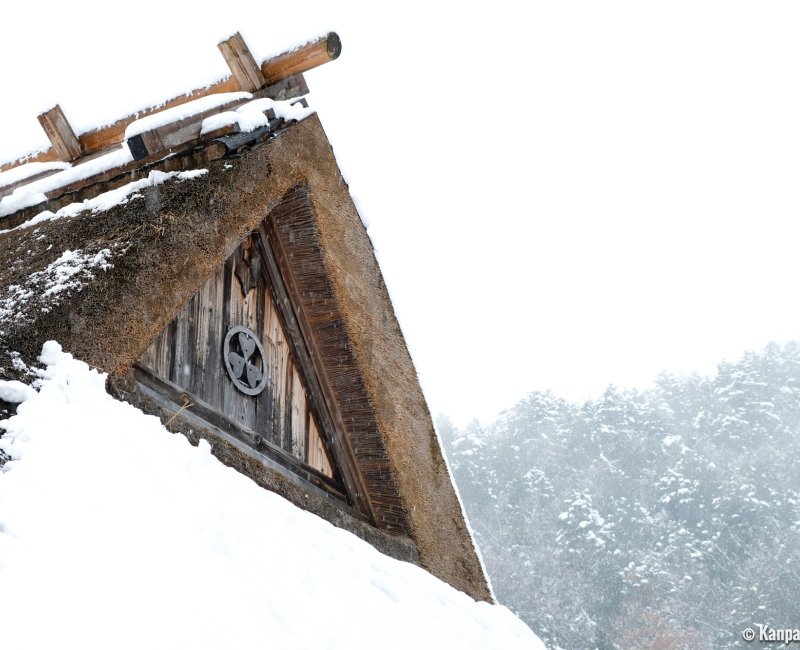 How to enjoy the thatched roofs?
A small tourists office, and signs in Japanese and in English help visitors find their way to the main attractions, especially the Miyama Folk Museum and the Little Indigo Museum. Going further up on the heights of the village, Kamakura-jinja and Chii Hachiman-jinja shrines harbor delicate 17th century wood carvings. A few thatch-roofed houses were also turned into cafe-restaurant or minshuku guest-houses. The food is local, simple and delicious, based on cereals, seasonal fruits, fresh vegetables and ayu fish caught in the neighboring river.
Kayabuki no sato preserved village has recently become a popular touristic destination, crossed by many travelers' groups on the daytime. Therefore, we recommend individual travelers looking for tranquility to stay overnight and discover Miyama early in the morning or from the middle of the afternoon. A total of 200 traditional thatched-roof houses are still standing in the area.