JR Tower T38
The Observatory of Sapporo Station
Add to my favorite places
JR Tower T38 is an observation deck in the tower of Sapporo JR station on Hokkaido island. Located 160 meters high, it offers a 360-degree view on the capital of northern Japan and its grid of rectilinear streets as well as a beautiful panorama on the surrounding nature.
JR Tower T38 is the highest vantage point on Sapporo. Placed above the JR station, the Observatory T38 is an unavoidable stop for any first-time traveler in the city.
With an unobstructed view on the mountains in the background and Ishikari Bay in the horizon, the sight is surprisingly refreshing. While the visit is indoor only, the vastness of the landscape can still be perceived thanks to the many large windows.
In the daytime, visitors observe the small theater of the streets, with car 🚙 traffic and pedestrians' flows. At night, the urban features of Sapporo are enhanced by the lights that bring out the straight central alleys reminding the mapping of American cities.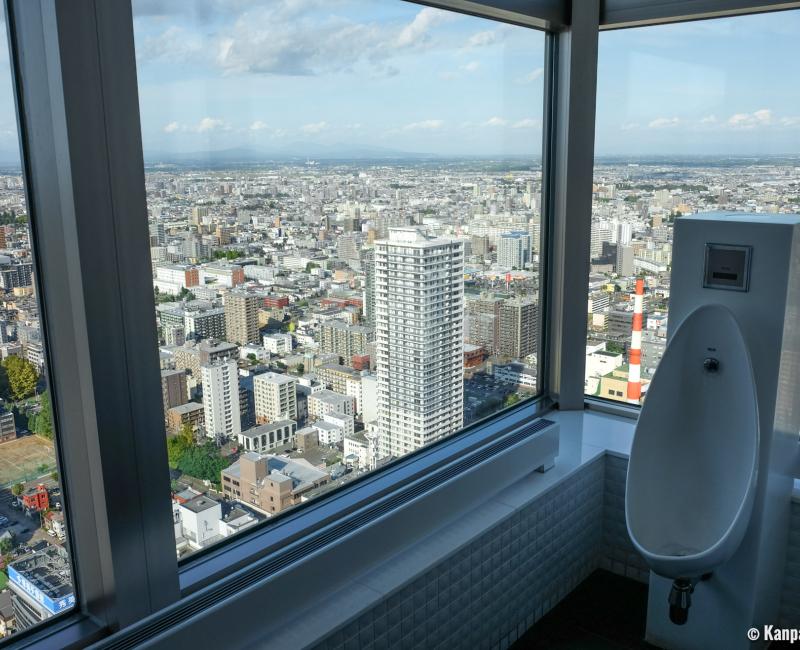 However, the most beautiful views are to be found in the most unexpected place. Men's restrooms indeed have almost full-size windows and one can do one's business as if above the emptiness. In the same manner, women's toilets 🚽 also have large windows, with a few plants to provide some intimacy while enjoying the vastness of the landscape.
The observatory floor also shelters a cafe, and it goes without saying, a souvenir shop. Consequently, like many of Japan's observatories, Japanese couples appreciate this place where they can use the subdued atmosphere of the night for a confession around a drink. Families also enjoy this beautiful observation platform as it conveniently protects on bad weather days, especially during snow periods. However, the view is more interesting when the sky is clear.