Takamatsu
Shikoku's Largest City
Add to my favorite places
Takamatsu is the capital of Kagawa prefecture located on the shore of the Seto Inland Sea on the north tip of Shikoku, the smallest of the four main islands of Japan. The largest city of the area, it spreads on 375 km² and is home to about 420,000 inhabitants. Its touristic highlight is Ritsurin, one of the three most beautiful gardens of the archipelago.
Takamatsu struggles to attract foreign tourists, apart from the few Henro pilgrims undertaking the walk to the 88 temples and sightseers appealed by the Setouchi Triennale that takes place every 3 years on the islands of the Seto Inland Sea. It is indeed a very quiet port town, whose inhabitants' average age is relatively high. There is not much activity on the island and although Takamatsu seeks to boost tourism it seems that young people tend to escape as soon as they can.
For example, the shops close very early: a Saturday afternoon in the city center is far from crowded and most stores close at 5 or 6 p.m. tops. The final session for a movie is 9:45 on a Saturday night, and for that you must go to Aeon, the only major mall in the area, accessible mainly by car 🚙 (it takes over 20 minutes by bike 🚲 from the center, on a not so easy road).
As for shopping arcades, if they are quite attractive in the surroundings of the station with recent and nice shops, they worsen quickly as one moves away, with lots of ghost stores and locals who you look at you as if they had never seen foreigners.
Also, why not build beaches 🏖 in Takamatsu? The climate, sunshine and temperatures are favorable, and the scenery is beautiful...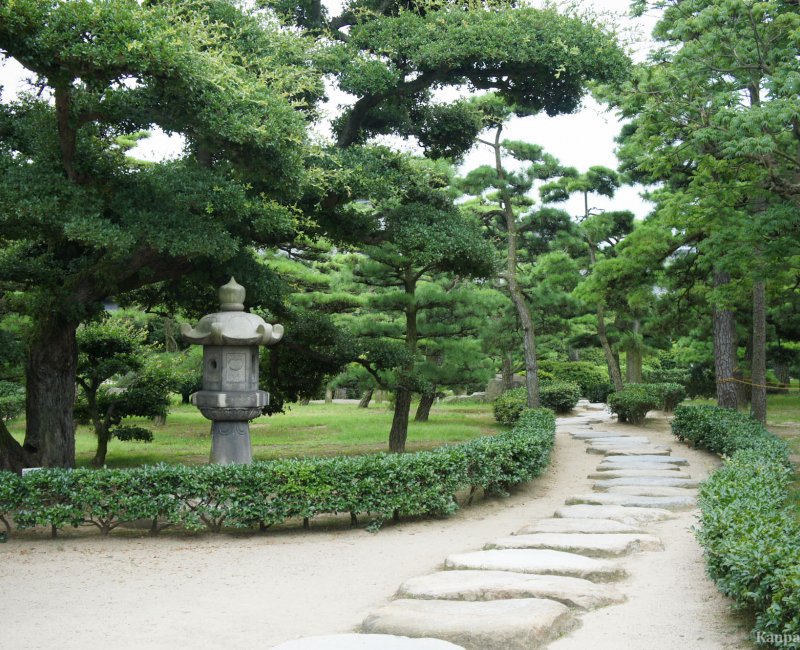 A very quiet downtown
Another disappointment: there is almost nothing to see of Takamatsu Castle 🏯 in Tamamo Park. Built during late 16th century and destroyed during the Meiji era, only two yagura turrets are visible, as well as an old residence and moats, but it would be more honest not to require a fee to contemplate those ruins.
Despite the critics, the city is nevertheless quite charming, especially thanks to its wonderful Ritsurin garden, and can be envisioned as a relaxing break between two more busy destinations in Japan. It can also be a base for sightseeing the surrounding islands and sites, such as Shodoshima, Teshima, Konpira or Zentsuji, especially for seasoned travelers. However, don't expect as much dynamism as in Osaka for example.
On the plus side, Takamatsu is unbeatable on the bike's topic. One gets to see bicycles perhaps more than anywhere else in Japan, but its rental system is definitely impressive: open from 7:30 a.m. to 10 p.m. through several points in the city, the town bills ¥100 (~US$0.67) for a 24-hours rental (unbelievable!) and ¥2,000 (~US$13.33) only for the whole month! It is rare to encounter such cheap rental service throughout Japan.
Lastly, don't forget to try the area's food specialty: Sanuki Udon, a bowl of tasty local noodles.