Takashima
The City on the North-western Shore of Lake Biwa
Add to my favorite places
Takashima is a Japanese city created in 2005 from the merging of six smaller towns on the shore of Lake Biwa in Shiga prefecture in Kansai area. Japanese people appreciate its rural and aquatic aspects, while tourists enjoy the city as a lovely stopover in their trip around the largest lake of Japan.
Takashima is quite busy with Japanese tourists in summer, but the city is attractive all year long thanks to its photogenic torii ⛩️ floating in Lake Biwa waters, as well as boat cruises and other outdoor activities.
Lake Biwa, the largest freshwater lake of the archipelago, always was of a crucial importance in Japan's history. First for its central location (it forms a kind of natural border between eastern and western Japan), but also as a large reservoir of clean water that helped develop agriculture and fishing for centuries. It was also labelled Kansai's main water supply.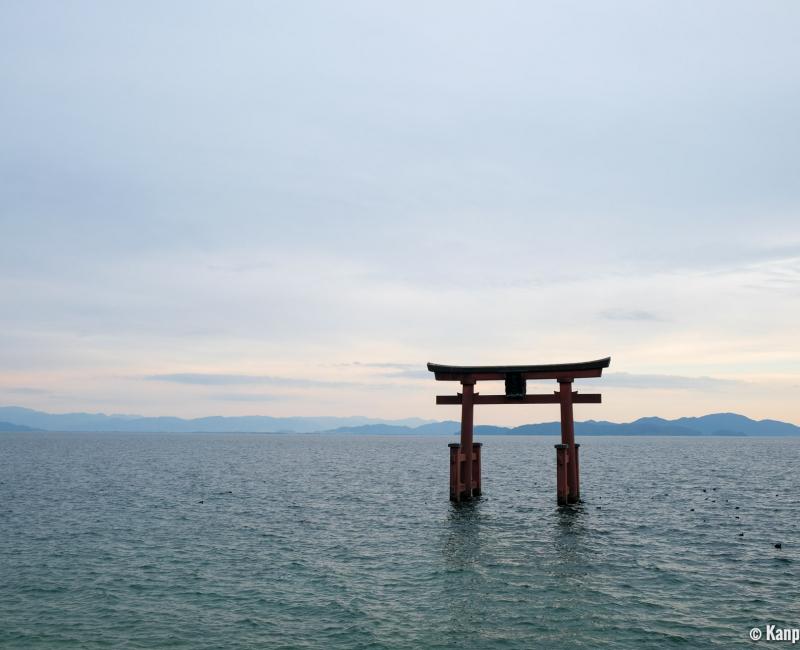 A surprising little town
Takashima is located on the western shore, in the northern part of the Lake and delights visitors looking for the Japanese countryside and its pastoral landscapes. There is only one local railway to connect the neighboring largest cities to Takashima, but several of its stations are conveniently dispatched at the city's places of interesting.
When getting off at Omi-Takashima, the main station, visitors are greeted by an unusual host. There is indeed a strange statue of a giant pulling several tiny boats, all of Renaissance style. In front of the giant, stands a tower with tiny humans who seem to guard it. It is a sculpture depicting Gulliver, the famous character from Irish writer Jonathan Swift's tale. One may wonder why this artwork is displayed in the city: it is actually the official symbol of the city. It dates back to 1987 when a great themed campsite, named Gulliver Seisyonen Ryoko Mura, opened to attract more families in the area. The encounter between grown-ups and smaller ones led the city to identify with the giant.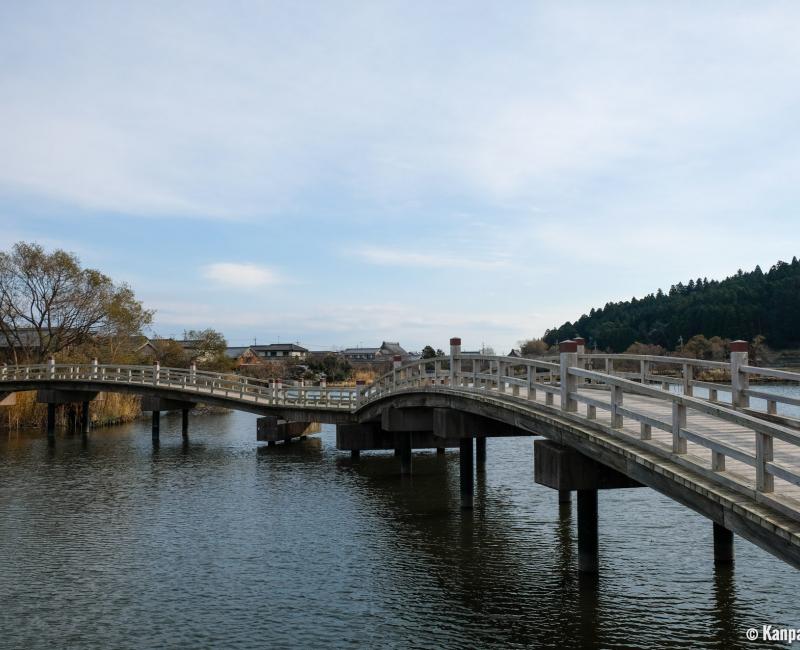 A family-oriented destination
However, Gulliver aside, visitors quickly realize that the city is very quiet and there is not much to do in its center. Walking away for a few minutes, rice paddies appear, but more importantly the charming pond Otomeganoike. The pond is a birds' paradise, and a lot of herons, water hens, and ducks are flocking in its surrounding. A beautiful wooden bridge forming a zigzag pattern adds to the charming and poetic aspects of the landscape, to the delight of photograph amateurs of natural environment.
The historical heritage of the city is to be found a few kilometers south to the station. The famous Shirahige shrine and its floating torii gate in the lake remind of Miyajima or Hakone, without mass tourism. Nearby, Omi-Shirahama beach 🏖 unfolds its sand and Japanese pine trees, to somehow remind of the Mediterranean Sea.
In the north of Takashima, at Omi-Imazu station, the port is the docking point for short and pleasant cruises on Lake Biwa. Some cruises offer to make a loop with a stop at Chikubushima island, or to cross the Lake and disembark near Nagahama.
Takashima is the ideal destination for families, who can flee from Kyoto's suffocating heat in summer, or enjoy skiing in winter in the surrounding mountains.