Kyuchikurin-in
The garden of teahouses in Otsu
Add to my favorite places
Kyuchikurin-in is a subtemple of Enryaku-ji temple, located on the foot of Mount Hiei, in Sakamoto district, Otsu. Built in 1592, it is used as a satobo, a housing for Buddhist monks, namely for the temple's retired monks. Designated Otsu city's Important Cultural Property, it is famous for its 3,300 square meters garden and its several teahouses.
Kyuchikurin-in's vast and steep Japanese garden offers a stunning view. It features all the characteristics of Zen gardens: moss covers, protruding tree roots, rocks, stone lanterns 🏮, several small traditional teahouses and a stream gently flowing down from Mount Hiei.
This wonderfully arranged landscape varies in colors at each season. It is a favored momiji 🍁 spot, for viewing the red maple leaves in autumn. The rest of the year allows to admire the trees, each of them considered an artwork and carefully maintained by master gardeners.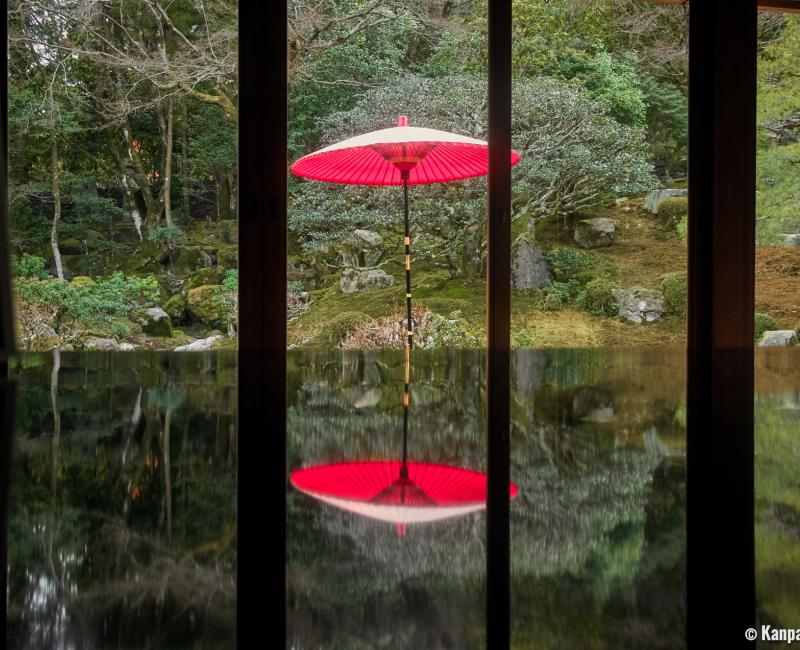 Enjoy a matcha tea while meditating on the garden
In Japan, the best way to enjoy contemplation of nature is to savor a matcha tea, an activity we highly recommend when in Kyuchikurin-in. The traditional tea ceremony, or Sado, is indeed of high significance here. The legend has it that Sado was created here, where the monks used to drink matcha tea to purify their minds and bodies after working in the mountain fields.
The main teahouse, used for temporary visitors, is another place of interest of the temple. In the middle of its great room, in front of a large window, a dark lacquered table attracts the eye as it reflects the whole garden and a large red umbrella, made by Tsujikura, Kyoto's famous traditional umbrella manufacturer. Japanese visitors appreciate contemplating this view and take pictures of the perfect symmetry of the garden's reflection on the mirror-like table.
Kyuchikurin-in offers a peaceful and detached well-being moment. A secluded and perched on the mountainside place, it attracts only those with a keen interest and who like hiking on small stony trails. Along the year, temporary exhibitions are held according to the calendar of popular celebrations and holidays.
This article was written after a tour organized and sponsored by
Biwako Otsu
Tourist Association. Kanpai has been invited and guided but keeps a total freedom of editorial content.