Omihachiman
The little Green Venice on Lake Biwa
Add to my favorite places
Omihachiman is a Japanese little town located at the foot of Mount Hachiman, on the shore of Lake Biwa, in the center of Shiga prefecture. The architecture of downtown Omihachiman still retains traces of the city's rich feudal and merchant past. A cruise on the canals is one of the best ways to discover this city on the water.
Kyoto, with its hundreds of temples and shrines, is one of the most visited places in Japan, and neighboring cities have a hard time to attract tourists who are focused on the former capital. However, visitors looking for quiet and historically rich places might be charmed by Omihachiman, a little city located north-east, a few kilometers away from Kyoto.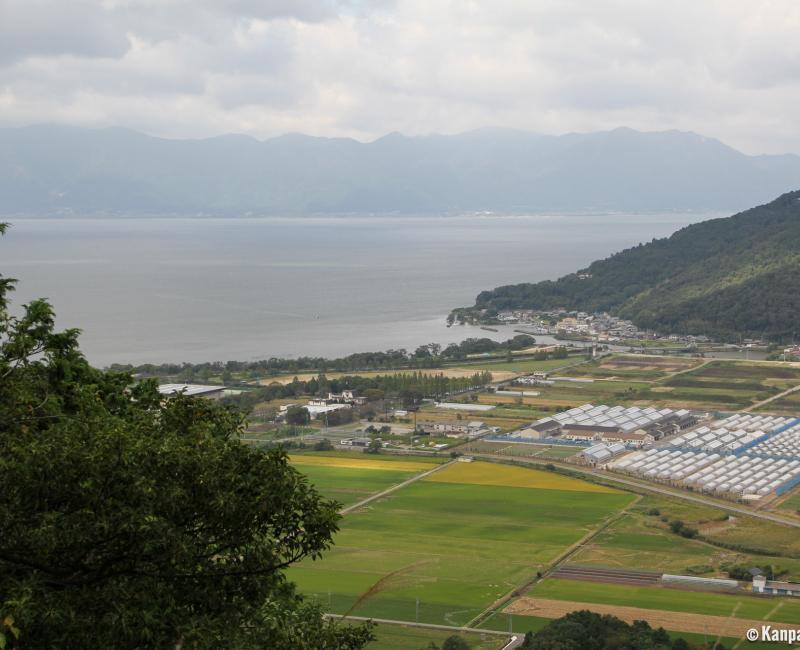 An Ancient feudal city
The present-days Omihachiman was founded on 31 March 1954 and encompasses a superficies of only 77 km2. As many other cities in Japan, it was granted the title of castle 🏯-town. The castle was built by Toyotomi Hidetsugu in 1585, on the shore of the largest lake in Japan, and helped the city thrive through its seasoned merchants, who were called Omi-shonin.
Until the middle of the 19th century, the city's population was divided between warriors in the north, and city dwellers in the south, among which appeared two other groups: the merchants and the craftsmen. Shinmachi-dori stret defines the limit of the commercial part of the city, where can be found former houses of wealthy families, some of which are now museums open to the public. These quiet streets recreate the ancient city's quaint atmosphere, with their typical architecture of lattice windows, old houses with white walls, such as Hakuun-kan Pavilion (a mix of European and Japanese architecture) or Hachiman-bori waterway, once the commercial hub of the area.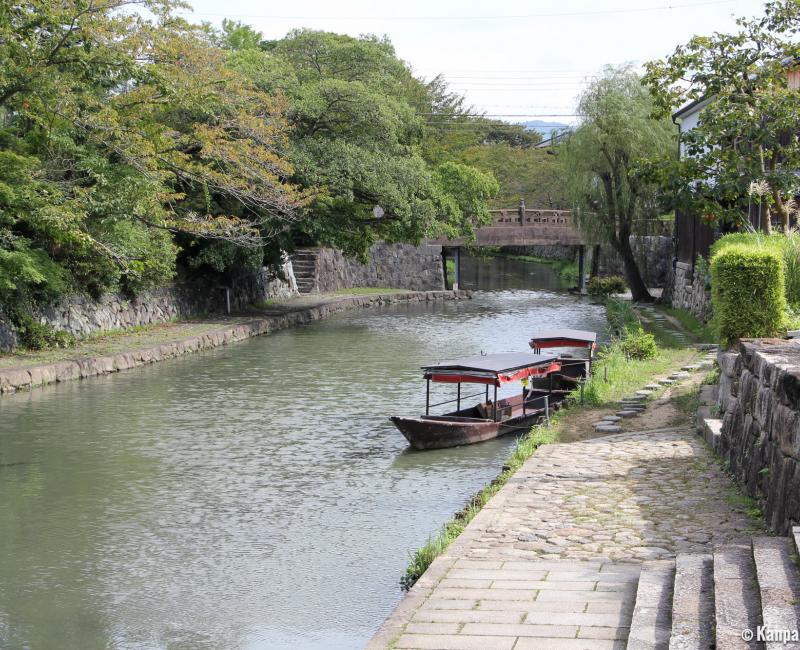 Medieval Japan and an Important Cultural Landscape
The city is ideally explored on foot or by boat on its canals. We recommend the "Hachiman-bori meguri," a boat cruise in the moats that were dug to ease trading between the merchants 'district and Lake Biwa. It makes for a great excursion during cherry trees 🌸 or iris blooming seasons and it gives the feeling of traveling back in time in Medieval Japan. The Omihachiman Riverside District, a wetland along Hachiman-bori, was designed Important Cultural Landscape in 2006, and became since one of the favorite shooting spot for many Japanese dramas and movies.
Omohachiman's downtown shelters other must-see landscapes: Himure Hachimangu Shrine and Zuiryu-ji Temple's ruins accessible by a ropeway. From Mount Hachiman a beautiful panorama on Lake Biwa, the city and its surroundings unfold. This beautiful view is nowadays a romantic spot enjoyed by couples. In the east of Omihachiman, we recommend exploring the ruins of Azuchi castle, built by the powerful warlord Oda Nobunaga.
Foodies are welcome to enjoy Omi beef, the local special dish that can be prepared in sushi 🍣.