Takeshita Dori
Harajuku's Crazy Main Avenue
Add to my favorite places
Takeshita-dori is a 400 meters long pedestrian street, symbol of Harajuku, Shibuya ward's eccentric neighborhood in Tokyo. Fashion stores mingle with tearooms while young Japanese passersby leisurely parade in their cosplay to the tourists' astonished gaze.
Between Shinjuku and Shibuya, Harajuku's famous fashion district is sometimes summarized to Takeshita Dori (literally "avenue under the bamboos"). This iconic street stretches between Harajuku station and Meiji-dori avenue, parallel to the luxury shopping avenue Omotesando. Moreover, it is very close to Meiji-jingu shrine and Yoyogi Park.
Takeshita-dori is a place of entertainment and trendy shopping for Tokyo's youths, with as many small designers' shops (for men and women) as large fashion and cosmetics brands, both Japanese and international, advertising their products through partnership with pop' culture icons such as Evangelion, idols groups like AKB48 or taking advantage of the K-Pop's popularity.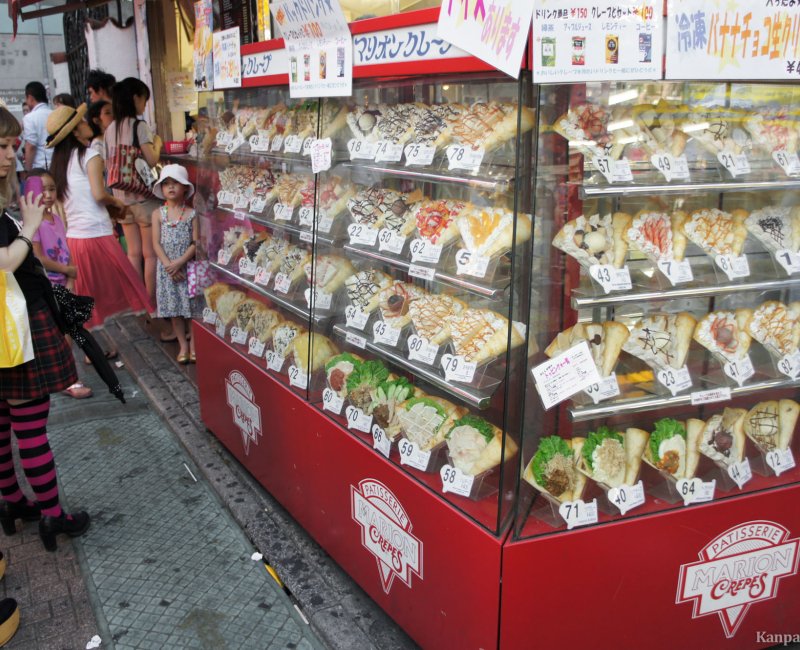 Sugary pop eccentricity
Harajuku is famous for the eccentricity displayed by its regulars and it is not unusual to encounter Japanese teenage girls walking around in original cosplay outfits.
The local specialty is the "crêpe", a pancake sold in several eateries, such as the unavoidable Marion Crêpes and its unmissable waiting line, and that come with toppings as fancy as the dresses of the Lolitas roaming the street. There are also many classical Japanese fast food stores, like Yoshinoya in front of the station, but also cafes and animal themed bars.
Discover the atmosphere of Takeshita Dori at the time of its glory in a video we made during a summer in Japan:
Since 2020 and the end of the new Harajuku Station construction works, the area has its own Ikea store. However, Takeshita Street was hit hard by the Coronavirus 🦠 crisis, with stores that were forced to close and the disappearance of foreign tourists for 2 years. The atmosphere is therefore different, with many fashions shops that definitely closed. It now seems that the street is hosting more restaurants than shops.
Lastly, while the shopping street's rules forbid it, some of the shops' touters may try to approach you. If it happens, just continue walking without stopping to chat.
Takeshita Dori happens to be an unusual and fun starting point to go discover the other attractions in the surroundings of Harajuku or to take a sugary break.