Higashiyama Onsen Mukaitaki (Review)
The Pearl of Aizu Wakamatsu's Ryokan Inns
Add to my favorite places
Mukaitaki is a ryokan Japanese traditional inn located in Higashiyama Onsen, a thermal resort of Aizu-Wakamatsu, in Fukushima prefecture. In addition to its onsen hot springs, the inn charms with its authentic wood architecture and unique atmosphere.
Even seasoned travelers are bound to find some places so impressive that they immediately rank and stay in the top of their best discoveries, in the same way as the beauty of a natural site or the pleasure of an unexpected encounter. In the heart of the authentic Higashiyama Onsen ♨️ thermal village in Aizu area in Fukushima, Mukaitaki ryokan is a gem of a Japanese lodging that we highly recommend to experience.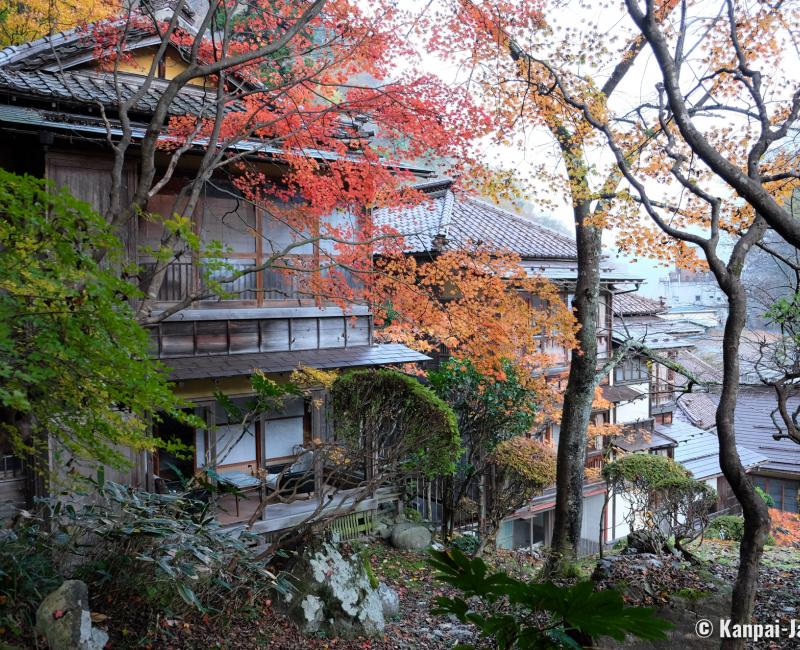 A complex and splendid wood architecture
Mukaitaki inn was established in a valley, on the bank of Yu-gawa River, and its name derives from the four waterfalls that can be visited in the village. On the other side of a typical little bridge, its traditional raw wood front perfectly fulfills the promise of discovering the quintessence of the Japanese ryokan in a timeless experience.
The unique intricate architecture of the inn unveils upon entering the building. From the lobby, customers face an indoor labyrinth composed of running corridors, half stairs and stairways and circulation arranged around a wonderful Japanese garden. This feel of a "ninja house," despite the difficulty to find one's way, is the guaranty of a great privacy for the customers who rarely meet the other guests. The feeling of being alone in this 24 rooms ryokan is rather enjoyable, especially knowing that Mukaitaki's occupancy rate is quite high and that one must book several months in advance to make sure staying at the desired dates.
High-end finishing touches, such as washbasins made in single marble blocks or long beams made of single tree trunks complete the luxurious inn. Architectural sophistication is also displayed in the rooms that all have their own identity, a name, a unique view on the garden, the mountains or the river, and a specific decoration of ceilings and walls. Mukaitaki inn's official website even provides a 360° view of each room or suite to choose your favorite.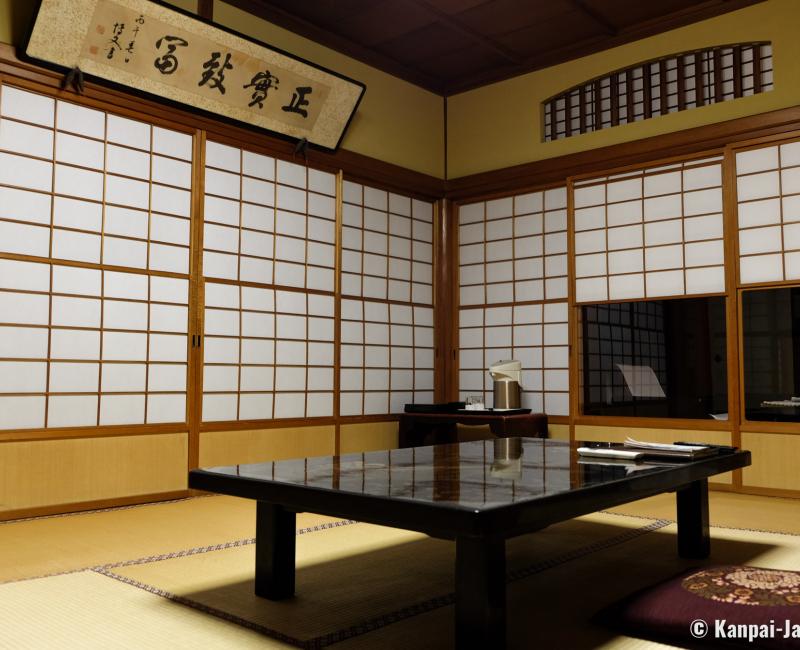 Traditional rooms with a refined decoration
Each room was laid out in the purest Japanese tradition, namely a single space on a tatami flooring, that can be divided with fusuma sliding doors for the most spacious suites. Originality of the area: the Washi paper panels, placed as additional layers on the windows, can be opened by the bottom to admire snow in winter. The furniture are kept to the essentials, with a simple and refined design, with:
A main coffee table for dinner and breakfast,
Futon bedding, unfolded every night, and,
Two comfortable armchairs in the lounge corner by the bay windows.
The rooms are fitted with air conditioning, a Wi-Fi Internet 📶 connection, a small TV and a kettle, as well as a sink and modern washlet type toilets 🚽, but they don't have a private bathroom 🛁 (except for three of them). Like any Japanese traditional inn, the baths are shared and part of the "onsen" offer of the establishment.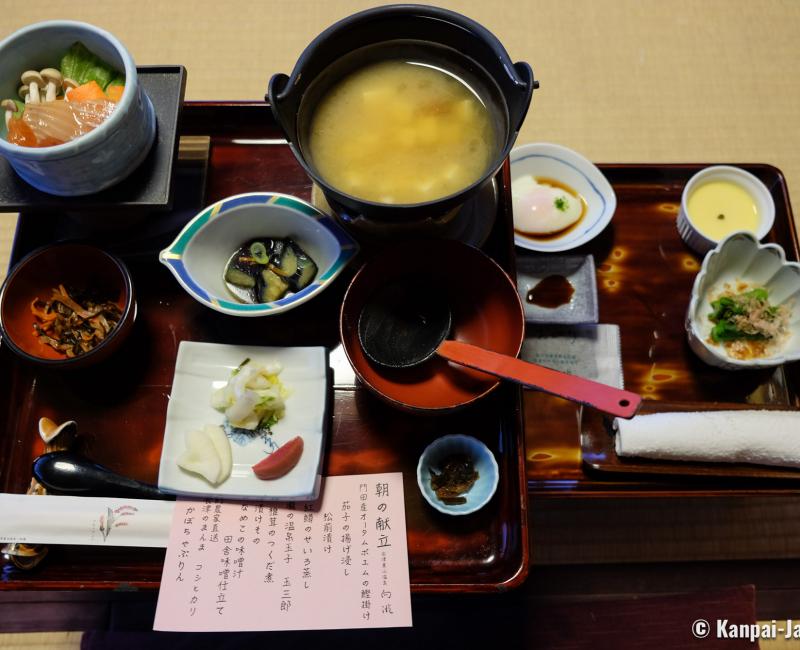 An authentic ryokan of Aizu region
Hot springs in Mukaitaki ryokan are 100% natural, with no chemicals added and they are renowned for their beneficial effects in skin care and to help relieve pain in the legs. The most ancient spring 🌸 has been harnessed since the feudal times when the samurais of Aizu clan came here to replenish themselves. The onsen baths are always available for the inn's customers, but not open to other visitors. They include:
Two shared baths (Kitsuneyu and Sarunoyu), divided into a space for men and another for women,
Three small family baths (Tsutanoyu, Fukubenoyu and Suzunoyu) for a private use.
The quality of the thermal water helps glossing over the confined space of the bathing areas, and the absence of an outdoor bath.
On the catering side, amateurs of authentic Japanese cuisine will not be disappointed. The traditional kaiseki menu is served at dinner and at breakfast, in a profusion of typical and local small dishes selected according to the season. The delicate taste of the regional beef meat is incredible. In addition, a matcha green tea and its wagashi confectionery are offered upon arrival in the room. Mukaitaki's high-end service is largely featured in its gastronomy, which is healthy, delicate, and with a careful selection of fresh, regional and premium quality ingredients.
Mukaitaki inn is probably one of the most beautiful buildings of Higashiyama Onsen, a village that has been frequented for its healing and relaxing waters for more than 1,300 years and located a few minutes by bus or car 🚙 from Aizu-Wakamatsu's touristic center.
This article was written after a tour sponsored and organized by
Tohoku
area and related prefectures. Kanpai has been invited and guided but keeps a total freedom of editorial content.