Northern Culture Museum
A Come-back in Meiji Era
Add to my favorite places
The Northern Culture Museum was established in the former residence of Ito family, located to the west of Agano river in Niigata in Japan. The house was built between 1885 and 1887 and inhabited until 1946, when it was converted into a museum dedicated to testimony of Japanese daily life and esthetics.
The former Ito residence is a vast mansion, with no less than sixty-five rooms. The largest, a zashiki-style reception hall, covers 165m². It was, and is still used for important ceremonies, and sometimes as movies settings.
A Japanese garden enjoyable in all seasons
The house was built during Meiji era (1868-1912), by a wealthy farmers' family. Its garden designed in the Kamakura style shelters a 150-year-old wisteria tree. A sweet flowery scent floats in the courtyard from mid-spring 🌸. At night, a crafty light-up illuminates blooming flowers and offers a landscape totally different from the daytime. The scenery is fantastic at any time, in spring as well as in fall 🍁, and is to be contemplated seating under the veranda, while enjoying a green tea.
Five smaller houses are dispatched in the garden, to offer five different views of it from their tiny windows. The landscaping is quite traditional and changes beautifully with the seasons. Several buildings on the residence's grounds are reminders of the history of farming culture since Edo period (1603-1868).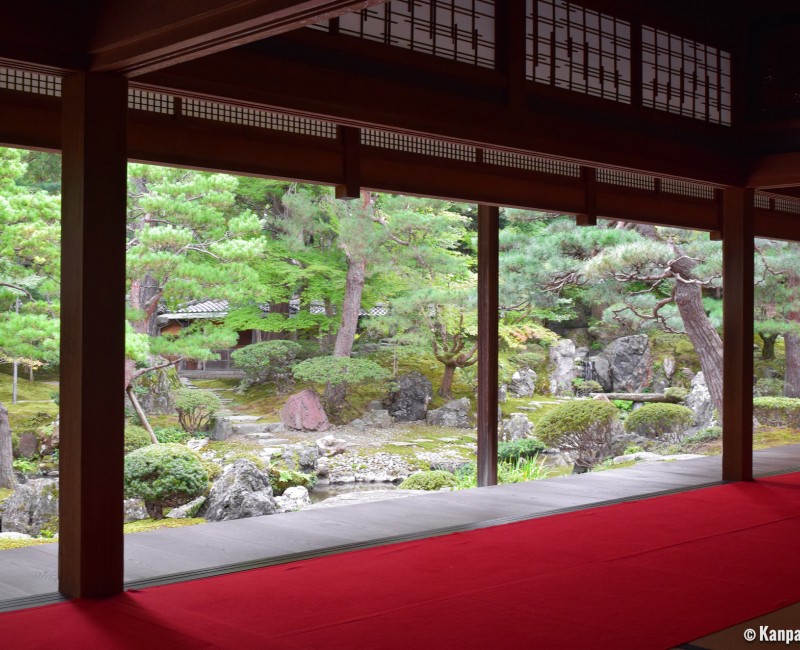 The testimonial of an ancient lifestyle
Into the main house, aside the great banqueting hall, another wide room was designed to welcome guests in number. This room characteristically features a kettle suspended to the ceiling by a bamboo pole down to the floor in its center, as was customary in houses at the time. The main house also shelters a kitchen, where about fifty persons used to work. They could cook up to sixty kilo of rice each morning.
Several other rooms are specifically dedicated to the museum and exhibit Western style utensils, dinner services and clocks allowing to discover another aspect of the residence.
Despite its name of Northern Culture Museum, the place seems more dedicated to Japanese provinces in a broader sense. Buildings are of course relatively recent, but techniques have not changed much. The tasting of tea in such a beautiful house, while admiring its wonderful garden, is similar to a travel back in time until Meiji era and possibly earlier.

This article was written after a tour sponsored and organized by Niigata City and Tsuruoka City. Kanpai has been invited and guided but keeps a total freedom of editorial content.