Matsuya Sensen (Review)
The Traditional Inn in Awara Onsen
Add to my favorite places
Matsuya Sensen is a spa resort hotel located in Awara Onsen, near Fukui City in Japan. This vast ryokan traditional inn provides a high-end and refined experience, in the heart of the peaceful Japanese countryside.
In the north of Fukui City lies a thermal resort that is still little known, named Awara Onsen ♨️. Its origins date back to 1883, when a farmer dug an irrigation well for his fields and discovered a natural hot spring 🌸 flowing at 80°C. The first ryokans (Japanese traditional inns) quickly settled in this remote place surrounded by rice paddies, to maintain and exploit the source. Later, thanks to the railway connection between Kanazawa (capital of the neighboring Ishikawa prefecture) and Awara Onsen, the number of inns increased in the village, which nonetheless succeeded in preserving its pastoral landscape. Matsuya Sensen is thus located in the Japanese countryside.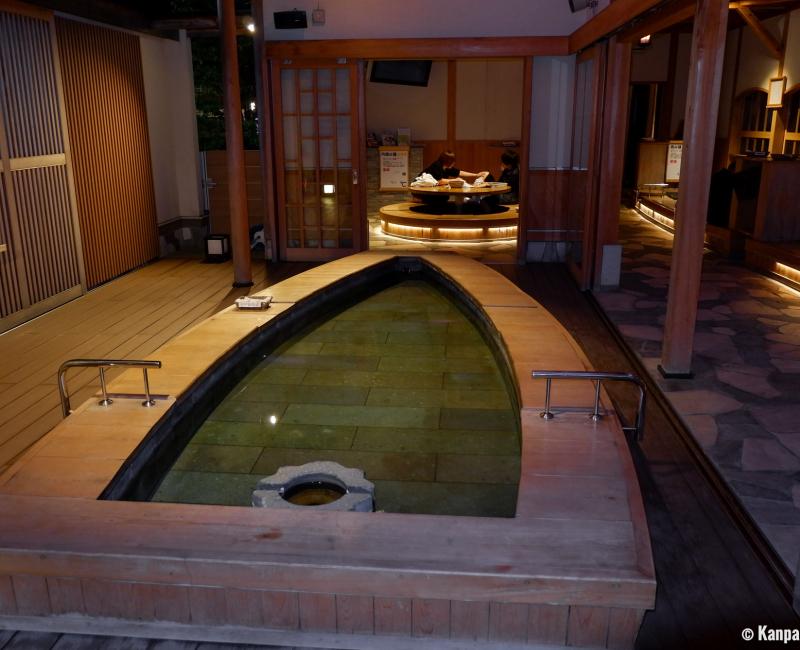 A luxury ryokan with its own onsen baths
Matsuya Sensen's impressive and modern building, sheltering 120 rooms, is obviously the biggest, but also the most luxurious ryokan in Awara Onsen village. Everything inside, from the lobby to the rooms, is infused with Japanese refinement and sobriety. With a welcoming friendly staff, it is a veritable pleasure to check-in for the night.
Customers choose this four-star hotel 🏨 for its high-end facilities, such as:
Spacious outdoor baths, with shared baths for men and women named Sen-no-kobore-yu and private baths named Tokiwasure hanare-za,
Several restaurants and tea rooms, including a small traditional tatami room to enjoy a delicious matcha tea prepared by a tea waitress wearing a kimono,
Onsen-tamago, an activity that consists in cooking an egg in the natural hot spring water and eat it,
Aesthetic salon for face and body beauty treatment, especially enjoyed by women,
Karaoke and mah-jongg room for an entertaining evening, and,
The usual local souvenirs shop.
The food served at diner and breakfast is naturally locally-sourced and traditional: Fukui crab, deep-water shrimps fished in the Sea of Japan and other specialty dishes of the Hokuriku area are served with a smile, and each dish of the menu is introduced in details. The meal is beautiful, delicious but also generous, worthy of a gastronomic restaurant.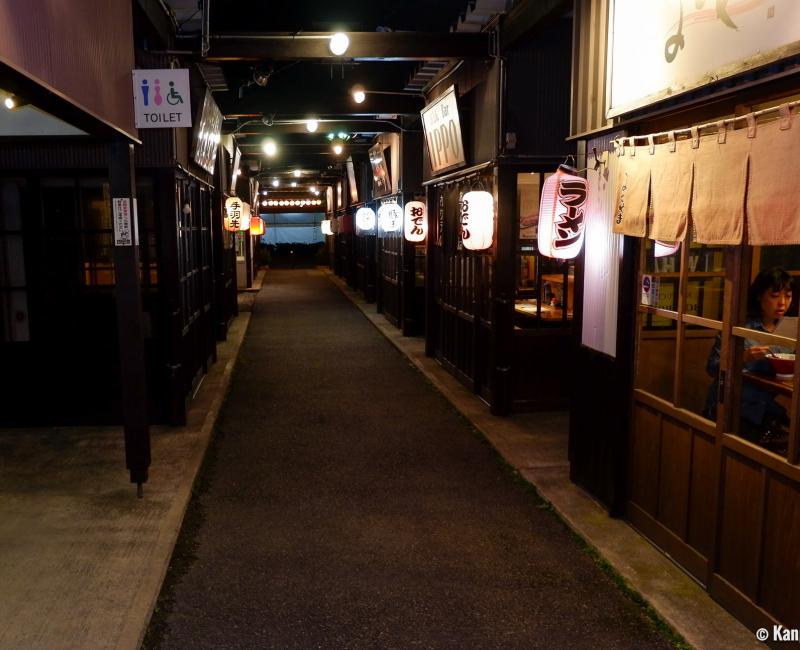 Typical yokocho back streets
When staying in a place such as Matsuya Sensen where everything was designed for relaxation, one does not necessarily feel the need to go out for an evening stroll. But it would be a shame to miss an interesting spot located less than a couple minutes walk away from the hotel. The place is Yataimura Yukemuri Yokocho, a small web of tiny restaurants accommodating ten seats each at most, but offering a simple and friendly atmosphere that is sure to charm visitors.
It is then easy to start a conversation with fellow customers at the counter or to chat with the owner while they are cooking in their open kitchen. Menus display the staple of Japanese cuisine such as ramen 🍜 noodles, yakitori skewered meat, okonomiyaki omelets, gyoza 🥟 dumplings and karaage fried chicken. A congenial and affordable experience will delight those interested in meeting people in a casual setting.
Just behind this yokocho, an ashiyu public foot bath offers a last relaxing time before going back to Matsuya Sensen.
This article was written after a tour sponsored and organized by
Tokyo
Metropolitan Government
to promote #HOKURIKU×TOKYO destination. Kanpai has been invited and guided but keeps a total freedom of editorial content.