Chichibu Yomatsuri
One of the most beautiful night parades in Japan
Add to my favorite places
Chichibu Matsuri is a Shinto festival of feature floats, occurring every December 2nd and 3rd, next to Chichibu Shrine in the eponymous city center, located in Saitama Prefecture, northwest of Tokyo. This 300 years old matsuri is one of the most loved winter festivals, especially due to its gorgeous nocturnal parade, illuminated and accompanied by fireworks on the last day.
The beginning of December feels like summer in Chichibu. While temperatures decrease, the small city welcomes its main annual festival. It has all the classical characteristics of a festival, without humidity. Everybody must layer their clothes to enjoy one of the more beautiful night parades.
Famous food stalls, yatai, are lined up starting at the Seibu station exit, and their smells appeal to visitors who have just arrived. It is absolutely appropriate to eat and warm up with amazake (hot sake) under dedicated marquees.
Then, we quietly reach the parade's heart, including two strategic points around the Chichibu Shrine and the city hall area. We also discover bleachers where seats are to be purchased. However, the first row along the streets is available for sitting on the ground, if you arrive early enough. The crowd is not so packed, leaving the possibility to circulate between several places to enjoy diverse points of view during the procession. There is a real advantage here compared to summer matsuri, usually attracting many more people.
Around 7 pm, the ambiance gets heated as the procession starts. In a friendly manner, artists put on a show to please the public. They encourage each other by chanting "Ho-ryai ! Ho-ryai !" following the rhythm of taiko drums. In their traditional coats, happi, courageous women and men organize an impressive human tug of war, where each range diverges and rejoins, like a wave, moving forward the carried monument to its final destination.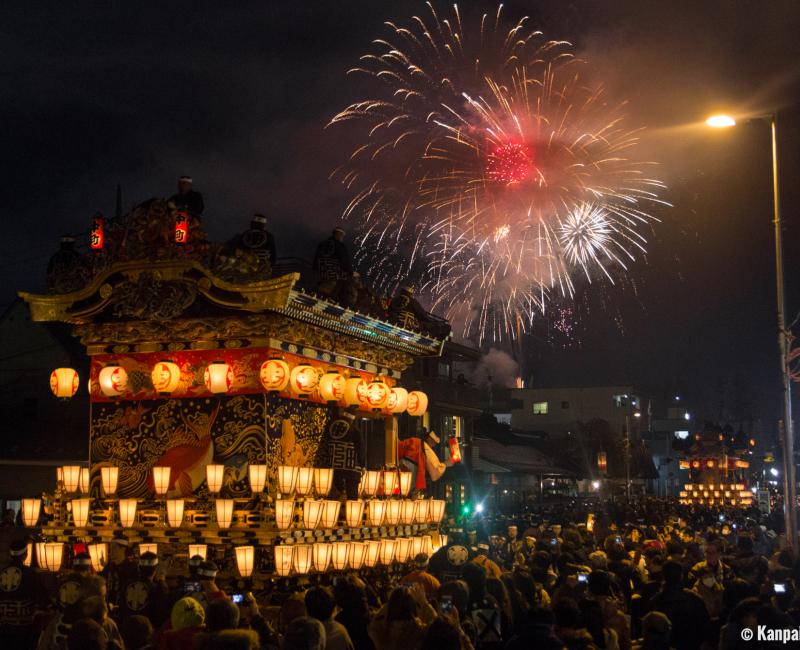 Nested up on real tiny shrines, richly decorated with numerous lanterns, the second team of participants is loud and agitated, at the risk of falling. There are six of this type of float, kasaboko and yatai, each representing a city district. The end arrives progressively at 7:30 pm, when hanabi fireworks are set off along the procession. They graciously illuminate the sky and provide a magical atmosphere to the traditional celebration, rare in winter. For tourists coming from Tokyo, it is already time to go back to the station and take one of the last return trains.
Chichibu Yomatsuri is often compared to two other main festivals, Gion Matsuri in Kyoto and Takayama Matsuri in Takayama in Gifu Prefecture: These three are classified as "Intangible Cultural Heritage of Humanity in Japan" by UNESCO. Therefore, above the visual aspect of it, tourists attending this kind of festival experience, even for only one night, experiment the enthusiastic solidarity of Japanese people and their deep respect for local customs.
It is interesting to note that, contrary to most festivals, the Chichibu population seems older, with very few young couples or families with children. Also, there are some events during the day, such as kabuki plays; however, we recommend going on the last night. Sleeping there is not essential: It is totally possible to take the round trip from Tokyo within a day. Direct trains are quickly full as they are booked more than one month in advance, but some other trains, slower, are available depending on the remaining crowd.
Finally, for those who cannot make it on these days, a museum is dedicated to the parade and welcomes visitors all year long. Floats are displayed as well as videos showing the lively atmosphere.