Izakaya
The Authentic Japanese Bars and Pubs
Add to my favorite places
An izakaya is a typically Japanese bar where people go to drink and eat from late afternoon. It combines features of French bistros, restaurants and Spanish tapas bars. The Japanese love to gather with friends or colleagues in these shops squeezed in yokocho side streets, near the train stations. A dinner at an izakaya is a must-do experience when traveling in the archipelago.
The izakaya are very popular among amateurs of Japan who quite naturally plan to spent several evenings there each time they visit the country. All travelers should try an izakaya at least once, and they may well have one of the best and most authentic experience of Japan. Whether you are used to the French bistros, English pubs or delicious Spanish tapas bars, the izakaya are distinctive happy hours establishments with deep local roots.
The concept appeared during the Edo period (1603 – 1868) when nihonshu (Japanese sake 🍶) makers offered their customers to taste their drinks directly on the production site, seated at a table. The 3 kanji characters used for the word izakaya 居酒屋 can therefore be translated as "dinner at an alcohol shop," a place where one can eat and drink.
Excessive drinking put your health at risk. Alcoholic beverages should be consumed in moderation.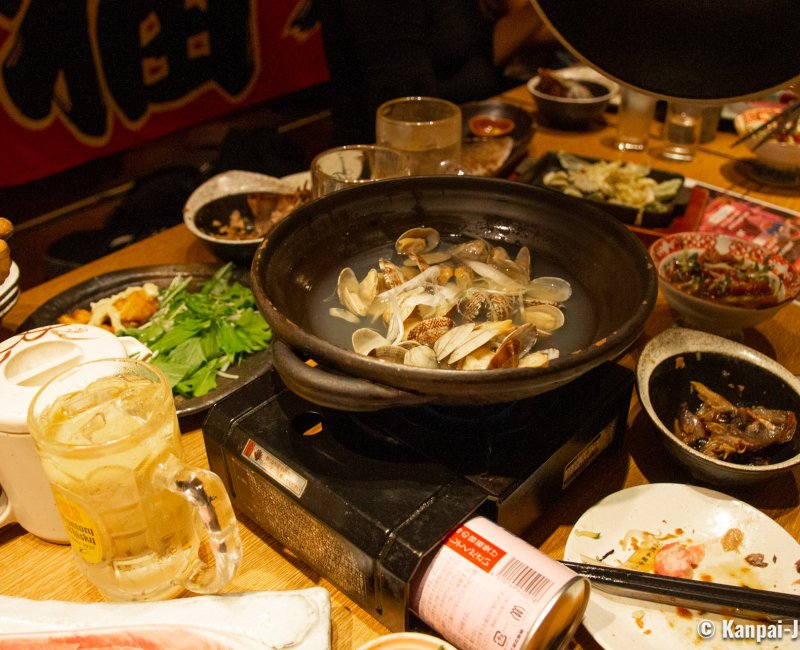 Eating and drinking in a convivial evening
Open only in the evening, the izakaya welcome employees for a relaxing after work and socializing. If the salary-men used to be the main customers of these semi-nocturnal establishments, nowadays a varied adult population (aged 20 years and older) are clients of these bars, including women, students or retirees.
Informal nomikai (飲み会) meetings for colleagues to drink together are still frequent in Japan. In December, they turn into bonenkai (忘年会) parties to celebrate the end of the year, then in January they become shinnenkai (新年会) for a good start of the year.
Once everyone is seated at the table, the usage is to start by a round of Japanese beer 🍺, clink the glasses and yell Kanpai! to toast together. After that, there is a large choice of drinks and dishes to nibble on.
Among the most popular drinks are:
Light beers, such as Asahi, Kirin or Sapporo namabiru draft beer;
Japanese sake (nihonshu);
Shochu (distilled liquor);
Various sour cocktails, for example chuhai (with a shochu base, soda and fruit juice) and whiskey highball (whiskey diluted with sparkling water);
Alcohol free beer;
Green or Oolong tea for digestion; and,
Various soft drinks and fruit juices.
There is usually no coffee and very few imported drinks like French wines or English beers.
As for food, you will find typical dishes of Japanese cuisine, such as:
Edamame soy bean;
Yakitori skewered grilled meat;
Fritters: chicken karaage, korokke, fried tofu, tempura;
Raw fish in sashimi or maki-zushi;
Grilled fish;
Gyoza 

🥟

dumplings;
Tamagoyaki omelet; and,
Japanese nabe hotpot for which the ingredients are cooked at the table.
Some places offer Western style dishes such as pizza, spaghetti or fries.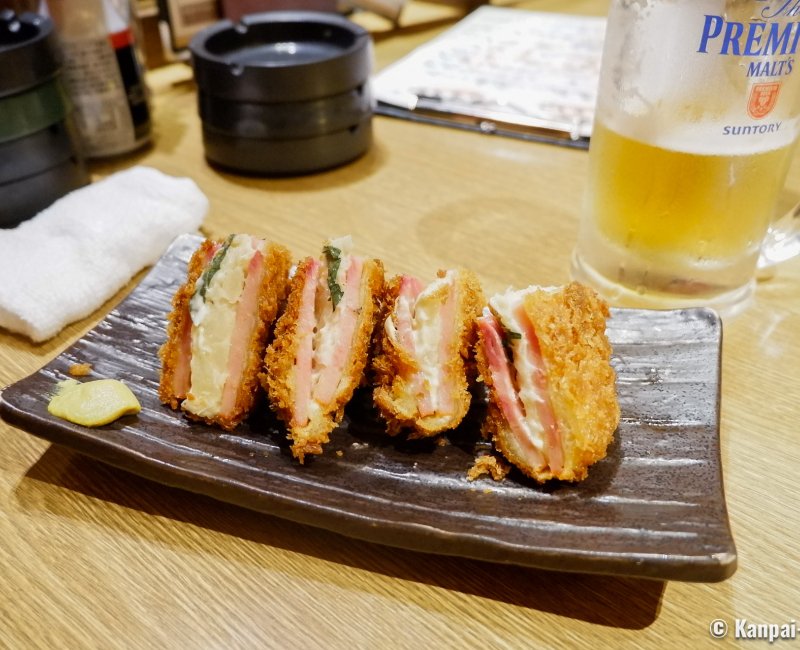 What do you pay for at an izakaya?
Izakaya bars are known for being affordable, from a few hundred yens for a drink and a dish. Sizes are usually smaller than in restaurants as the custom is to order several dishes to share with the other guests. A menu and / or a choice of courses is provided at the beginning of the evening and one orders as much as one needs to the waiter or directly at the counter.
A table fee, called otoshidai (お通し代) or sekiryo (席料), can be charged upon seating: allow on average ¥500 (~US$3.34). To compensate, a side dish called otoshi is served, as an appetizer. As often in Japan, tipping is not necessary.
As for the set menus, the all you can eat / drink are the more cost-effective:
Nomihodai (飲み放題), the all-you-can-drink formula to order any drink (nomimono) available; and,
Tabehodai (食べ放題) is the all-you-can-eat formula for food (tabemono).
There is a time limit for the "all-you-can": usually 2 hours, with the last order to be made 90 minutes before closing time, and the drinks and dishes are to be picked among a selection made by the place.
To pay at the end of the evening, you either go to the cashier with the detailed ticket that was left on the table at the beginning, or ask for the bill using one of these 2 phrases in Japanese:
"Okanjo onegaishimasu"; or,
"O-kaikei onegaishimasu".
The custom is to share equally between all participants and regardless what was consumed individually.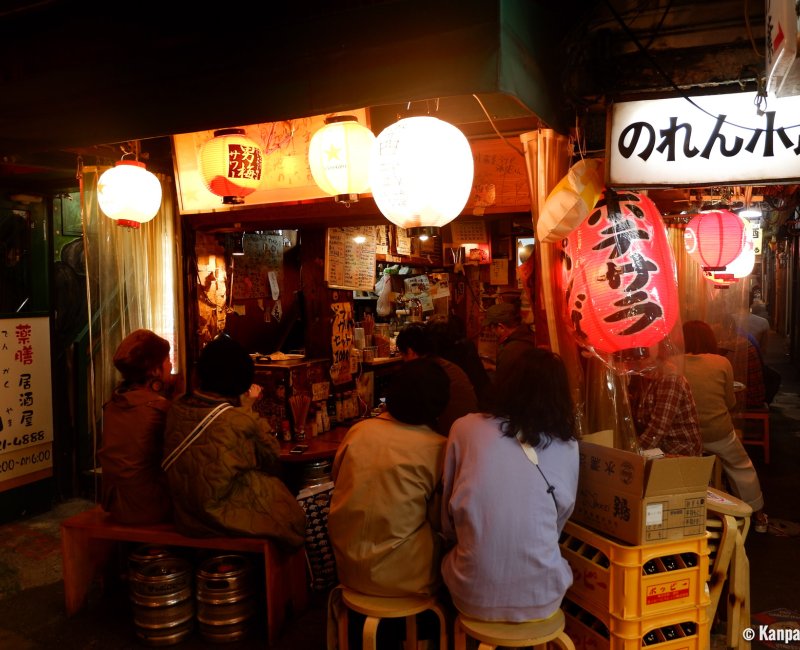 The Yokocho streets near the train stations
There is a large range of Japanese bars throughout the archipelago: from the smallest eatery with about 10 seats at the counter, to izakaya chains specialized in group receptions, to more refined establishments. Makeshift terraces made of bottle crates for seating are frequently arranged on summer days. There are also places with a traditional decoration and low tables on tatami mats, where one has to take off shoes and place them in a dedicated locker.
Izakaya bars are often found grouped together in narrow streets called yokocho, near the train 🚅 stations. These "drinking alleys" enliven at nightfall, and illuminate their red lanterns 🏮 and other neon signs to attract passersby looking for a nice place to enjoy a drink and a chat. The settings favor mingling and allow tourists to discover the Japanese's local lifestyle.
In Tokyo, several typical yokocho are famous such as:
Omoide Yokocho and Golden Gai in Shinjuku;
Ameyoko in Ueno;
Ebisu Yokocho; and,
Under the railway tracks in Yurakucho.
In Kyoto, in addition to the surroundings of the JR station, you'll find izakaya bars in the picturesque Pontocho alley as well as on the banks of Takase canal on Kiyamachi-dori. In Osaka, Hozenji Yokocho is to be discovered in the famous Namba area.
These addresses are famous, but the list is far from exhaustive as every Japanese city has at least one izakaya near the main train station or near the fishing port for the smallest and remotest islands, such as Okinawa.
On a side note, the industry has been severely hit by the Covid 🦠 pandemics with the closing of bars and restaurants during the successive states of emergencies. Since April 2020, smoking is generally prohibited in izakaya bars; however, some places still allow smoking when they have a separate room dedicated to this usage.