Nijigen no Mori
Awaji Island's Naruto and Godzilla Park
Add to my favorite places
Nijigen no Mori is an interactive theme park in the north of Awaji Island, in Hyogo prefecture. With distinctive areas dedicated to internationally famous manga and movie characters such as Godzilla, Naruto and Crayon Shin Chan, it is attractive to fans of the Japanese popular culture.
Spreading in the large Hyogo Prefectural Awajishima Park and composed of forests and hills dominating the panorama in the north of the island, Nijigen no Mori is initially geared towards families looking for nature and outdoor games for children.
The theme park 🎡 widens at each addition of a new universe, taking root in manga and highlighting key characters from Japanese popular culture, such as the little boy nicknamed Shin-chan, Tezuka's Phoenix and more recently Naruto the flashy ninja and Godzilla the kaijyu monster.
Nijigen no Mori does not have thrill rides, but invites visitors to participate in a story, with two dimensions and augmented reality interactive animations, and riddles to solve in order to progress further in the park.
Let's have a look on the main attractions.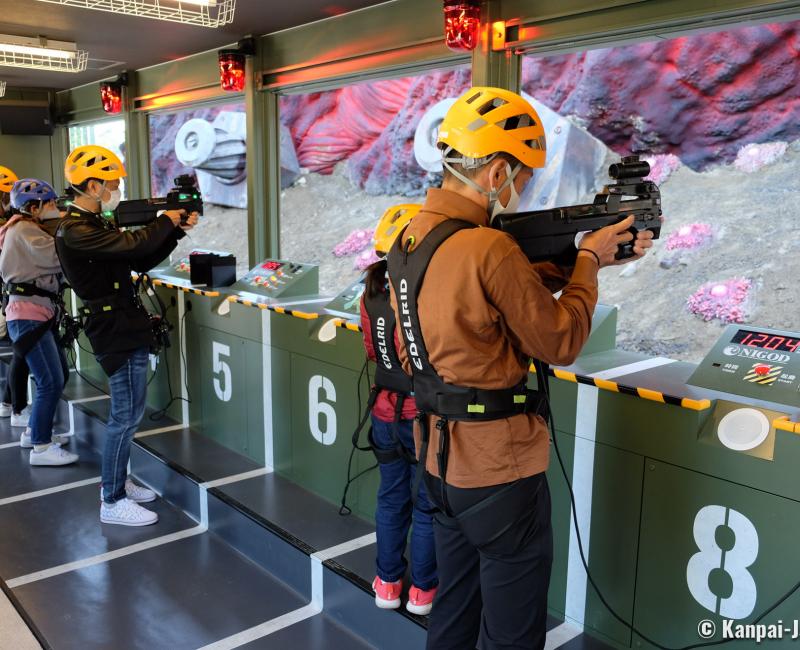 Godzilla Interception Operation Awaji
A feature inaugurated in October 2020, Godzilla Interception Operation Awaji is a mission to disable the giant prehistorical reptile, which is represented by partly buried bodies and wide-open jaws in a menacing way. The players visit 4 areas to complete the challenge:
Godzilla Geigeki Sakusen Theater, where the story line is explained with action taking place at the NIGOD, the National Awaji-island Institute of GOdzilla Disaster.
Two ziplines, of which one enters into Godzilla's mouth to launch missiles and neutralize the monster. Note that you will be faced with a choice of only one of the two lines to zip line.
The shooting deck, where players shoot on the monster's cells to impair its growth.
The museum, with the world's first permanent exhibition dedicated to Godzilla and its various representations over time, with model scales used in the movies, of which some can only be seen at Nijigen no Mori.
This attraction fulfills its promise of providing an immersing story. The monumental Godzilla statue is well-made and looks even more frightening at nightfall, when it is only lit by a few spotlights.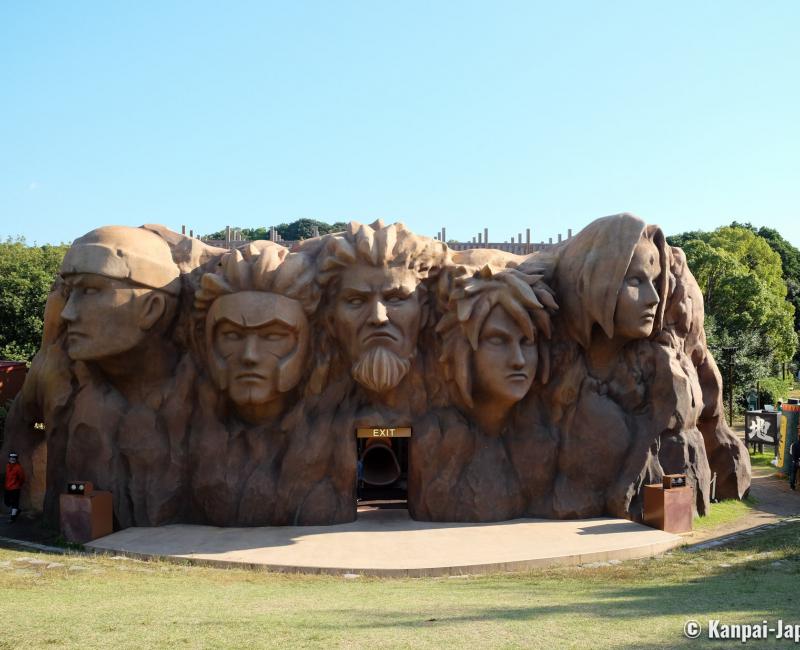 Naruto & Boruto Shinobi-Zato
Open since April 2019, this area of the park is dedicated to the manga Naruto and its spin-off Boruto. Located in a reproduction of Konoha Hidden Village, with a Ramen 🍜 Ichiraku restaurant, and the access to 2 of the main attractions of this universe:
Heaven Scroll, a ninja house with physical and/or intellectual challenges varying according to the path chosen at the entrance. The exit is marked by the monumental Hokage Rock.
Earth Scroll, a succession of riddles to find the 7 chakra. The game ends in a room with very well-done animations.
A Ninjutsu-themed augmented reality attraction is also available on a smartphone 📱 app and consists of collection the "AR" logos scattered throughout the park. Visitors who stay until the park's closing time can admire video mappings in the evening.
Naruto fans will be delighted to encounter many of their heroes such as Sakura 🌸 Haruno, Uchiha Sasuke, Hatake Kakashi, Yamanaka Ino, Maito Gai, Orochimaru or the Akatsuki members. Their human scale representations offer nice souvenir pictures.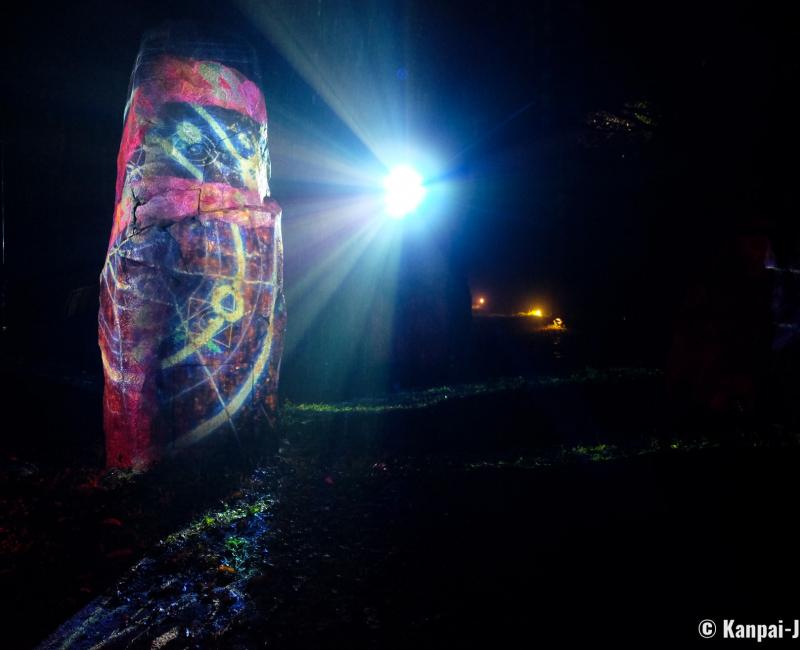 Night Walk Hinotori
Night Walk Hinotori closed in early 2023
This attraction, which is only available at night, is a successful combination of a treasure hunt and a fantastic show. It offers a complete immersion in the universe of the manga Phoenix (Hi No Tori) by Osamu Tezuka, and especially in its mystical atmosphere recreated by the sound and light up effects, in a nightly walk surrounded by nature.
Visitors are immersed in an enchanted forest lit up by lanterns 🏮 and illuminations on rocks and trees, that even talk. Various riddles must be cleared to open the doors and continue walking on a 1,2km long itinerary.
Note however that the story is completely set in Japanese, but is also available in English language thanks to the audio guide application Pokke - Story to Your Journey, to download on a smartphone and select the destination "Awajishima".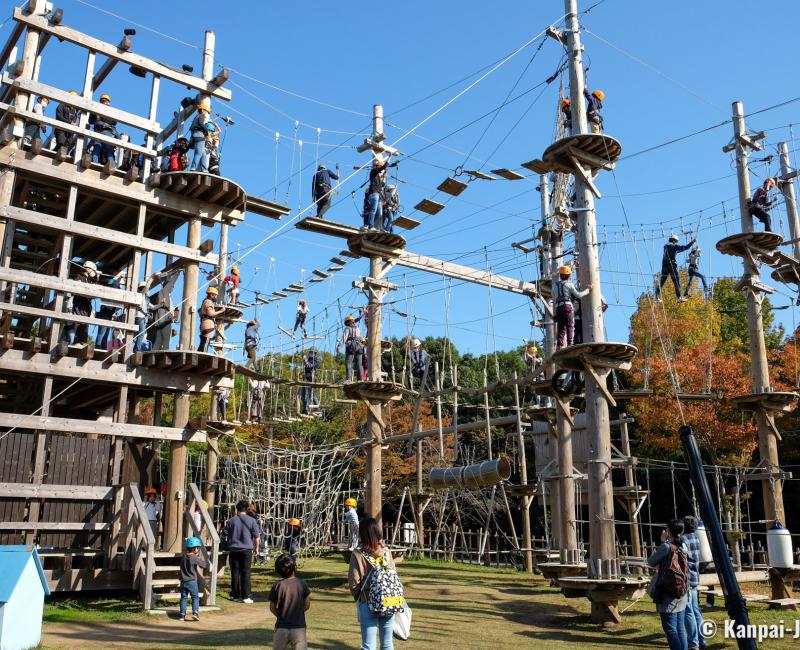 Crayon Shin-chan Adventure Park
The world of Crayon Shin-chan includes several outdoor playgrounds to use on a sunny and hot day, especially:
The 225-meters-long and 140-meters-long ziplines, surrounded by water cannons;
A treetop course in a wooden fortress, with heights from 1 to 8 meters depending on the difficulty level chosen.
This park is intended for a younger audience and for those who are still children at heart. Attractions are varied and allow to have fun in a group and be physically active. Look for the manga Crayon Shin-chan 54 characters scattered in the park and collect their QR code to get a reward at the park's shop.
Nijigen no Mori mixes lively attractions and interactive animations to visit with friends or family. The beautiful hotel 🏨 Grand Chariot Hokutoshichisei 135°, located in the heart of the park, welcomes visitors for several days stays.
Awaji Anime Island is still growing with the addition in May 2021 of "Dragon Quest Island The Origin Island with the Great Demon King Zoma" a real-life RPG set in the universe of Dragon Quest.