Sumo tournaments in Japan
A complete guide
Add to my favorite places
There are tournaments all over Japan every odd months and Osaka is hosting one of them in March. I jumped on the opportunity to take a Shinkansen 🚅 from Kyoto (with my Japan Rail Pass) to spend an afternoon and enjoy the Sumo wrestles. I booked the tickets in a conbini (convenience store). On the official site, the booking procedure is quite restrictive: you have to register, and I'm not even sure they can send tickets outside Japan.
I was not especially fond of Sumo. I mean, I had already stumbled upon it on TV but I did not know about the folklore related to this discipline. That's why I came to the tournament as a neophyte. Tickets grant access to the building all day long: you can go out and come back once, for example to go and get your lunch outside.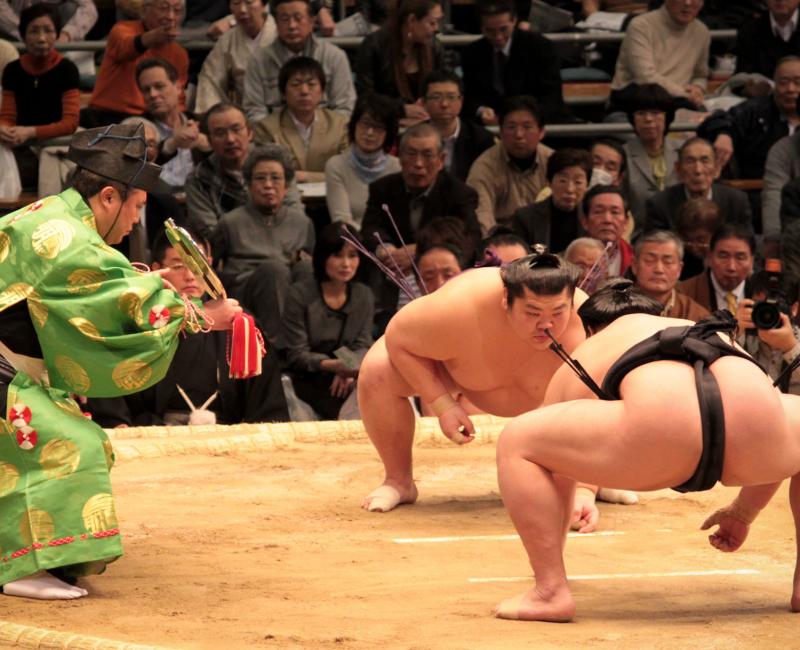 During a typical day, the wrestling begin in the morning and continue until 'Yokozuna' comes (Hakuho, in this case) in late afternoon. *He* is the star: during the 300-year history of Sumo, only 69 of them have been promoted to this half-god title. The other ones are called 'Rikishi' rather than 'Sumo'. Throughout the day, Sumo wrestles keep on happening with an gradual increase in league. The tournament day usually ends around 6 or 7pm.
Tickets to the tournament have a gradually degressive rate as you sit distant from the dohyo (the ring), pretty much like in a stadium. Sumo wrestlers are positioned east and west, the gyoji (referee inside the circle) is facing south and north, and the preparation of Sumo ('Shiko') is to the southeast and southwest. Yokozuna ceremonies are facing north.
For all these reasons, I recommend to book your sit in the north gallery, and if possible not too high: you can see more of the wrestle and obviously they are much more impressive as you are near the dohyo. Also the back rows are western style, narrow and uncomfortable, while a little lower you stay in 'blocks' defined by a small square meter, more confortable with cushions.
If you're staying there for an entire afternoon, being able to extend the legs can be very appreciated. I think it's worth it to spend at least ¥ 7000-8000 (~US$55.01 to ~US$62.86) for a Sumo ticket. If you arrive in the morning, where there is few people, you can get very close to the dohyo to take pictures, get out at noon to eat in one of the restaurants nearby (why not try the takoyaki, which is a specialty of Osaka), then enjoy the big wrestles for the rest of the afternoon.
I recommend at least attending one of these Sumo tournaments if you have the opportunity. It is very interesting, extremely spectacular and involves a lot of Japanese folklore.