Daisho-in
The 500 Buddhist Statues Temple on Miyajima
Add to my favorite places
Daisho-in is a Buddhist temple of the Shingon School located at the foot of Mount Misen on Miyajima Island in the Chugoku region of Japan. Its sacred grounds offer a wonderful walk amid its various pavilions and hundreds of Buddhist statues. The view over the bay adds to the prestige of the place.
Miyajima, one of the three most scenic views of Japan, is among the most popular sightseeing destinations in the archipelago. However, most travelers seem to only focus on its two most visited spots:
Itsukushima shrine with its famous floating torii 

⛩️

, and,
the ascent of Mount Misen.
Even if they're essential, these spots are not only a testimony of the short time spent by visitors to Miyajima (often a short day, probably due to the high price of hotels 🏨 on the island) but also somehow block other very interesting spots.
That is why we wanted to give a spotlight to Daisho-in, a Buddhist temple of inimitable charm located at the base of Mount Misen, just a few minutes walk from the shopping arcades and Itsukushima shrine. The creation of this temple dates back to a little more than 1,200 years, at the initiative of philosopher and religious poet Kobo-Daishi (Kukai).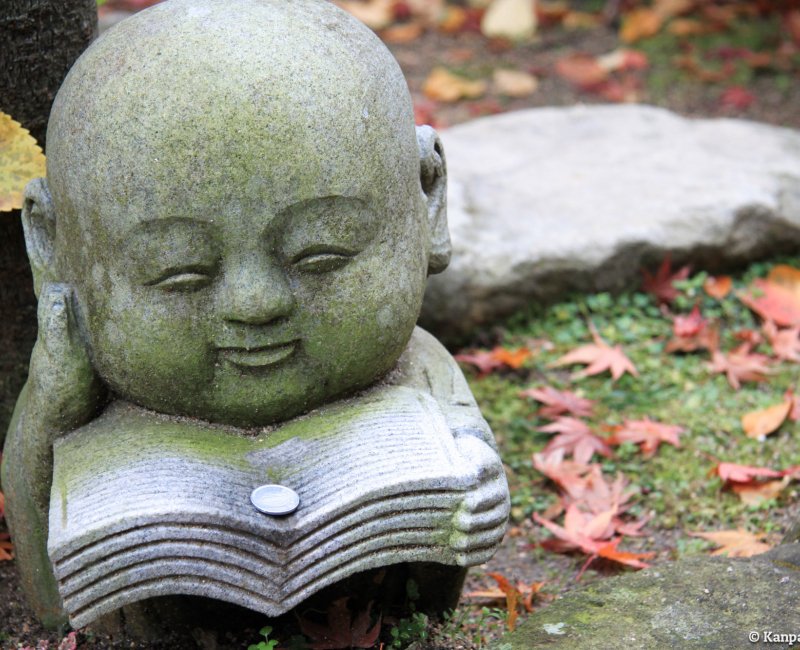 Beyond its gleaming stairs (sided by sutra enclosing prayer wheels) and its majestic buildings, Daishôin is all scattered with Buddhist figures. Like in a treasure hunt, you can look for the benevolent and expressive figures of religious statues. Here, the three wise monkeys 🐒 hide behind a bush. There, baby Buddhas stroll in the grass, surrounded by momiji 🍁 maple leaves. And lower, five hundred Buddhist statues accompany your visit on one side and the other of a long stairway.
Therefore we definitely recommend passing by Daisho-in during your visit to Miyajima. Upon leaving, you'll have to choose either to continue hiking an hour and a half to the summit of Mount Misen, or leave towards Momijidani Park to greet the shika deers and then back to stroll near the shops.