Sasuke Inari-jinja
The Hidden Village of Kamakura
Add to my favorite places
Sasuke Inari-jinja is a Shinto shrine in Kamakura, in Kanagawa prefecture in Japan. The religious complex, hidden in a forest, is a nice complementary visit to the neighboring Zeniarai Benten.
Kamakura is well-known for its Great Buddha Statue, but there are also many Shinto shrines in Kamakura, and especially Sasuke Inari-jinja, also known as the Hidden Village of Kamakura.
According to the legend, during his exile on Hirugakojima island near Izu, Minamoto no Yoritomo saw Inari, a fox-like divine spirit in a dream. The spirit told him to raise an army and fight the Taira clan. Afterwards Yoritomo succeeded in establishing the Kamakura shogunate, and he built a shrine near a hidden village to thank the gods. He named it Sasuke, with the Chinese ideogram for help (佐 sa) and another kanji from his infancy name (助 Suke-dono).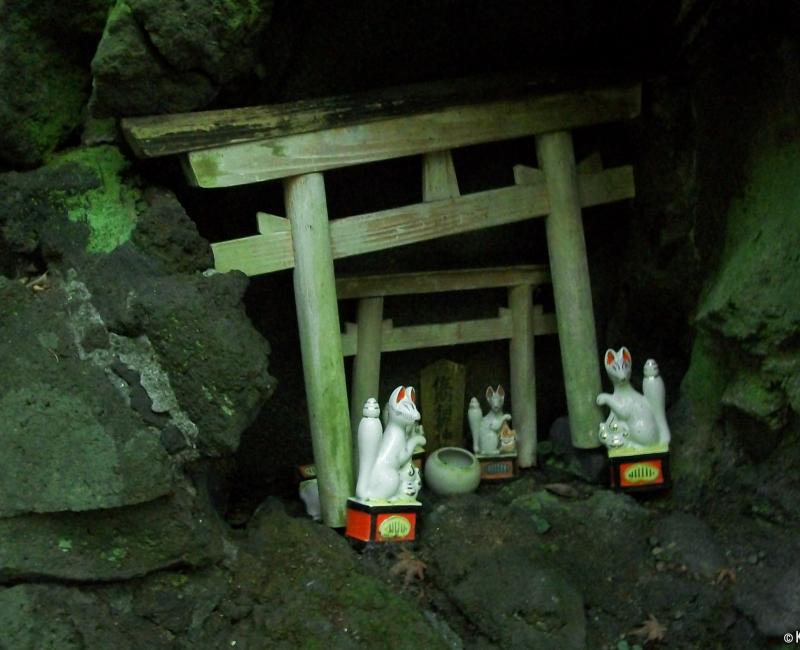 A village true to its reputation
Finding Sasuke Inari-jinja is no easy task as signs are scarce in the winding narrow streets of the city's outskirts. One could reach the nearby Zeniarai Benten passing by Inari-jinja without realizing it. However, the entrance is marked by a long stone stairway lined with red flags bearing Sasuke Inari's name. The path unfolds under many red torii ⛩️ gates, whose feet are surrounded by small ceramic statues of foxes.
The shrine, nestled in the heart of the forest, is barely reached by sunrays, which gives it a grim atmosphere. Some fox stones statues have their snout broken, other are covered in moss. The croaking of crows is the only thing missing to mistake the place for a horror movie setting. But it is also what makes the attractiveness of this so-called hidden village. Caves surrounded by a small river are dispersed near the shrine, and some of them shelter statuettes or offerings. Further in the shrine's grounds and through the hill, a narrow path leads to the last torii gates. Be careful not to stray away from the railing.
For otaku pilgrimage amateurs, Sasuke Inari-jinja was used as a setting for some scenes of the horror and science fiction show Elfen Lied (by Lynn Okamoto).