Tsurugaoka Hachimangu
Kamakura's Main Shrine
Add to my favorite places
Tsurugaoka Hachimangu is the most important Shinto shrine of Kamakura, a city in Japan's Kanagawa Prefecture. The huge complex, which is visited by many people, can be discovered by walking up Yuigahama-dori, a broad street running through the heart of the city and bordered by sakura trees blooming in spring.
The famous Tsurugaoka Hachimangu is revealed by a first huge torii ⛩️ gate, placed several hundred meters before in the middle of the avenue, a stone's throw away only from Kamakura's main train 🚅 station. The central axis of the city, Yuigahama-dori avenue is a pathway leading to the shrine's official entrance, embellished by lanterns 🏮 and blooming cherry trees 🌸 in spring.
Originally built in 1063 by shogun Yoriyoshi (988 - 1075) of the powerful Minamoto clan, Tsurugaoka Hachimangu was largely expanded by his descendant Minamoto no Yorimoto (1147 – 1199) at the end of the 12th century, when Kamakura served as Japan's capital city. The shrine's grounds then reached its current size. The shrine is dedicated to kami Hachiman, an agricultural deity who became the god of war after the Minamoto clan's victory against the rival Taira clan.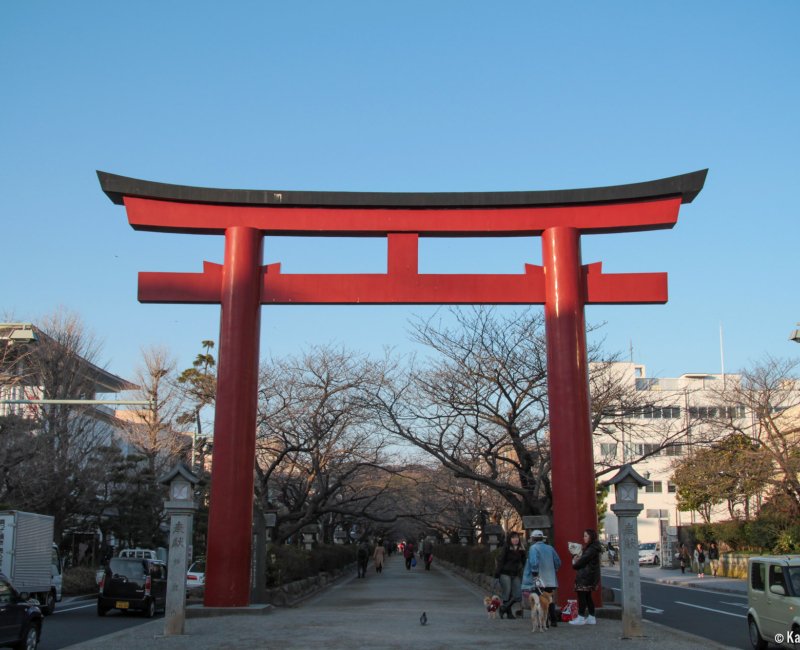 A symbolic layout reminding of the history of Japan
Just like Kiyomizu-dera temple in Kyoto, the vast Shinto shrine's exploration is closer to a stroll than a religious tour. Right at the main entrance, two large ponds symbolize both the rival clans that fought during the Genpei War (1180 – 1185) and evoke the samurai spirit imbuing the place:
On the right, Genji pond (源氏池) represents the Minamoto clan and is home to the Hataage Benzaiten pavilion;
In summer both ponds are beautifully covered by lotus.
The main central walkway gives access to the maiden pavilion, where all Shinto yearly rituals and fixed dates performances are held. Then, the large stone stairway provides a beautiful overview of the shrine's grounds and of Kamakura City on the background. On a clear weather day, the view extends to the ocean and to Oshima Island near the Izu Peninsula.
The visit ends by Tsurugaoka Hachiman-gu's main building, the honden, also called Jogu (上宮). Worshippers just pray at its entrance, as entering is off limits, and sightseers admire the colorful decorations of the facades. Note that taking pictures within Jogu's enclosure is prohibited.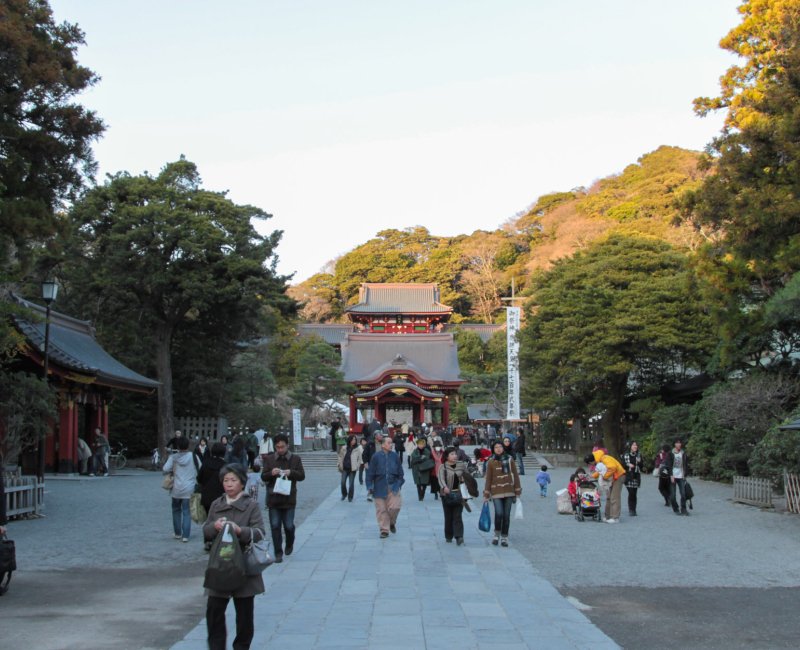 A Shinto enclosure lively all year long
Although quite touristy, Tsurugaoka Hachimangu's grounds is well maintained. It experiences seasonal peaks at the following times:
On the first days of the year, when the shrine welcomes the most visitors of any in Japan (more than 2 million!);
In mid-September for Reitai-sai, a festival that features an impressive demonstration of yabusame, or horseback archery (arriving hours before is highly recommended).