Hase-dera
Kannon Temple in Kamakura
Add to my favorite places
Hase-dera is a Buddhist temple of the Jodo School, located on a forest hill in the south of Kamakura, in Kanagawa prefecture in Kanto area in Japan. It is renowned for its sacred eleven-faced statue of Kannon Bodhisattva, and its charming and quiet garden overviewing Sagami Bay.
Kamakura offers endless discoveries. A little bit further west from downtown Kamakura, Hase station gives an easy access to Kotoku-in temple's famous Great Buddha, if not using the hiking trail. A few meters away from the station, the large Hase-dera temple is also worth the trip.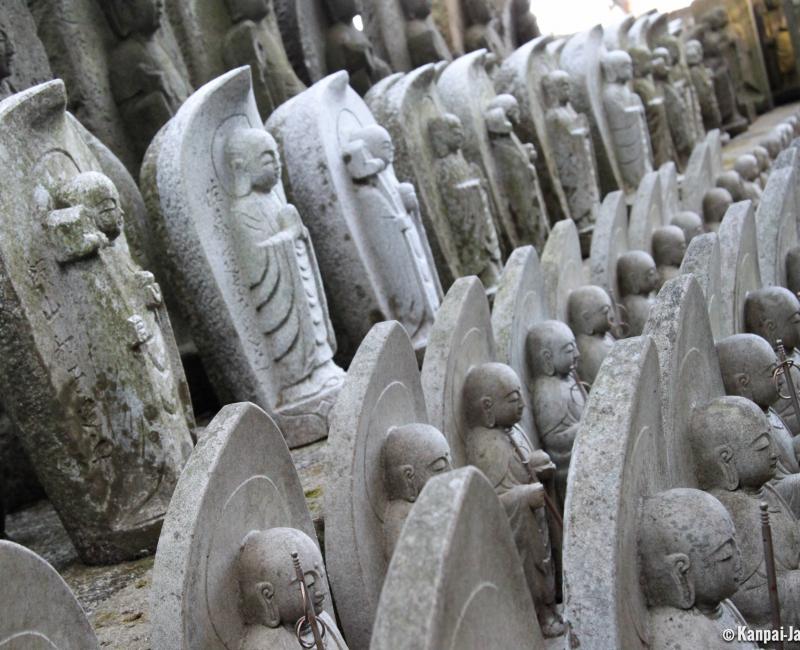 A 1,300-year-old Buddhist statue
Hase-dera is renowned for its beautiful sacred image of Kannon, the bodhisattva of compassion to which the temple is dedicated, as states its full name. The statue, made from camphor wood, is one of the tallest in Japan, with a 9.18 meters height, and it was completely covered with gold leaves. Note that taking pictures the sculpture is forbidden. It represents an eleven-faced Kannon (Juichimen Kannon 十一面観音) and is said to date back to 721. It is also said that another sculpture of Kannon was made from the same tree and offered to another Hase-dera temple, now in Sakurai city in Nara prefecture.
A marvelous garden on the hillside
As impressive it may be, the statue is but one of the interests of Hase-dera. First, a splendid Japanese garden opens at the temple's entrance down the hill, with a delicate succession of ponds. Then a terrace on the hillside offers an unobstructed view on Sagami Bay and tables are arranged to provide a comfortable rest when the weather is fine. It is possible to bring a bento 🍱 for lunch, and enjoy typical Japanese sweets bought from the temple's shop nearby. Beware however of the looming hawks.
On the way back, a large platform displays hundreds of Jizo statues, dedicated to deceased children. They stand here for one year, then are replaced by new ones (since WWII, more than fifty thousands of statuettes have been offered). Do not miss either the Benten-kutsu cave that reminds of Zeniarai Benten's.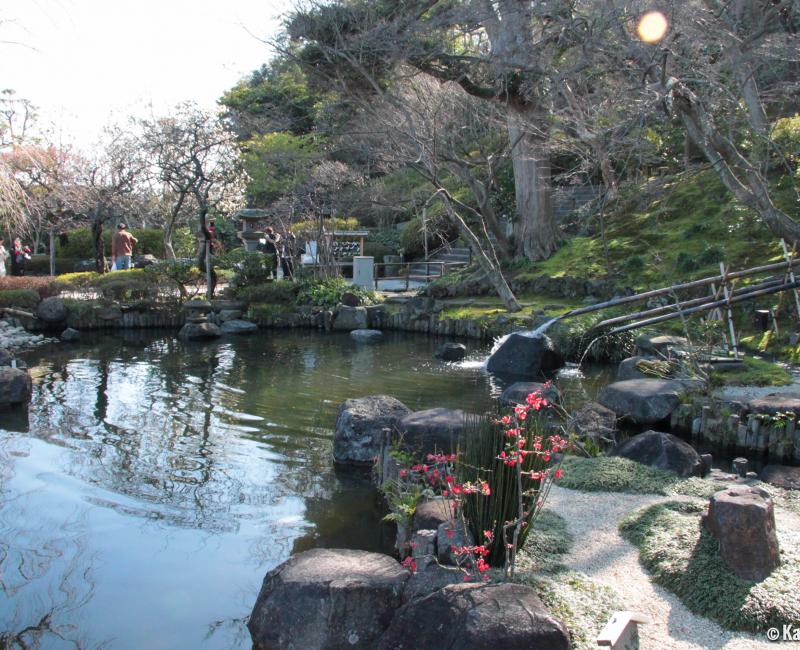 A must-see in Kamakura
The temple's grounds are beautiful in all seasons, and thanks to the abundant vegetation, they are particularly pleasant in summer, providing a cooler atmosphere. The blooming calendar was designed to embellish Hase-dera all year long. Aside the traditional ume, sakura 🌸 and momiji 🍁, there are also:
Magnolias, wisterias, rhododendrons and peonies in the beginning of spring,
Hydrangeas, lotus and iris in summer,
The abundance and variety of flowers aims at recreating the "Pure Land garden," the Buddhist paradise.
Amateurs of arts and history of religion will enjoy the small Kannon Museum located in the temple's grounds where Buddhists statues, included Hase-dera's main image, are on display.