Jizo-in
Kyoto's Small Bamboo Temple
Add to my favorite places
Jizo-in is a small Buddhist temple located at the edge of Arashiyama in the west of Kyoto, not far from Saiho-ji, the Moss Temple. The main gate opens on a bamboo forest hiding two pavilions of a refined simplicity and a lovely serene Japanese garden.
Even if you already traveled in Kyoto, chances are high that you never heard about Jizo-in temple. Located far from downtown Kyoto, not easily accessible with public transportation, this temple unknown from tourists is yet a 10 minutes' walk only from Saiho-ji temple, the famous representative of Sagano area at the Unesco. Secluded in a small remote residential outskirt surrounded by nature, the discreet "Bamboo Temple" is nonetheless an essential complementary visit to the famous Moss Temple.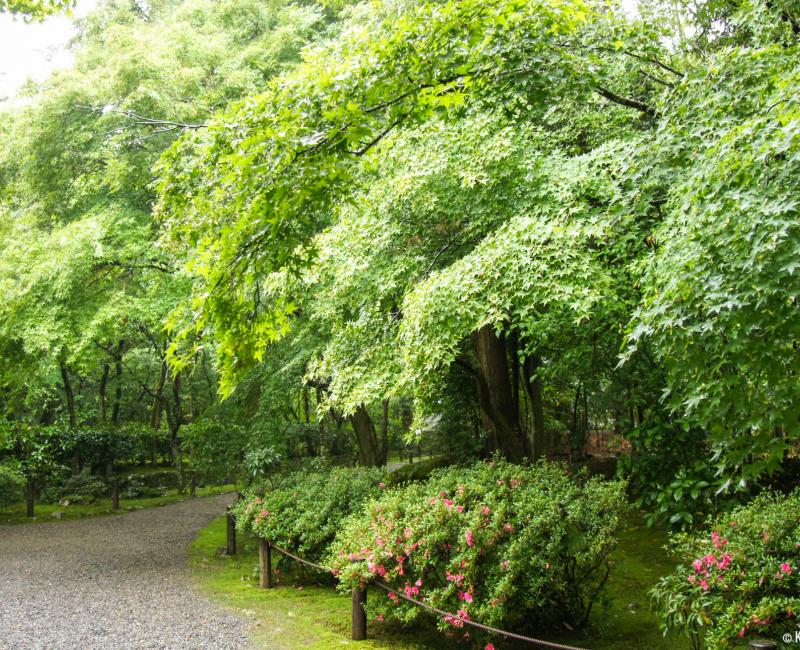 A temple dedicated to Buddha's disciples
Jizo-in temple, of the Buddhist Rinzai sect, was founded in 1367 by Hosokawa Yoriyuki, a samurai of the Hosokawa clan and close ally of shogun Ashikaga Yoshimitsu. The temple's wonderful Japanese garden was designed by Sokyo Zenji and intends to depict Buddha's sixteen disciples. It was destroyed during the fires 🔥 of Onin civil war, as many other temples and shrines in Kyoto during the second half of the 15th century. It was rebuilt more than one century later.
In Japanese culture, Jizo protects and guides the weak (stillborn children, but also travelers). Despite bearing Jizo's name, only a couple of his statues are displayed in the temple grounds and they are certainly not the main attraction here. Jizo-in is indeed remarkable for its atmosphere both spectacular and sober in a rather limited space.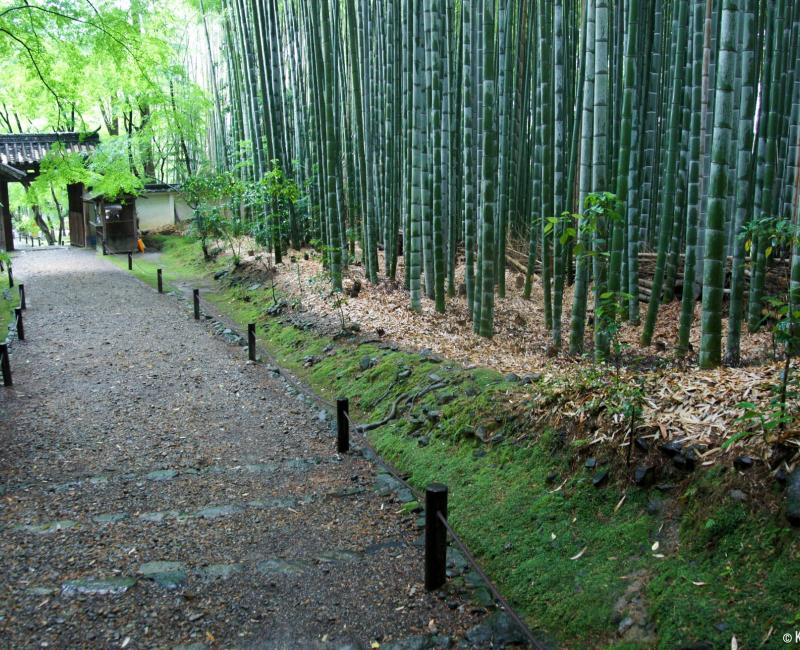 Arashiyama's secret haven of peace
The stern main gate opens up on a slightly inclined road bordered by a bamboo grove on each side, from which only the sound of the wind is audible. It gives access to Hondo, the discreet main pavilion, on the side of which another gate stands. From this point, taking pictures is prohibited, as it is where the beauty of Jizo-in lies: a traditional house offering an exceptional and unforgettable view on a splendid Zen garden. It is certainly one of the most beautiful landscapes in Kyoto.
Despite its small size, the entrance fee is ranging among the expensive ones for the ancient capital's temples and shrines, but don't fail to include Jizo-in's wonderful landscape in your Western Kyoto itinerary. The possibility to enjoy a visit without any tourist really adds to this delicate temple's charms. Let's hope this place's quietness can be preserved as long as possible.