Saiho-ji
The Sublime Moss Temple in Kyoto
Add to my favorite places
Saiho-ji is a Buddhist temple, nicknamed Kokedera, located in the western suburb of Kyoto. The visit of the moss temple must be booked in advance; it starts with the writing of a Sûtra, canonical Buddhist text, followed by the discovery of a majestic Zen garden home to 120 moss species.
The moss temple is not the least known point of interest in Kyoto, but given the relative difficulty to get there, few Western visitors care to visit it. However, for Kanpai, it impossible not to say that this temple is clearly worth the effort.
Visiting the Koke-dera (or Saiho-ji, its official name) is not an insurmountable ordeal, but this requires some advance preparation and organization to get a proper appointment. Indeed, since 1977, to preserve its moss, Koke-dera is only available upon advance reservation, like Katsura villa.
Additional warning: since spring 🌸 2019, children under 12 years old are not admitted anymore at the temple.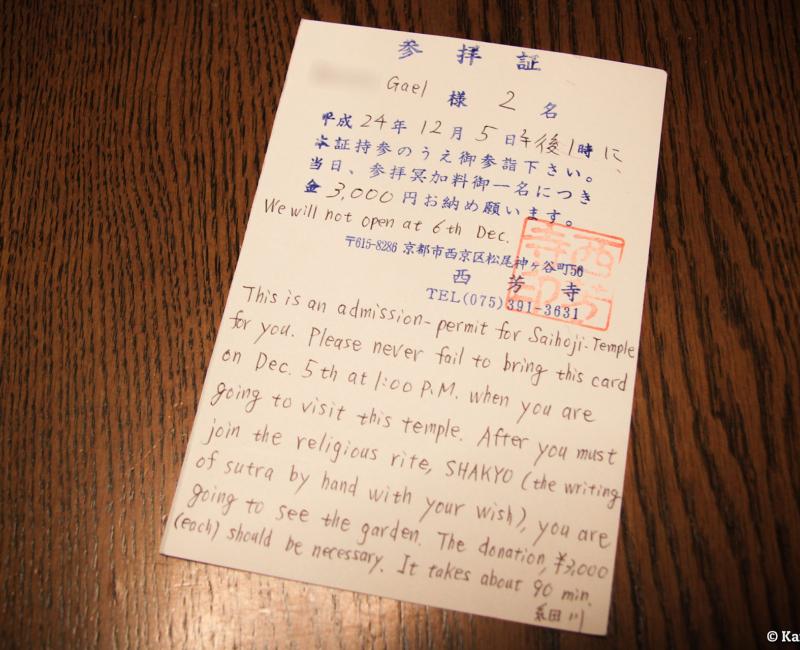 Advance reservation process
Reservation must be done by postal mail. It is impossible to book by phone or Internet 📶 / e-mail.
You'll have to send a handwritten letter with the name of the group leader, the number of people, as well as the planned day of your visit (better choose a day in the middle of your stay in Kyoto, in case the desired date is not available). You can write in English, even if Japanese is obviously preferable. It is suggested to post your letter in advance, the sooner the better, ideally several weeks prior to your visit. Additionally, note that the temple does not necessarily replys to every request, especially during peak season.
Send your mail with a stamped return envelope to the temple. Check at your local post office 📮 services for the international postage paid options available and their price.
The temple's address is:
Saihoji Temple
56 Jingatani-cho, Matsuo
Nishikyo-ku, Kyoto 615-8286
Japan
Send your letter as soon as possible (no later than two months before departure if possible). You will be sent back an invitation voucher, usually one month before the desired visit date. On this invitation, the date and hour on which you must be at the entrance of the temple are indicated. One useful advice: be on time on the appointment day! Do not be late, even by five minutes, because it's very likely that the temple doors will be closed, reducing the chances of visiting Koke-dera to none, at least for the current trip in Japan.
Once inside, you'll have to pay the entrance fees (¥3,000 per person in cash) then the tour will start with quite a peculiar ceremony.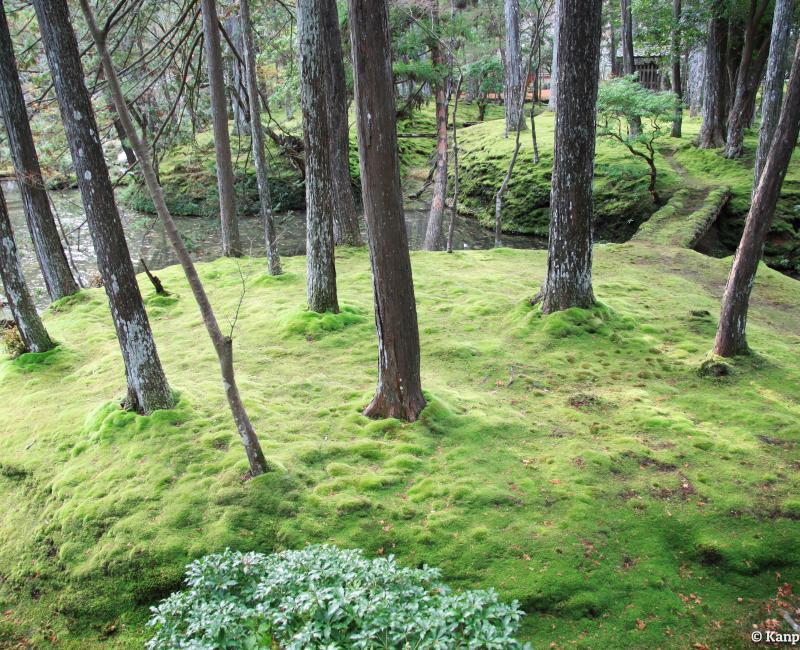 Details of the visit
Before enjoying the incredible garden, visitors are asked to participate in a Buddhist ceremony in which monks recite a prayer. Meanwhile, visitors are invited to copy the calligraphy of a sûtra (written teachings of Buddha) which consists entirely of Japanese kanji characters. Do not be afraid if you don't speak Japanese, simply draw the prefilled characters.
Now that you know, feel free to train 🚅 your calligraphy skills before your trip, you can even purchase calligraphy brushes and ink stone in stationery shops. At the end of the writing exercise, visitors are asked to inscribe a personal prayer on the document. Again, don't worry, foreigners can write it in their native language.
This ceremonial ritual is extremely important to dive into the atmosphere of Koke-dera, and yet many poorly disciplined foreign visitors, not acquainted with seiza sitting, just bear it with impatience. Kanpai's advice: respect the ambient quietness and the prohibition to take pictures, admire the earnestness of your Japanese neighbors who look like they are about to take a JLPT test, and take your time. If you finish after an hour or so, all visitors will already be at the end of their visit, and you will be rewarded by an almost private tour of the sublime Zen garden!
Sometimes, instead of the long sequence of shakyo (copying sûtra), the monks just hand out a wood lath called gomagi during the ceremony and the chanting. Visitors just have to write a wish on it. The writing times is then reduced to less than five minutes.
We would like to emphasize the extremely pure and beautifully preserved garden, its well-organized nature which offers a delightful and calm stroll. The beautiful scenery of the moss temple will remind you some of the most beautiful landscapes of Miyazaki's movies, especially Princess Mononoke.
On a side note, our pictures don't really pay tribute to the incredible beauty of the place (visited on December 5, 2012). That is why we strongly recommend to go ahead and book a visit to see the wonders of the moss temple with your own eyes!
In our opinion, the Koke-dera is an absolute must see for any trip to Kyoto, and it was quite logically inscribed to the UNESCO World Heritage. However, it is a shame it is not more easily accessible.