Iwachu Casting Works
The Famous Cast Iron Tea Kettle Factory
Add to my favorite places
Iwachu is a manufacture of traditional cast ironware in Morioka city in the north of Japan. The very same artisanal processes since the times of its founding in 1902 are still used to produce upscale cast iron tea kettles, cooking utensils as well as little wind bells.
Iwate prefecture is renowned since the early Edo period (1603 - 1868) for the making of cast iron tea kettles, that were used for Sado, the traditional tea ceremony. In reference to the former name of the local Nanbu samurai clan, the tea pots are called Nanbu Tetsubin and tea kettles Nanbu Kama. This artisanal skill is more than 400 years old.
An internationally renowned brand
The area is home to about eighty cast ironware manufactures bearing the label 南部鉄器 Nanbu Tekki, namely producers of Nanbu cast iron objects. Iwachu Casting Works is special in that it is the only one to use a holistic production system and can therefore adapt to the most precise requests of its customers, by improving or modifying its mold models on demand. The Iwachu brand is renowned in the world for its collections that are both authentic and modern. A wide range of vivid colors is available, while preserving the simplicity of the Japanese aesthetic. Moreover, the iron alloy that composed these items make them technically reliable, long-lasting and help keep the heat. Many tea shops and online shops sell these products to fine connoisseurs of tea utensils.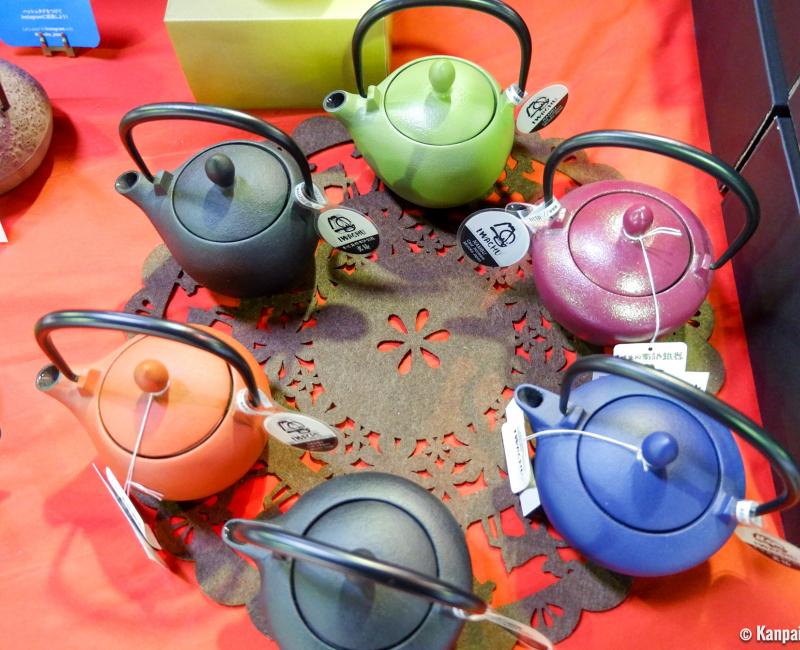 Discover the making of iron cast tea kettles
The most interested will therefore continue their visit to the origins of the factory, not to fill their luggage with cast iron items, but to discover the craftsmen at work. It is quite impressive to watch workers at the various workshops involved in the sixty-five stages of the fabrication process. Foreign tourists can rely on English language explanations displayed on large panels. It is also possible to touch the molds exhibited in the room, for a short journey in the metal universe where these superb creations were shaped.
The decorative patterns are all made by hand and up to 2,500 to 3,000 manipulations can be necessary for the ornamentation of a single piece. It is this colossal workload, that obviously takes times and requires qualified artisans that explain prices that are sometimes quite expensive: about a hundred dollars for a classical tea pot.
After the workshop, visitors are naturally led to the souvenir shop that displays many models of tea pots with varied patterns, shapes, and colors, to the point it is hard to choose from such a diverse showcase. The other items for kitchen, such as cups, small cooking pots, and tempura frying pans are also on display. For a souvenir that is easier to carry, visitors may consider purchasing a furin 🎐, a Japanese chime, that is also more affordable. Lastly, another room presents a beautiful collection of tea pots, but it is unfortunately not always opened to the public.
Tea pots amateurs will love Iwachu Casting Works, at least for the beauty of the objects showcased. The interest of the visit is not limited to shopping, as it is also a very good opportunity to meet artisans who are involved in their trade and carrying on a centuries-old craftsmanship.
This article was written after a tour sponsored and organized by Iwate prefecture. Kanpai has been invited and guided but keeps a total freedom of editorial content.