Tono Furusato
The rural village reminiscent of Edo period
Add to my favorite places
Tono Furusato is a traditional village located in Tono, in the heart of Iwate prefecture in the north of Japan. This outdoor museum retraces the lives of Japanese peasants from the 17th to mid-19th centuries. Visitors discover typical mountain farm architecture as well as its inhabitant's everyday life and craftsmanship.
Once the small bridge indicating the entrance of the village is passed, visitors are immersed in a Japanese rural traditional village among a dozen reconstituted houses. In winter, boots and rackets are provided to help walking more easily in the snow. Summer feels like being in a Studio Ghibli animated movie, lost in Japan's green countryside. The first step in discovering the place is the river, by which farmers did their laundry. Then a path meanders through the houses and the fields.
The houses, built in the shape of a L, are called magariya, and are opened to the visit. Rural families used to live with their horses under the same roof, the stable next to their own room. In some of the dwellings, the wooden beams were blackened by the soot from the indoor hearth that was used to cook meals. The indoor hearth had another purpose: it was said to reinforce all the materials so that the roof offered more resistance to the weight of snow. Other useful tip to survive winter, an old kotatsu is exhibited. In place of the contemporary electric heater under the blanket-covered table, a simple hole in the soil received embers and let their heat radiate.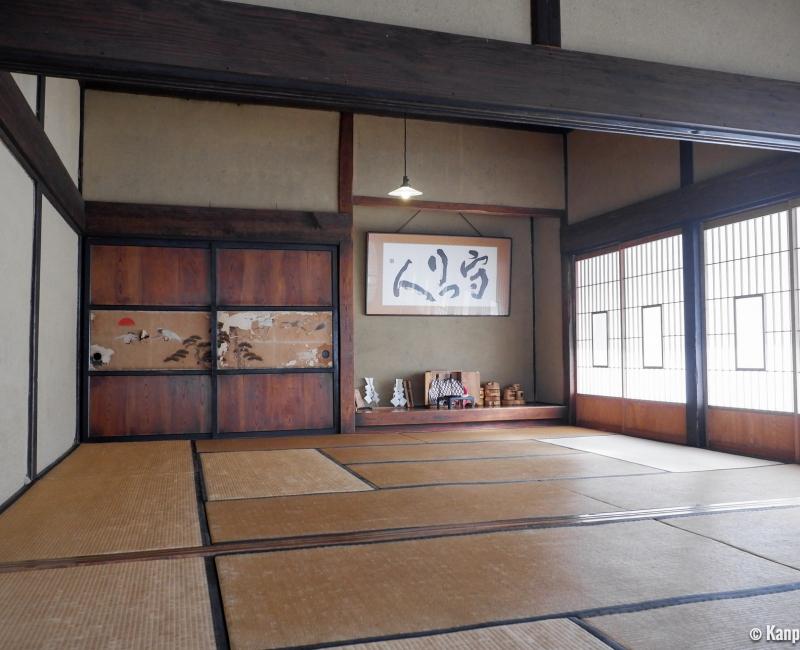 Older times' other everyday life hacks are displayed outside. For example, beautiful rows of Japanese honey-locusts, whose pods were used as natural soap to clean the dishes. A big wooden barrel in front of a building reminds of a water collector. It is in fact a traditional bathtub, whose lower part is crafted in a heating device for water. All these details disseminated throughout the village allow to picture peasants' lifestyle during Edo period (1603-1868). A small inconvenience for foreign tourists: explanations are only written in Japanese. You can ask for an English-speaking local guide, who may or may not be available.
Several events and workshops rhythm the annual calendar in Tono Furusato village. Depending on the season, it is possible to join fruits and vegetable harvests, to take traditional cooking class, such as making soba buckwheat noodles, prepare miso or sembei rice crackers. Moreover, in January, it is possible to attend the celebrations of the New Year and fly a kite in a ritual to pray for good harvests in the coming year. In the beginning of June, a Shinto ceremony celebrates Inari, the god of agriculture. If you are interested in some of these activities, it is necessary to book in advance in Fujusha Visitor Center.
Tono Furusato is a typically Japanese destination, off the beaten tracks. Although more secluded and less impressive than Shirakawa-go, it is a real change in scenery and a nice travel back in time.
This article was written after tour organized and sponsored by Iwate Prefecture. Kanpai has been invited and guided but keeps a total freedom of editorial content.