Mount Inasa
The Panoramic View on Nagasaki
Add to my favorite places
Mount Inasa stands in the west of Nagasaki City on Kyushu Island in the south of Japan. The 360° panorama located at 333 meters above sea level offers a splendid and unobstructed view on the port and the quiet waters of the bay throughout the day and at night.
The scenery encompassing Nagasaki harbor, its surrounding mountains and extended to the sea of Japan is absolutely fabulous from the heights of Inasa-yama. On a clear weather day, the view extends to Goto Islands in the west, Amakusa Islands in the south and Mount Unzen in the east.
A ropeway is available to reach to the summit, but we recommend the most dynamic visitors to try climbing the one-hour long hike along the road for buses and cars.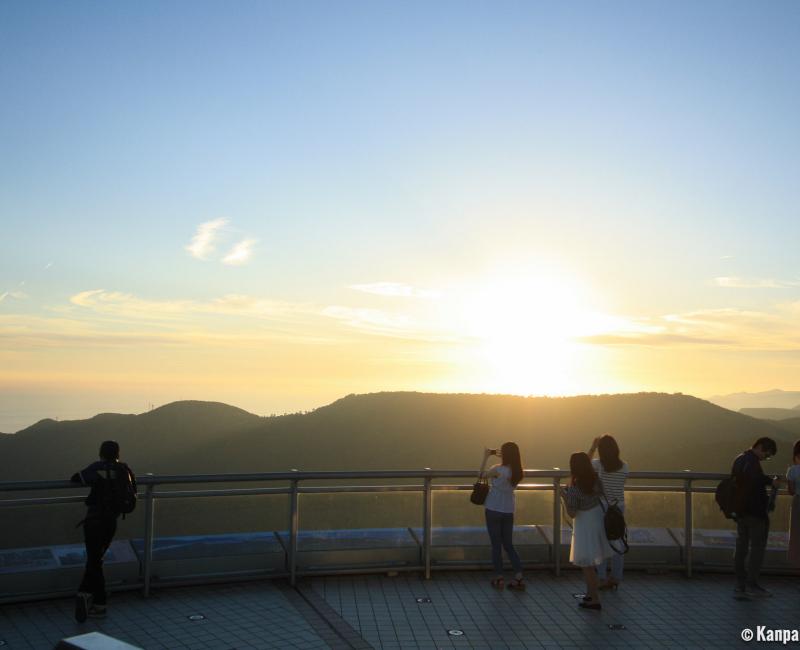 The round glass building proudly standing at the top of the mountain is the observatory. Its inside shelters all the Japanese conveniences: a local specialties restaurant, benches to admire the view, an open-air observation deck on the roof. The ropeway closes at 10 p.m. but it is nonetheless possible to stay longer at the summit and leisurely enjoy the beautiful night view.
It is indeed at night that the place is the most enthralling: the sight is so beautiful that is was nicknamed the "10-million dollars night view". Mount Inasa offers one of Japan's three most spectacular night views according to the "World Night View Summit 2012" and close to the center of Nagasaki.
The area is surrounded by restaurants, hotels 🏨, ryokan inns with onsen ♨️ baths, and is also home to huge radio and televisions broadcasting antennas.
Since January 2020, an elegant slope car 🚙 with a retro-futuristic look connects the parking located on the mountain side to the observatory's site, also offering marvelous views on the coastline and the surrounding mountains.