Unzen Jigoku
The Volcanic Hell of Mount Unzen 
Add to my favorite places
Unzen Jigoku is the Japanese name of the Hells of Mount Unzen, an active volcano in the center of Shimabara Peninsula, in the south-east of Nagasaki prefecture, on Kyushu Island. Its attractiveness comes from its fumaroles, onsen hot springs, and beautiful views from its heights.
Mount Unzen is encompassed by the famous Unzen-Amakusa National Park, that stretches off the shores of Kumamoto and down to Kagoshima prefecture. Established in 1934, the name of the protected site derives from Mount Unzen-dake and the numerous small islands constituting the Amakusa archipelago.
A place with a long history
Back in 701 the first year of Taihô era, Buddhist monk Gyoki (668 – 749) decided to built Manmyo-ji temple on the side of Unzen-dake for the practice of Shugendo, an ancient Japanese religion. Thereafter and until 1571, worshipers came to the temple to honor their ancestors and pray for good harvests and protection against earthquakes.
In the first half of the 17th century, during the Christian persecutions, Unzen Jigoku became an execution ground. However, it gradually transformed into a thermal resort from 1653. The earth is constantly venting white steam, and it is said that the sulfur it contains is good to treat rheumatism and diabetes.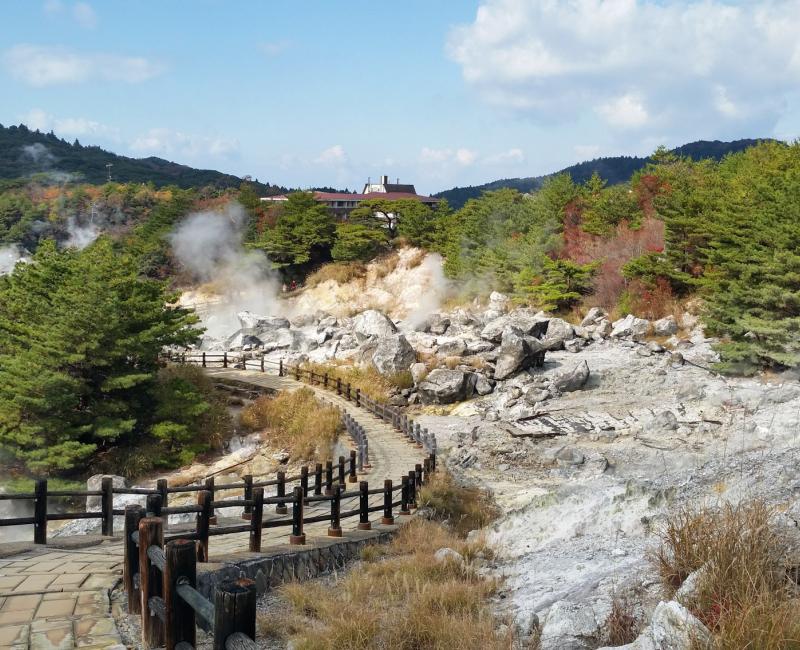 Parts of the area have been frequently closed due to the many eruptions. Nowadays, Unzen-Onsen ♨️ resort had several platforms and passageways arranged to allow for a safe walk between the small ponds of boiling mud and rocks shaped by lava and whitened by the smoke. From September to December, the red pines on the surrounding mountains display beautiful autumn 🍁 hues. The azaleas are in full bloom in May.
A land of legends
The walking trail is marked with signs telling the legends of the various hot springs. For example, the legend of Hachiman-Jigoku ("80,000 hells") tells that, according to the Buddhist beliefs, a man condemned to hell should be tortured in 84,000 different ways as he could misbehave in 84,000 different ways when in the world of the living. In Daikyokan Jigoku ("Screaming hell"), smoke rises up to 30 to 40 meters high, and the temperature reaches 120°C. The roaring of the source reminds of the screams of the deceased that are directly sent to Hell. These Dantesque stories perfectly picture the hell-like landscape imbued with the smell of sulfur.
In the hot spring 🌸 village, the Unzen Visitor Center displays a model scale of the National Park and its volcanoes. Books to learn on the local plants and wildlife, as well as affordable souvenirs are also available. On a day-trip, do try the natural hot springs that made the reputation of the area, either at public baths facilities or at inns and hotels 🏨.
Lastly, hikers can ride Unzen Ropeway from Nita Pass, located a few kilometers away in the north-east of Unzen Jigoku to try climbing to the summits of Myoken-dake (1,334m), Fugen-dake (1,359m), and Kumini-dake (1,347m).