Shibuya Tempura Bar Kakureya Shibuten
Delicious Fritters in a Little Japanese Bistro
Add to my favorite places
Shibuya Tempura Bar Kakureya Shibuten is a Japanese fritter restaurant located in Shibuya. Customers seat in a small and warm room where they can enjoy delicious and varied tempuras prepared by the chef behind the counter, in a menu full of season's flavors and conviviality.
Kakureya Shibuten's entrance is true to its name, somehow hidden at the angle of the street. With its grey sober and modest front store, it can be easy to walk by without noticing it. It opens on a quite steep stairway, partially hidden by a traditional noren, small white curtains hanging in the doorway and displaying the restaurant's name.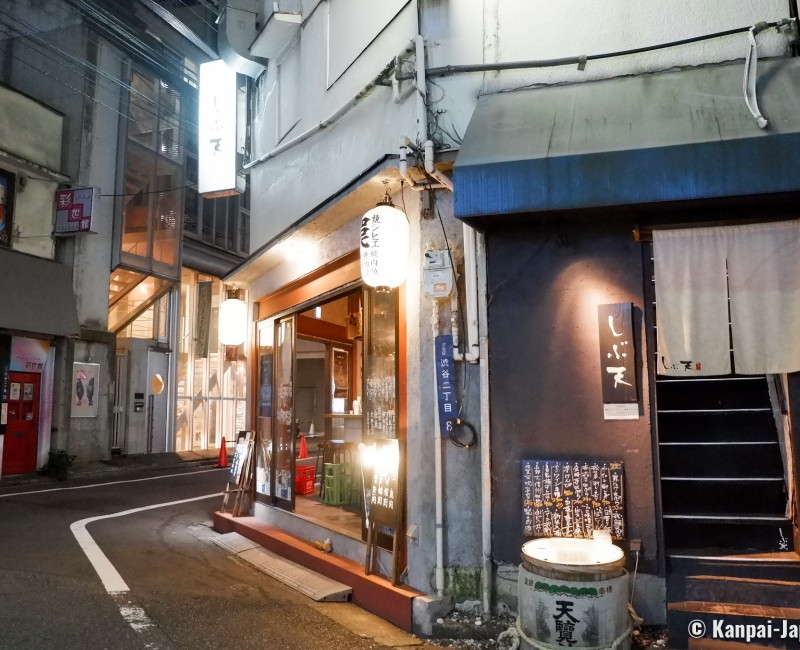 A low-key and welcoming place
Of about twenty seats, the room is filled with a cozy atmosphere, thanks to the grey and brown hues of the natural materials, immersed in a dim light. Despite its small size, this tempura bar can accommodate customers in several ways:
At the counter, usually for single customers;
Small tables with up to four seatings;
A space with bench-seats, under a bamboo roof, for small groups.
Shibuten is a comfortable place to spend the evening with friends or the loved one: it is quiet, but friendly with the kitchen opened at the counter and small groups of Japanese customers, who give their share to the outgoing ambiance of the restaurant.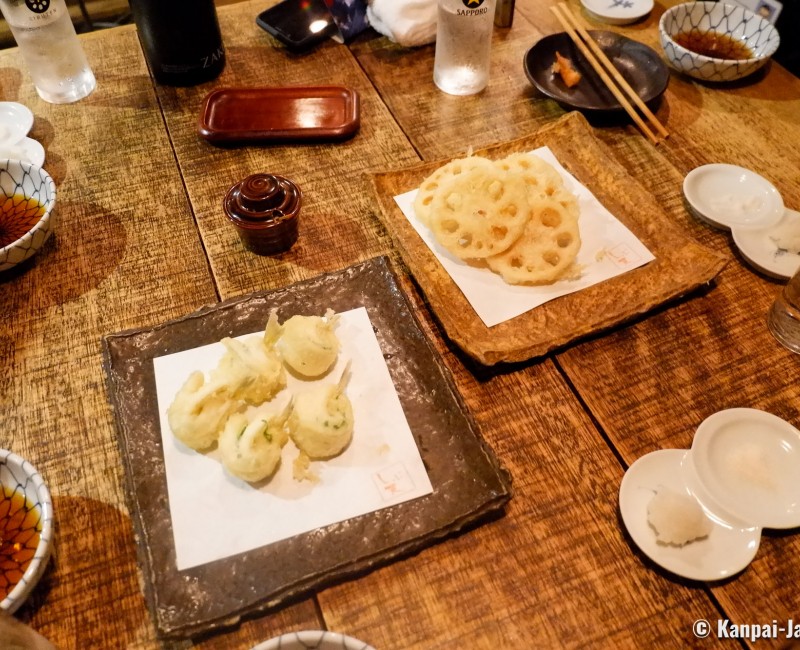 Tasty tempuras and much more
Nothing beats drinking a cool beer 🍺 served at Kakureya Shibuten with tempura fritters. It is also possible to drink sake 🍶 and wine, by the glass or by the bottle.
Upon seating at your table, you will be served otoshi, small dishes identical for everyone, that are a must in all Japanese bistros. They are served as a compensation for the admission fee (about ¥500 / ~US$3.32) applied to each customer, notwithstanding the amount of their order.
The menu naturally offers various and delicious tempuras. Vegetables such as eggplants, lotus roots, asparagus, pumpkins and even avocado are served as delicious fritters. A vegetarian menu is also available. As for meat, especially chicken (which is quite rare), and seafood (shellfishes, shrimps, sea bream), they are excellent as well.
Most of the ingredients used are seasonal, which makes in great part the delightful taste and the quality of tempura served here. Therefore, the menu changes frequently, a very good reason to visit this restaurant again, for those who may have the opportunity.
Shibuya Tempura bar Kakureya Shibuten is a very good address, maybe a bit more expensive than the usual izakaya, but ideal to have a good time.

This article was written after a tour sponsored and organized by
Tokyo
Metropolitan Government to promote the destination #HOKURIKUxTOKYO. Kanpai has been invited and guided but keeps a total freedom of editorial content.