Magnet by Shibuya 109 - Crossing View
The Shameless Observation Deck on Shibuya Crossing
Add to my favorite places
Magnet by Shibuya 109 is a shopping mall located at the north exit of Shibuya station in Tokyo. At the occasion of renovations in April 2018, the building's roof was endowed with a small outdoor observatory named "Releasing Shigeki". It offers a poor elevated view behind a window on the famous Shibuya Crossing.
The quest for the ultimate observation deck overlooking the iconic Shibuya Crossing seems to have been completed with the opening of Scramble Square in autumn 🍁 2019. The few overcrowded seats of the station's Starbucks are able to breathe again! After its renewal in April 2018 and until then, the former 109 Men department store renamed "Magnet by Shibuya 109" took advantage of the tiniest spaces of its rooftop to force a simulacrum of observation deck.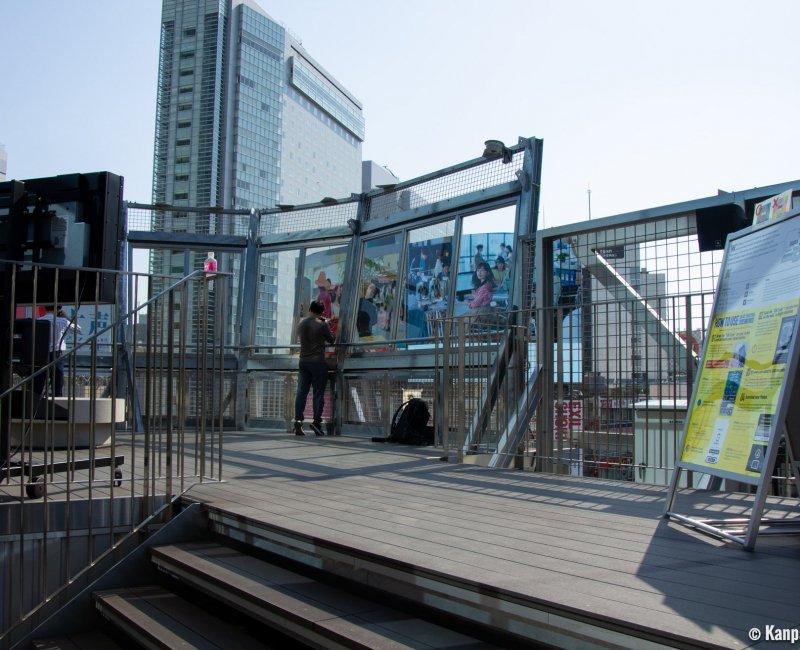 A cramped and slanted view point on the Crossing
Just getting to the observatory is a hassle. The building shows its age despite renewal and has kept an untidy look, sometimes even derelict. The agglomerate of fashion and music shops, cafes and security camera 📷 does not give a serene vibe either. As for the observation deck, it really looks like some makeshift to collect coins whereas people have been waiting twenty years for the nobleness of Shibuya Sky. Take a look by yourself.
The way is poorly indicated, with an access that seems to be a back stair, after crossing the cafe-restaurant at the last floor and crossing the other way round the roof top (with an unattractive vis-à-vis) that is used as a beer 🍺 garden for people who like screaming instead of speaking due to an exaggeratedly loud music. Simple partitions and a QR Code ticket vending machine, that looked hastily made, delineate a few square meters space that was clearly not intended for this purpose. The windows are too high and placed at such angles that they give a terrible reflection, and with the protecting gears behind them prevent from taking correct pictures of the place.
Even the official website seems to try concealing the observation deck. And despite an admission fee that is at least ¥600 (~US$4.33) on a weekday, there is nonetheless an offer for a vertical souvenir picture priced ¥1,000¥ (~US$7.21) that 20,000 users paid on the first two months!
The overall layout screams that the tiny platform was not in the initial plans, so let's reciprocate by not giving the interest it did not even deserve before the opening of Scramble Square.