Shibuya Hikarie
The Free Bird's Eye View on the Area 
Add to my favorite places
Hikarie is a skyscraper and shopping mall located in the east of Shibuya station in Tokyo. Inaugurated in April 2012, this recent architectural building includes many fashion shops, restaurants and a free, glass-walled observation deck over Shibuya Scramble Crossing and Tokyo's roofs.
Shibuya Hikarie rose 🌹 from the ground in 2012 as one of the first skyscrapers of the "Greater SHIBUYA" project, a large urban modernization program that the district will be undergoing until 2027! The access is direct from the JR station by a covered passageway at the second floor, or via an underground entrance.
Like great department stores such as Printemps, Harrods or Bloomingdale's, this Japanese department store is home to many luxury brands in fashion, design, gastronomy, and culture. However, the glass and concrete architecture displays a simple modern style, with black and white color contrasts.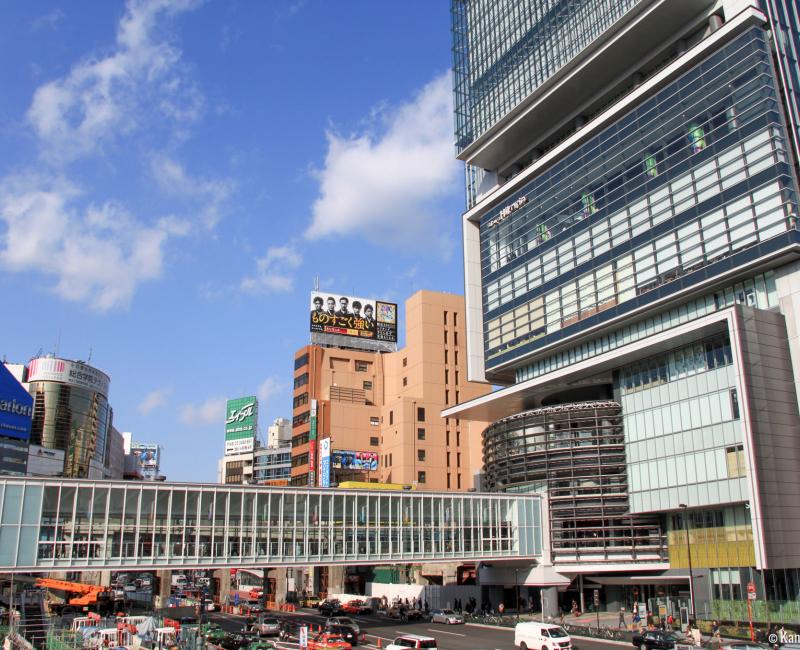 A typically Japanese shopping mall
The 34 floors and 4 undergrounds levels of the Hikarie Tower are shared by:
ShinQs shopping mall, that includes the food supermarket Toyoko Noren Street, at the two lowest basement levels,
Cafes and restaurants gathered at the 6th and 7th floors,
Events and art venues at the 8th and 9th floors,
Tokyu Theatre Orb at floors 11 to 16, and,
Company offices up to the top floor.
On very hot or rainy ☔️ days, Shibuya Hikarie offers a fine shelter, with many benches to rest and a free access to the lavatory. Once refreshed, visitors can take this perfect opportunity for some window-shopping and getting inspiration from the current trends in Tokyo. There is also a large choice of restaurants, with not only Japanese cuisine, but also Italian, as well as mouth-watering dessert menus.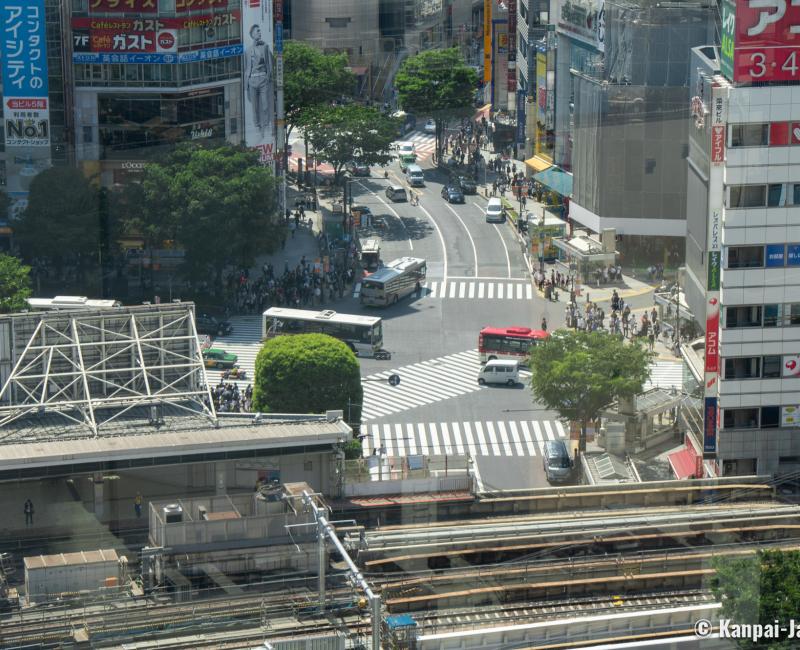 The glass-walled observation deck on Shibuya Crossing
Tourists enjoy Shibuya Hikarie for its relaxing space named Sky Lobby located at the 11th floor, facing the entrance of Theatre Orb. As its name suggests, the observation platform is an indoor balcony, closed by a glass-wall and offering a panoramic view on:
Shibuya Station's platforms and Shibuya Crossing in the foreground,
On Tokyo's buildings and roofs, and lastly,
On the sky and the clouds in the background.
While not spectacular, the bird's eye view from Hikarie is pleasant and has the great advantage of being free. We recommend going at the end of the afternoon, when the sun sets, to admire the changing colors in the sky and Shibuya neon signs lighting up as the night falls.
Near the observatory, a beautiful model scale of Shibuya Station area presents the ongoing urban remodeling project, including the skyscrapers that will be built in the future.