Yumoto Onsen Ohara Sanso (Review)
Mountain Minshuku in Northern Kyoto
Add to my favorite places
Yumoto Onsen Ohara Sanso is a 3-stars guest-house (minshuku) located in Ohara mountain village, in Sakyo ward in the north of Kyoto. Next to Jakko-in temple, the lodging offers traditional tatami rooms, local Japanese cuisine and several onsen baths supplied by a natural hot spring.
Ohara is a small village nestled in the mountains in the north of Kyoto, located 1 hour from the city's big JR station by public transport. It is renowned for its collection of little Tendai Buddhism temples hidden in the heart of a lush forest. In addition to the spiritual pilgrimage, it makes for a refreshing excursion In summer and is wonderfully brightened by the koyo 🍁 foliage in autumn.
An easy rural gateway, it is possible to stay overnight at one of the few accommodations available, and especially at the guest house Yumoto Onsen ♨️ Ohara Sanso located west to Takano River, right next to Jakko-in temple.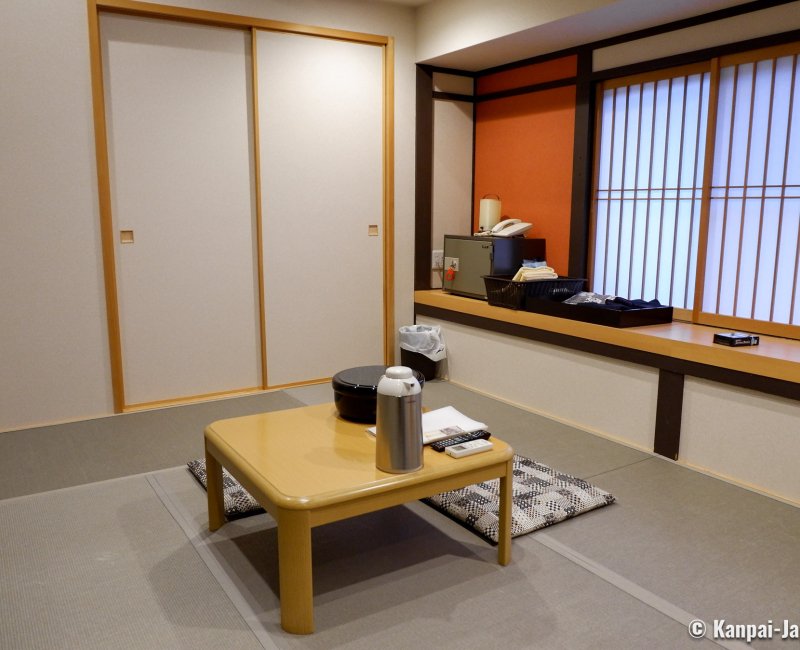 Bed and breakfast with ryokan amenities
Defined as a minshuku, that is to say a guest-house style lodging, Yumoto Onsen Ohara Sanso is a quite affordable traditional accommodation. As a matter of fact, it offers the main services of a Japanese ryokan inn in a more rustic setting and therefore more affordable:
Japanese style rooms with tatami floors, a futon for bedding and low level furniture;
Meals served in the evening and at breakfast are made with local and seasonal ingredients; and,
Communal bathroom (with separate areas for men and women) in the onsen baths facility.
The price difference with a ryokan is due to the absence of room service. Thus, guests must make their own bed every night and the meal is to be taken in the communal room, which has a lovely view on a small Japanese garden.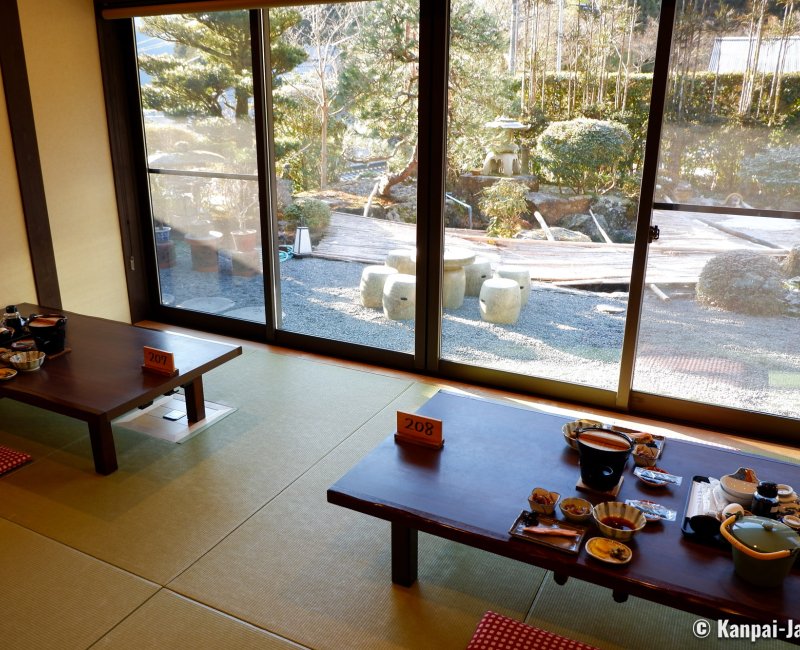 The house has 20 rooms divided into 2 categories available upon reservation:
Traditional: with shared toilets at the same floor; or,
Modern (renovated in 2016), with private toilets and sinks.
All room are equipped with air conditioning and a small TV, as well as a Wi-Fi Internet 📶 connection, however, due to the minshuku's location in the mountains and off the city center, the signal can be weak. In addition to the cosmetics offered, towels and yukata 👘 to wear for going to relax in the hot baths of Yumoto Onsen Ohara Sanso are also available.
The onsen facility is not directly connected to the guest house: it is accessible by a flight ✈️ of stairs in the open-air. There, several tubs made of stone or hinoki cypress wood are arranged indoors and in the outdoors. The choice of baths is large and the distribution of the areas between men and women changes every night so that every body can enjoy the baths. Usually, guests take a dip after dinner, and soon after waking up before breakfast. A private onsen is also available for those who would like to enjoy more privacy or who have tattoos.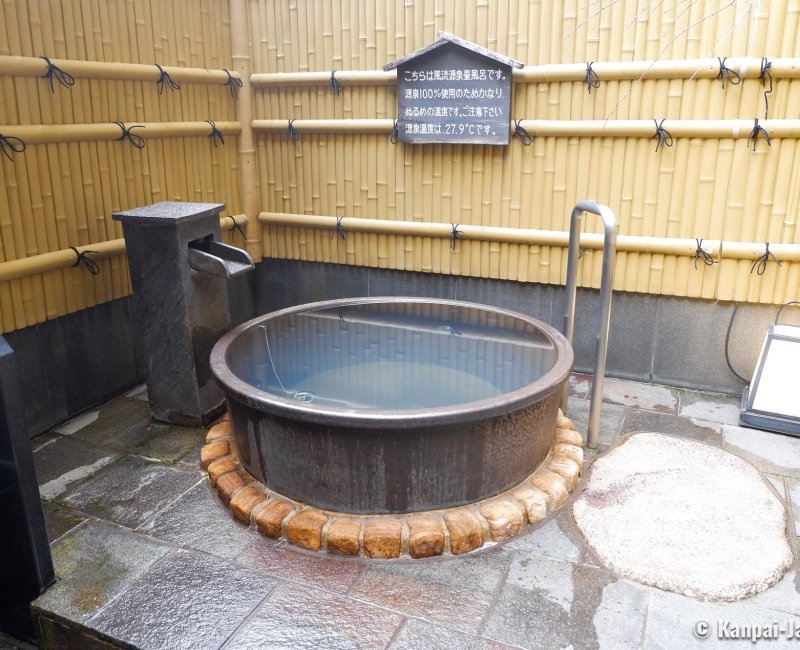 For amateurs of nabe, the Japanese hotpot
The guest house is also a traditional Japanese cuisine restaurant. The rural environment is favorable to the growing of vegetables as well as to boar hunting, so meals are naturally including fresh ingredients, especially at dinner in the nabe hotpot, the local specialty.
Vegetables (cabbage, mushroom, soy sprouts, kabocha squash) are cooked along with tofu and meat (usually chicken) in a broth flavored with home-made miso paste. Low in fat but rich in aroma, the nabe is a balanced and convivial dish. We recommend the botan nabe, which includes fine and tender slices of boar meat. Note that it is the restaurant's more refined and expensive main dish.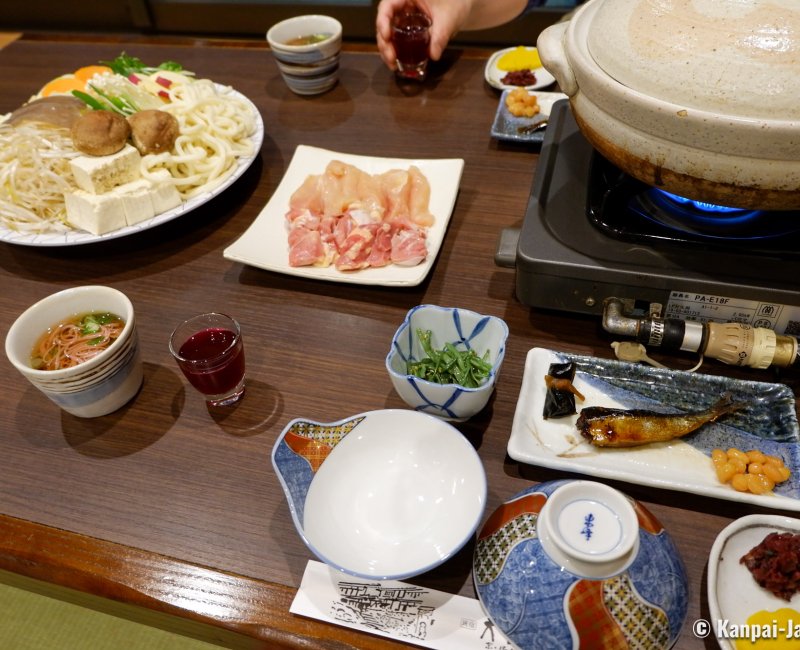 The Japanese breakfast is served from 8 a.m. to 8:30 a.m. only and includes several small savory dishes, such as: white rice, miso soup, grilled fish, pickles, algae, tofu and raw egg.
Yumoto Onsen Ohara Sanso is mainly suitable for couples and solo travelers who are looking for the quietness of the mountains and the characteristic simplicity of the Japanese countryside. It is possible to have lunch at the minshuku without being a staying guest, upon reservation on weekends and holidays only. Day customers can then enjoy the hot springs until 3:30 p.m. before the day's guests arrival.