Shugaku-in
The Imperial Villa in the North-east of Kyoto
Add to my favorite places
Shugaku-in Imperial Villa is an ancient imperial residence, located in the heights of Sakyo ward, at the foot of Mounts Higashiyama, in the north-east of Kyoto. The villa was built in 1659 as a hermitage for retired emperor Go-Mizunoo, and offers a spectacular view on Mount Hiei, as well as on the neighboring mountains.
The Imperial Villa, also called Shugaku-in Detached Palace, was built over a four-year span only, from 1655 to 1659, and its total superficies spreads on 54,5 hectares on the mountainside. The impressive site harmoniously brings together several traditional buildings and Japanese gardens in a natural green scenery.
Shugaku-in is divided in three large areas:
The Lower Villa;
The Middle Villa; and,
The Upper Villa.
The visit starts quite logically by the Lower Villa and its Jugetsu-kan pavilion. This construction was a living space composed of three rooms floored with tatamis. One of the rooms was reserved for Emperor Gomizunoo's rest and another one was used as a waiting room for servants. Then, the Middle Villa is constituted by two relocated buildings. The Rakushi-ken is remarkable for its simplicity and elegance. As for Kyaku-den, transferred from Nyoin Palace by Emperor Gomizunoo's wife, it displays an unconventional shelf named Kasumidana, made of five wood planks whose layout suggests the haze of a spring 🌸 mist. The two buildings were used as residence for princess Akenomiya.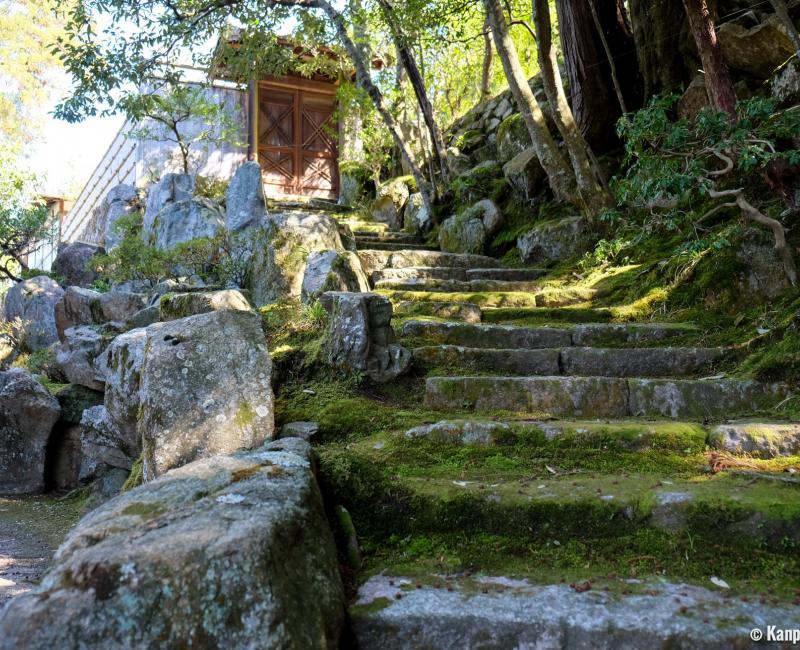 The Upper Villa's arrangements focus on the outdoor spaces, and especially its vast pond Yokuryu-chi, famous for the beautiful landscape it provides in autumn 🍁 when the maple trees' leaves turn red. This area includes a first pavilion "touching the clouds," the Rinun-tei, from which visitors can enjoy a nice observation platform. The second building, named Kyusui-tei, is a bit further and built on an inlet on the pond. It was one of the emperor's favorite place from where he could contemplate the totality of his estate. This structure is the only one that has subsisted from the time of its construction.
The guided tour is the only way to visit Shugaku-in and is subject to mandatory reservation at the Imperial Household Agency. It ensures the best conditions for visitors, who walk in small groups in this artificial and natural jewel imagined by an emperor. The grounds are clearly organized and the passages through successive gates help perceive their layout.
To enjoy the visit, make sure to memorize the term shakkei, which means "borrowing of scenery" and explains why it is difficult to dissociate the villa's grounds from the mountain, the latter backing the residence while providing it a natural decor. The gardens thus look wider as they marvelously blend with the surrounding scenery. In addition, the soft melody of water, that can be heard at each point of interest of the visit, contributes to a solemn yet relaxing atmosphere.