Bishamonten Taisai
Mount Fuji's Great Daruma Fair
Add to my favorite places
Bishamonten Taisai is a yearly winter festival at Myoho-ji temple in the south of Fuji City, in Shizuoka prefecture. It is one of Japan's three great Daruma fairs and is held during three days according to the former lunar calendar between late January and early February.
Myoho-ji temple was founded in 1627 at the beginning of the Edo period (1603-1868). It is dedicated to Bishamon-ten, a very popular deity in Japan, known as:
One of the Four Heavenly Kings,
The protector of the North, and,
Above all one of the Seven Lucky Gods.
As a warrior god and protector of the Buddhist law, he is also called Tamon-ten and often pictured with a pagoda in the hands, and sometimes a spear.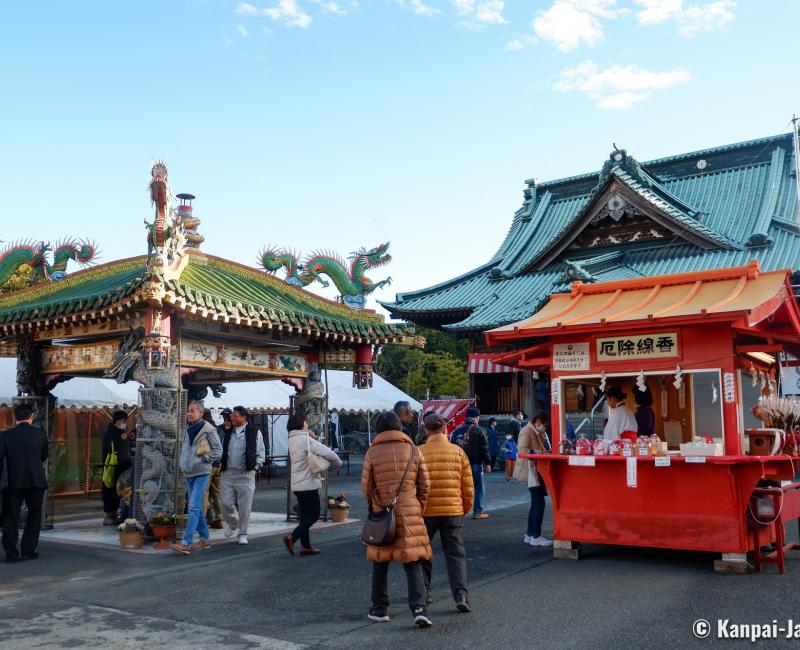 Myoho-ji, a one-of-a-kind temple
Deeply impacted by the fusion of Buddhism and Shinto, Myoho-ji's site is laid out like a temple with influences of Shinto architecture, with for example a great torii at its entrance. The pavilion designed to shelter the incense burner adds further originality to the grounds with its Chinese inspirations: the colorful emerald green roof is ornamented with eight dragons placed at each of the four corners and pilars. The rest of the temple retains a more traditional look, notably in its main hall made of dark wood.
Educated visitors will be delighted by this unique mix of religions and styles. If not, the discovery of Myoho-ji does not seem essential when visiting the Mount Fuji area, except during its yearly highlight: the Daruma fair. Named Bishamonten Taisai, this fair is renowned as one of the most important in Japan along with those of Shorinzan Daruma-ji (Takasaki, Gunma) and Jindai-ji (Chofu, Tokyo) temples.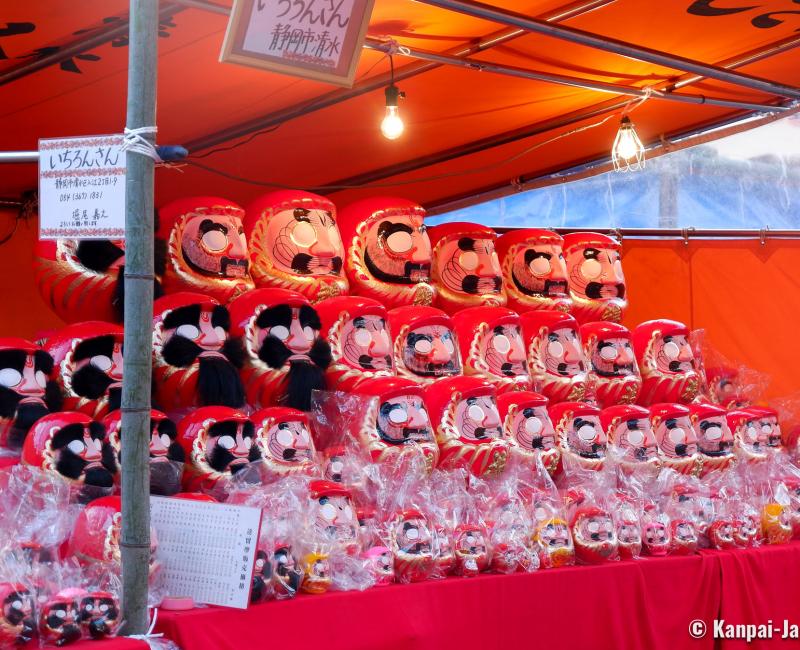 A festival of Daruma of all shapes
Once a year and during three days at the end of January and early February, the temple is enlivened by its yearly matsuri, a great fair dedicated to Daruma, the small Buddhist papier-mâché figurine that is red most of the time and used as a lucky charm by the Japanese.
To benefit from the lucky item, purchase a "blank" Daruma doll and paint the pupil of the left eye while making a wish. For the wish to be granted, the figure must be brought back home and displayed at view, and especially to its owner's view to prompt them into action and find solutions to reach their goal. The right pupil is painted once the wish has been granted.
Buying a Daruma doll during Bishamonten Taisai feels like a particular feat. Hundreds of stalls are gathering near the temple to sell Daruma dolls of various sizes and colors, for example:
Pink, for wishes connected to love relationships,
Golden for wealth,
Green for health,
Or shaped as a maneki-neko,
Shaped as the Chinese zodiac sign of the current year, or,
With long facial hair, a type of doll that is specific to the region.
Prices vary according to the size and a ruler next to the cashier indicates the price. When making the wish, we recommend having the left eye painted by one of the temple's monks who are assigned with this task.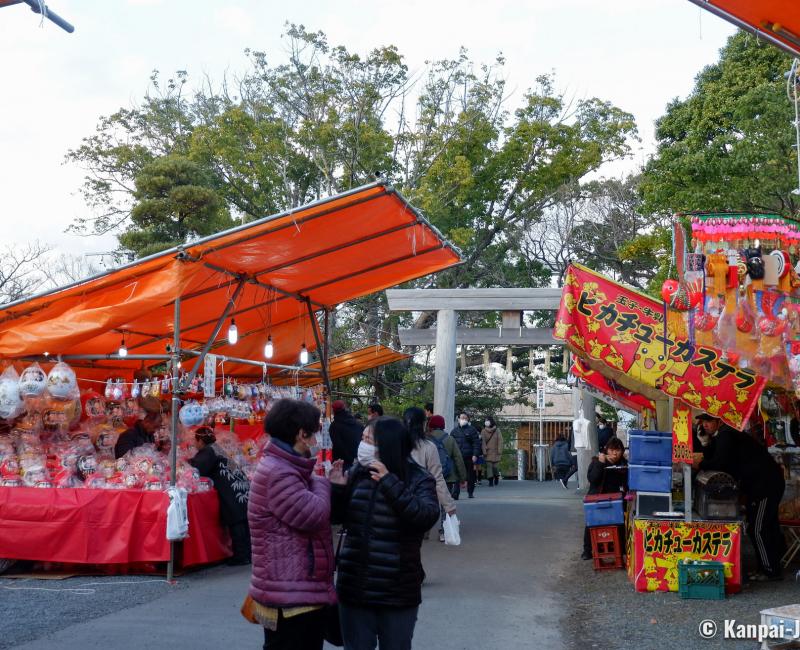 Bishamonten Taisai attracts about 100,000 visitors each year in a pleasant and friendly atmosphere. In addition to the Daruma dolls stands, there are of course tempting street food stalls, and also some vendors selling Japanese plants and small trees. Note that the matsuri is held during winter, the low season for festivals in Japan, an additional reason to not miss this event both unusual and deep-rooted in popular traditions.
This article was written after a tour sponsored and organized by Fuji and Fujinomiya Cities. Kanpai has been invited and guided but keeps a total freedom of editorial content.