Fujinomiya
The Quiet City on the South-western Side of Mount Fuji
Add to my favorite places
Fujinomiya is a small Japanese city located to the south-west of Mount Fuji in Shizuoka prefecture, half-way through Tokyo and Nagoya. Visitors enjoy various touristic activities, including the discovery of sacred sites, walks in nature and local gastronomy.
Fujinomiya is the southern counterpart of Fujiyoshida, located to the north of Fuji-san. A quiet little town, its touristic center is conveniently settled around a JR station connecting Tokyo in less than two hours.
The city spreading at the foot of Mount Fuji 🗻 is the ideal place to contemplate the majestic volcano 🌋's cone, visible from every street corner. In winter, weather tends to be dry, without clouds and sunny. January and February are thus the best months to view the snowy top of the sacred mountain.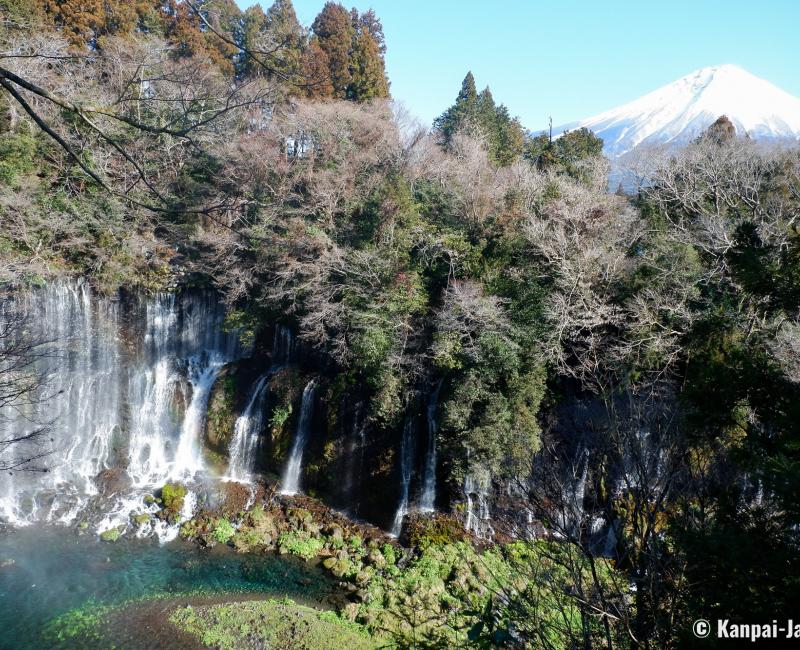 The best spots to enjoy Mount Fuji
On a clear weather day, Lake Tanuki-ko and Shiraito Falls make a spectacular natural environment to contemplate Mount Fuji, with the mountain reflected on the water. This rural area offers great hikes and to the pleasure of its discovery can be added the kindness of its inhabitants and the splendor of its landscapes.
The lake and falls are a bit off downtown Fujinomiya, but are accessible by – infrequent – buses. We strongly recommend checking beforehand the bus schedules with the tourism information office that can provide all necessary information in English.
Fujinomiya's center comprises its main shrine, Fujisan Hongu Sengen Taisha, located between Nishi-Fujinomiya and Fujinomiya stations. Renowned among Japanese people, the sacred site is dedicated to Konohana Sakuya-Hime, the Shinto deity reigning at Mount Fuji's summit. It is also the starting point of the Fujinomiya trail, to climb Mount Fuji from the south.
In a more international setting, Mt. Fuji World Heritage Center, Shizuoka is a museum located a couple of steps away from the shrine. The wonderful cypress wood and glass building is a vibrant homage to the mountain, and its front side represents its cone inverted. The exhibition recalls the experience of climbers to the top. The Center was built in 2017, after Mount Fuji and twenty-five other related sites were designated UNESCO World Heritage.
These two important sites are within walking distance from the station. It makes a pleasurable walk in typical Japanese streets with beautiful wooden houses and the usual nicely ornamented manhole covers.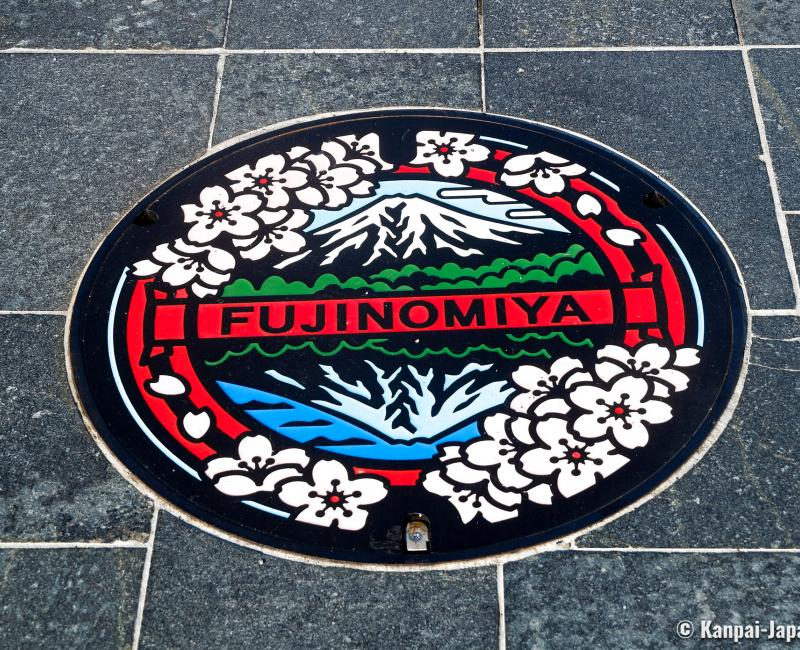 Top addresses in downtown Fujinomiya
The commercial and artisanal center of the city is condensed on a large avenue located between Fuji Hongu Sengen Taisha and Mount Fuji Center. Covered pavement walkways shelter many small local shops and typical restaurants. There are few people in the streets, so the atmosphere is quiet. Many shops are run by the same families over several generations. We especially took interest in:
Daimaru Gofukuten, a traditional kimono rental shop (reservation necessary),
The large stationery shop Rihei (文具の蔵 Rihei Bungu no kura Rihei), a little bit further east, with a part of a canal conducting Mount Fuji's water in the middle of the store. This feature reminds that the mountain's clear water has been used for a long time to make Washi Japanese paper.
On the food side, we recommend trying:
Tôtarô Honten (藤太郎本店), a shop specialized in the making of artisanal wagashi, the Japanese traditional pastries to enjoy with sencha tea. The owner holds a cuisine workshop and teaches how to make a wagashi (reservation necessary).
SAKUYA Nagayamon Dining (さくや長屋門ダイニング), this restaurant serves a delicious seasonal buffet in a friendly atmosphere.
Tokiwatei (居酒屋ときわ亭) is an izakaya pub and a very good restaurant for yakitori skewers, providing quality meat sourced from Fujinomiya and Fuji areas. The menu is written in Japanese but if you summon a little bit of courage, you can ask the chef "Osusume no Yakitori wo onegai shimasu (おすすめの焼き鳥をお願いします)," meaning "I will take the yakitori you recommend." A few words that open a world of discoveries.
One of Fujinomiya's specialty dishes are yakisoba fried noodles that have already been awarded prizes in culinary competitions and even bested the famous yakisoba from Osaka. About a hundred of restaurants proudly display the certification "Fujinomiya Yakisoba" and the small flag that proves it. The restaurant Soba Jinenbou (じねん坊) offers an interesting iron griddle system to cook by oneself several kinds of dishes aside from the famous soba.
Lastly, in the south of Sengen shrine, the popular Yokocho district gathers several little eateries stacked together. Many small typical dishes served with a nice drink are to be enjoyed in a laid-back and warm atmosphere.
Do not hesitate to step in these various local shops to explore their universe and have beautiful encounters. Fujinomiya is an ideal destination for an in-depth exploration of Mount Fuji, where geological heritage and the sacred blend pleasantly.
This article was written after tour sponsored and organized by Fuji and Fujinomiya cities. Kanpai has been invited and guided but keeps a total freedom of editorial content.