Climbing Mt Fuji
Experience and Guide to the Top of the Sacred Mountain
Add to my favorite places
The ascension of Mount Fuji is a hike on the sides of Fuji-san up to its summit located 3,776 meters above sea level. Several hiking trails are open 24/24, but only during summer time. This unique and typically Japanese experience is very popular, its highlight being the viewing of the sun rising or setting from the top of the mountain.
He who climbs Mount Fuji 🗻 once is a wise man, He who does it twice is a fool.
– Japanese proverb
Tokyo aside, Mount Fuji is probably the most famous tourist attraction in Japan. Its stature at the international level is such that many legends and fantasies arose on 'Fuji San' (not 'Fujiyama' which is a misreading of the Japanese characters). Some even say that after climbing Mount Fuji one becomes Japanese. We would not go that far, but as we spent a summer in Japan, we could not wait any longer to tackle the country's highest mountain (3,776 meters).
Below is our full report with pictures and advices if you want to do the same.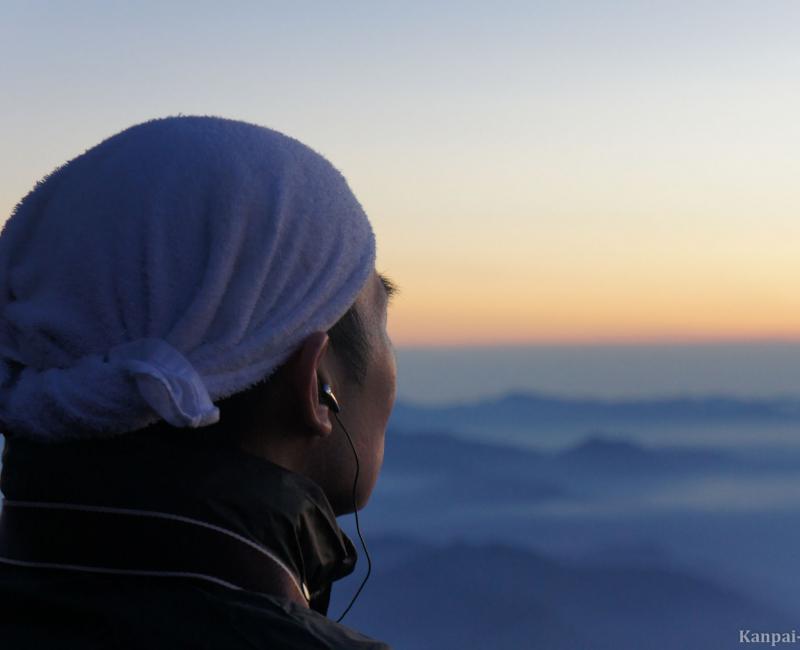 When is it possible to climb Fuji-san (seasons and hours)?
The climbing season is limited to a short time period that vary according to the hiking trail. For Yoshida trail, the most popular route (150,000 climbers in 2018), the official period extends on a little bit more than two months in summer: usually July, August and early September. For the other hiking trails (Subashiri, Gotemba, Fujinomiya and Ohachi-Meguri), the season is shorter.
To somehow avoid the crowds, make sure not to go during weekends and especially during Obon period (in mid-August). The less frequented periods are before mid-July and in early September.
Beside the touristic season, climbing Mount Fuji is not recommended, and even forbidden by local authorities due to the occurrence of many accidents, even with seasoned climbers. Moreover, registration at Yamanashi and Shizuoka prefectures is required, and climbing is at your own risks.
On 2019, October 28, a streamer on the video platform NicoNico, tried the ascension and fell down during his live stream, even though he was a seasoned climber. His body was retrieved two days later, at 800 meters below, which granted him a Darwin Award.
Snow usually starts to crown Mount Fuji from late October / early November. The first snow of the year is called 初冠雪 hatsu kansetsu.
There are two time slots for climbing Mount Fuji, which share the goal of contemplating, from the top of the mountain, either sunrise or sunset. We chose the first option. After all, 日本 'Japan' means 'origin of the sun', hence the expression 'land of the rising sun'.
With this option, hikers climb at night and descent on early morning. A bus commutes several times a day from Shinjuku in Tokyo, on the "Fuji Subaru Line" route. It is recommended to book the bus in advance, on this website, and payment is to be made on the spot (in front of Yodobashi Camera 📷) up to a few minutes before departure. The round-trip costs ¥5,800 (~US$38.78). Hikers get off at the fifth station, where most of them begin to walk the trail. It is also possible to go by car 🚙.
A project of a railway connecting the foot of Mount Fuji and its Fifth Station has been approved by Yamanashi prefecture in February 2021, with an expected roundtrip ticket at ¥10,000 (~US$66.86). The construction costs were estimated at ¥140 billion (~936 million dollars) for an expected 3 million passengers per year. No construction schedule has been announced yet.
Do not forget to check Mount Fuji weather forecast before going: avoid rainy ☔️ days and don't even think to go during typhoon 🌀 season!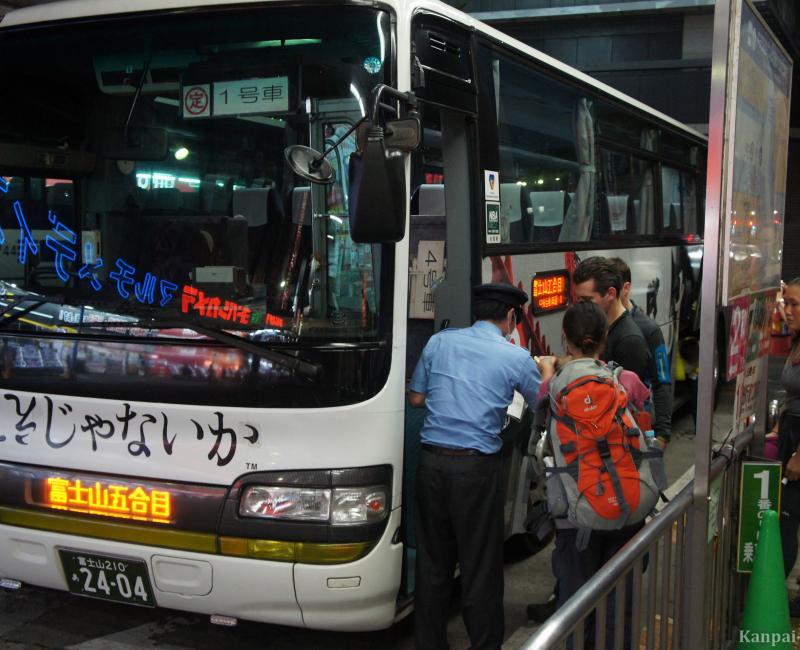 What are the necessary mountaineering gear?
To cut short some misinformation: climbing Mount Fuji is far from a walkover. It requires a good physical condition, some willpower and particularly a good preparation.
Make sure to buy all the equipment you need before reaching Mount Fuji. The highest you climb, the more prices at mountain huts and vending machines skyrocket.
Clothes:
Several layers of tops, and a windproof raincoat,
A pair of comfortable trousers (preferably waterproof), on a long underwear or tights if necessary,
Thick socks and even additional oversocks,
Hiking shoes are mandatory (don't even think of climbing in sneakers),
Beanies and / or hoods are much welcomed items.
Most of the following accesories can be easily bought in ¥100 Shops in Japan, and are therefore affordable:
A light and convenient backpack,
A headlamp, very useful when climbing at night,
Gloves, possibly strengthened for gripping,
A towel to wipe up sweat,
Sunglasses and sun screen to use when going back,
A small bag for garbage (there aren't many litter boxes along the trail),
Several thousand yens in cash,
Some painkiller, just in case.
Food and drinks:
Cereal / energy snacks, biscuits, fruit compotes,
A lot of water and an energy drink.
Camera:
If possible a small, light camera, which is also robust,
Avoid bringing a reflex camera or just take one lens,
Do not bother with a tripod (that is why our pictures are not that beautiful, added to the fact that the hike's conditions don't allow for posing).
Addition of March 2015 – In the wake of Mount Ontake's lethal eruption at the end of September 2014 (more than 60 deaths), located only 120km north-west to Fuji-san, Japanese authorities encourage hikers to wear a helmet, protection googles and a dust mask 😷, in addition to a raincoat, a headlamp and warm clothes. Not having one of these newly added items does not prevent to climb Mount Fuji but the measure reminds that the volcano 🌋 is likely to erupt again one day.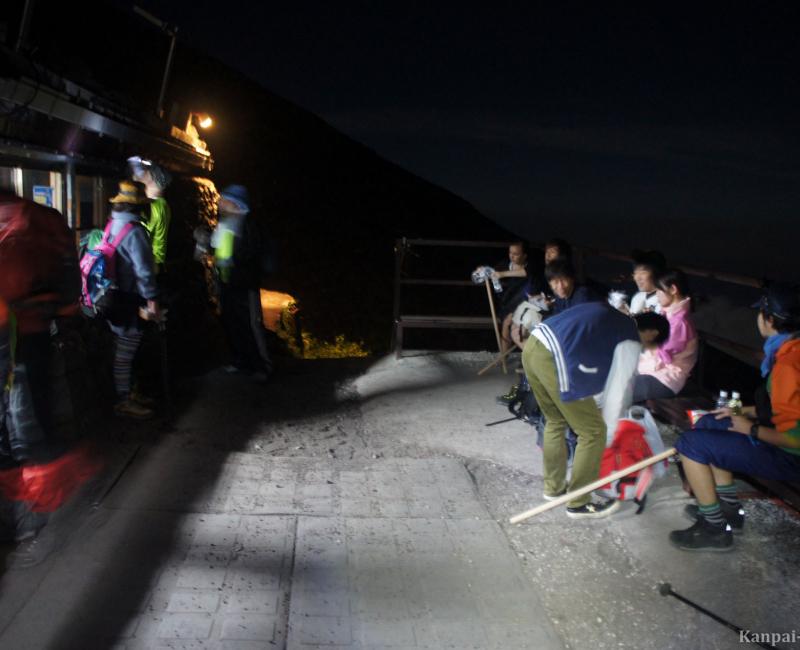 Useful tips for climbing
The trail on Mount Fuji consists of ten stations in addition to its relay-huts, the first one being at the base of the mountain, and the tenth one at the summit. The fifth station is located at an altitude of 2,305 meters, which means you have to climb nearly 1,500 meters, spanning over a seven-kilometer walk. Keep in mind that if this hike is already quite the challenge, and it can become hell on earth with walkers' congestion. Therefore, avoid at all cost to plan your Mount Fuji climb on a weekend, let alone during Japanese school holidays (starting mid-July) and especially not during Obon (a Buddhist festival which runs from August 13 to 15). During the official climbing season, renting a professional guide is not necessary.
For our ascension, we took the last bus of the day, on an early July Thursday. We left Tokyo at 7:30 p.m. and arrived at 10. Temperatures were still around 30°C in Tokyo, but easily ten degrees less at Mount Fuji's fifth station. It's freezing at the summit, even in summer, and winds intensify the sensation of cold. So plan to dress accordingly, as described above. One sweats a lot during the climb, but the body freshens very quickly. While waiting for dawn at the top of the mountain, you'll be glad to have several layers of warm clothes.
Climbing Mount Fuji is quite a challenge. You'll find it doable if you're athletic but not everyone can do it. However willpower prevails since many elderly Japanese make it to the summit. Certainly not as fast, but it shows that who has decided will manage to get to the top. We climbed from fifth to tenth station in 5h15 via the Yoshida Trail (departure at 2,300 meters high), with 10-minute pauses at each station and including walkers' congestions on the last hour, near the top.
The hike begins by an easy trail, then difficulty rises seriously from the seventh station with a strenuous rocky climb. All along the trail, at the stations and shelters (comprehensive list) hikers can buy various food and goods: drinks, ramen 🍜 noodles / miso soup, and canned oxygen (useless for asthmatics carrying their Ventoline; possibly reassuring for those for fear a sudden volcanic eruption). Naturally, prices increase with the altitude. Some shelters even offer to stay overnight for about ¥5 to 7,000 (~US$33.43 to ~US$46.80) with a curry rice included.
Climbing Mount Fuji is a fascinating experience: from cordial exchanges during breaks, to murmurs of effort supported by all the climbers on difficult passages. Near the summit, the trail tightens, the silence becomes unreal in the shadow of the majestic Mount Fuji cast by the full moon. Employees of the National Park encourage the hikers and give the time remaining before reaching the summit.
Then the path goes under the last torii ⛩️ gate and reaches the summit where the horizon unfolds, giving an incredible vista on the region of Hakone to Tokyo Bay, surrounded by a sea of clouds. The rising sun offers a wonderful, yet strangely calm sight, and Japanese people start shouting 'banzai!', while their flag is flying in the wind and the national anthem is played through ageless speakers.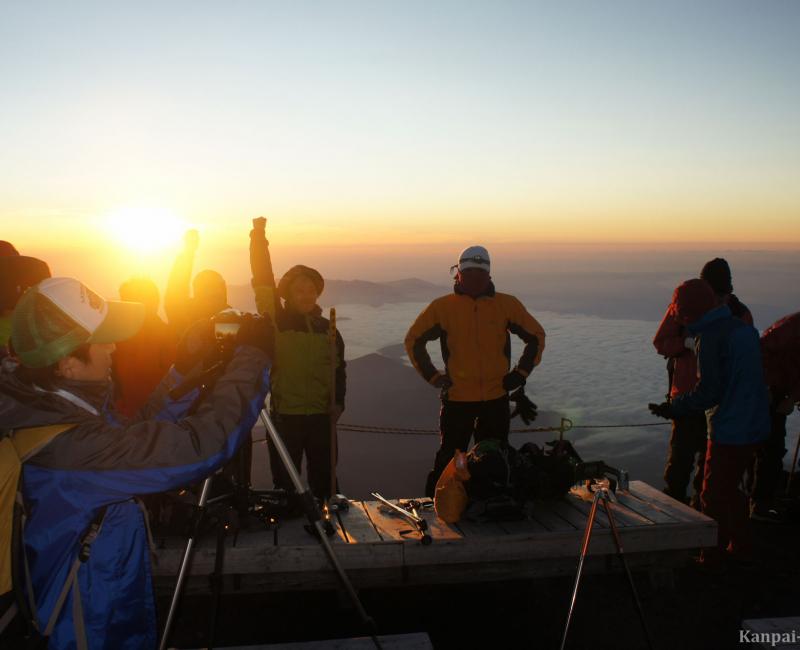 Going down Mount Fuji
The descent is a kind of ordeal in its own right. Fun at the beginning because it's very steep and sandy, it soon becomes surprisingly exhausting. With exhaustion from the ascent which mobilized all leg muscles, the strain is now put on the joints, especially ankles and knees. The quadriceps work a lot and we definitely recommend to stretch thoroughly afterwards. It took us two hours and a half to complete the descent, but it seemed surprisingly longer probably due to the combination of its monotony, the heat and exhaustion.
Once back at the fifth station, while waiting for the first bus departing for Tokyo at 10 a.m., the place provides the usual souvenir shops and restaurants for tourists. Lively and newly arrived hikers meet the exhausted ones who just climbed down. Aside this crossover, buses unload dozens of Asian tourists who come for shopping and take pictures and selfies. The climb of Mount Fuji is, as a matter of fact, totally out of the picture for them, who are only dressed with light shirts and town footwear.
It is a shame as they miss an exceptional experience, essential for any traveler in Japan.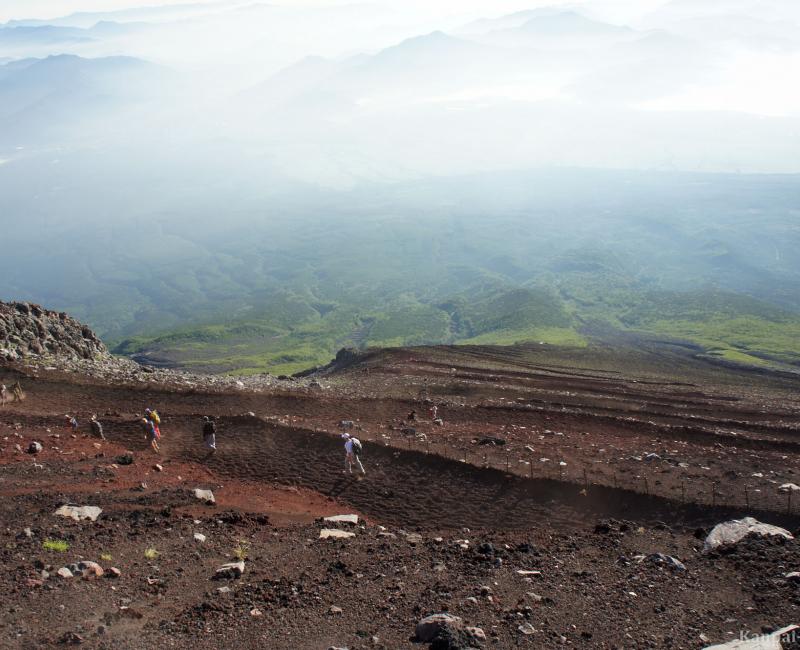 Mount Fuji enlisted in the Unesco World Heritage and a paying attraction
On 2013, June 22, one of the most iconic landmark of Japan, located a hundred of kilometers to the west of Tokyo, was enlisted in the World Heritage. The area designated by Unesco encompasses the volcanic cone, often under a snowy cap, to its base, including the hiking trails and seven shrines. The Mount Fuji was inscribed as a "sacred place and source of artistic inspiration" along with sixteen other Japanese natural and cultural properties.
This acknowledgment by the Unesco occurred when the two prefectures in charge of Mount Fuji's management, Shizuoka and Yamanashi, were preparing to implement admission fees for climbing.
The ¥1,000 (~US$6.69) "donation" was first introduced as an experiment during summer 2013, and was paid on a voluntary basis. The principle of a paid access to Mount Fuji was then approved in March 2014, with the underlying idea of raising funds to help protect the environment of Japan's highest mountain and tackle the constantly growing number of mountain climbers. In summer 2014, about 60% of hikers paid this "voluntary tax", a percentage that dropped by 20% in the beginning of 2015's season.
Limitation of the number of daily climbers was in discussion, and confirmed in October 2015: Shizuoka and Yamanashi prefectural authorities have decided on a maximum number of daily visitors, whose implementation was envisioned for July 2018. As a matter of fact, during summer 2014, 285,000 persons (including 15% of foreign tourists) climbed the volcano. In summer 2016, the number of climbers exceeded 4,000 persons a day during four days.
In 2018, this tweet by Japanese designer Mikio Kiura reminded that mass tourism also negatively impacts Mount Fuji's ascension. To avoid the crowd at any rate, it is necessary to avoid climbing between Friday night and Sunday afternoon, as well as during the Obon holidays (mid-August).
The introduction of an admission fee is not shocking per se, considering the sacred character of the volcano, and notwithstanding the paying mountain huts, the miscellaneous shops at each station and the vending machines. A ¥1,000 admission fee per climber to help preserve the place and its beauty seems a fair price, and most of the temples and shrines in Japan usually apply admission fees ranging from ¥300 to ¥600 (~US$2.01 to ~US$4.01) on average. And some places such as the Moss Temple even require a ¥3,000 (~US$20.06) admission fee!
Starting 2020, the payment of the ¥1,000 (~US$6.69) admission fee is mandatory.
In June 2023, with the incoming 10th anniversary of Mount Fuji's inscription in the UNESCO Heritage List, and the 1rst post-Covid 🦠 season opened to everyone, local authorities dread an exceptional wave of 300,000 hikers. As a matter of fact, the number of nights already booked at the mountain huts has sharply risen. And for those who are in charge of the walking trails' safety, it is not good news as they worry about a rise in accidents numbers (risks of falling stones and hypothermia) and larger crowds at the volcano's summit at sunrise.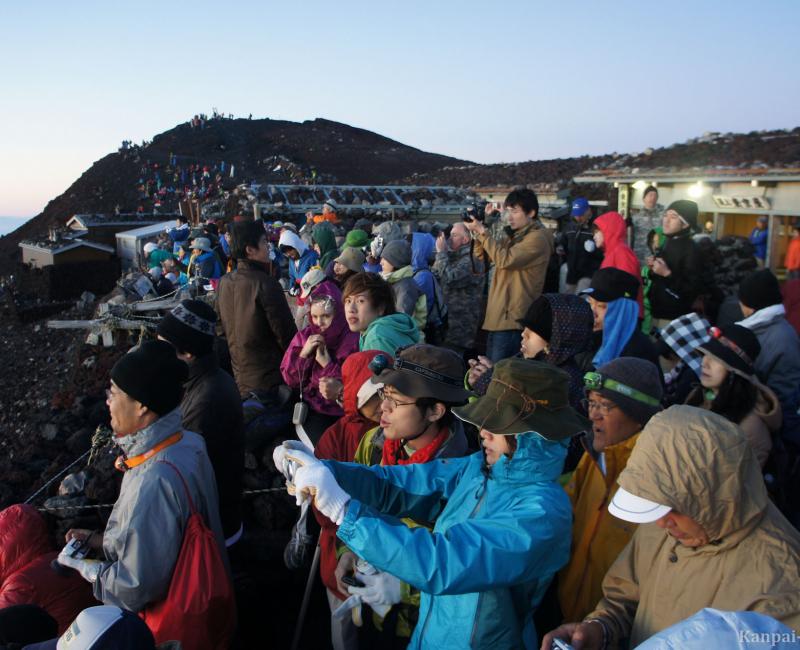 Free Wi-Fi in Mount Fuji!
In 2015, the installation of eight free Wi-Fi hotspots along the ascension trail (of which three at the summit) was announced, especially to allow foreign hikers to share their experience in live on the SNS and by e-mail. During the first summer of use, 70,000 explanation pamphlets were distributed to visitors.
The languages available for connection are Japanese, English, Chinese (traditional and simplified), Korean and Thai.
In 2016, the company Wire & Wireless operated the network from July 10 to September 10.